Related Articles:
Horned Frog defined | Frog of ages | Sign language



Baptism by Frog
Four Zetas set out on a simple Frog hunt -- and became born-again Horned Frogs. We do not apologize for the religious metaphor: a conversion experience is exactly what all TCU fans desire -- and deserve.
By Sandy McCollum Hogan '69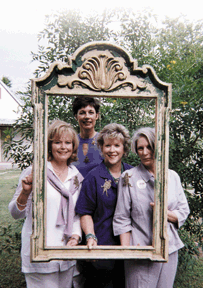 We four -- Marsha, Dorothy, Wendy and myself -- have cheered wildly and moped bitterly as the winds of fate and fairness have blown both for and against alma mater over the years.
Lucky enough to have stayed in close contact with many of our sorority friends, we regularly re-convene with dozens from our 60s Zeta clutch to ensure that our shared stories and mutual affection remain kindled.
I grew up on Dutch Meyer lore -- my dad met his "Lovely Lou," my mom, while playing football at TCU from '39-'41. Alzheimer's disease insidiously is ridding him of all memory. Still, hearing "TCU" brings a light of recognition to his watery eyes.
The other three of our four, Marsha, Dorothy and Wendy, live in Fort Worth and lay hands on all things purple -- season tickets, bowl trips, committee duty, donations. In both tangible and intangible ways, we can be counted among the TCU faithful.
Which is why we can acknowledge that, through no fault of its own, the Horned Frog has under-achieved as a mascot. For as long as I can remember, the TCU masses have yearned to be immersed in a frenzied, tradition-bound Horned Frog culture -- a smidgen of biological data and a few great stories, converted over time into a powerful, all-encompassing myth -- Pig Sooey, Boomer Sooner, Gig 'em Aggies and Hook 'em Horns be damned.
But, somehow, we've never quite mustered our collective confidence, never quite realized the greatness we imagine for our mascot. Desperately, we have needed nothing short of a baptism in Horned Frog. It started out merely as a side trip en route to the 12th reunion since 1979 of the '60s TCU Zetas, this year on the Texas coast in Rockport.
Having decided to add an extra day to our trip, and knowing that our meandering drives across Texas always require extra time, our group was thrilled to hear that Kenedy, Texas (pop: 3,763) claims to be the Horned Toad Capital of the World! (A Frog by any other name is still a Frog.) Kenedy was only slightly off our chosen route and also offers Annie's Cottage, a bed and breakfast that rightfully declares itself "Home of the Protected Horned Lizard."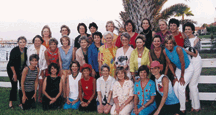 The night we arrived, our conjured imaginations of our next morning's Horned Frog hunt made us laugh a little nervously -- Is there such a thing as Horned Frog camouflage? Would there be a special reptilian call to lure them out of their hiding places? What if, after getting all pumped for a Horned Frog hunt, we didn't even see one?
The next morning, we stepped out into the June sun, each of us decked out in varying shades of TCU purple, cameras in hand. Greeting us on the wooden stoop was the top of a small Styrofoam cooler, transformed into a specimen tray lined with pieces of scat; crumble up this horned lizard waste and you'll discover the proof of their prowess in horning through a red ant hill -- ant parts by the dozens, and no chocolate coating.
Yes, our guides Joe and Ann Lang were determined to give us a chapter and verse course, and this introduction definitely scatted away all sissy notions about why we were there. Next, they invited us to peek inside their Styrofoam container. Peering up at us were three horned frogs! The Langs' wide-open backyard connects their house, facing one street, to Annie's Cottage, facing the next street over.
It reminded us of backyards in modest neighborhoods from our own small-town America childhoods in the '50's: a little dry grass, a lot of weed clumps, and dirt everywhere else that wasn't covered with wood stacks or other discarded junk, perfect roaming territory for native horned lizards.
The smallest of the three held in temporary Styro-captivity was a youngster still honing survival tactics. He struck a pose in my hand that was just like the horned toad babies that had lived under my house: proud, calm and still, aloof but still alert to an opportunity to spring from my hands.
He had a smooth belly and tiny, five-toed feet; a back covered in scaly brown skin; and a triangular head helmeted with two distinct horns of menacing sharpness. I could imagine the fear he could strike in an ant colony. When he stretched out his front legs and tilted his little body upward, I swear he looked as fierce as any TCU Horned Frog lineman!
Not content, now, until we had a chance to scout out our own Horned Frogs, we four began moving about the yard at a deliberately slow pace, all eyes down, fearing we might step on one of these precious critters, and hoping we might catch one.
Horned lizards blend into their environment so perfectly that they need little other protection. Even at a quick scamper, there is no wasted motion: four tiny legs running with such efficiency that they remain almost undetectable. My cohorts pointed and I chased, but we only caught a few. The Langs were better retrievers, with that soft touch of familiarity and calm that mesmerized their lizards into a matching frame of mind.
We posed them on our shoulders, on logs, on clumps of grass, even on a mirror shaped like Texas. Our Horned Frogs indulged us as if they had received a briefing before our arrival, all for the sake of our photographic memories. I can tell you with certainty that holding and closely observing a live Horned Frog was an unforgettable experience for these four TCU fans.
So intimately re-introduced, how could we not feel an attachment just this side of love for these tough little creatures whose survival instincts seem so clearly to match TCU's own? It's good news that Kenedy is a scrubby, unkempt town that seems reluctant to invest in creating a tourist attraction of their horned lizard population. Aside from a smattering of memorabilia downtown, the Langs and any others inspired by their horned inhabitants will do better catering to a purple-clad congregation with a heritage to resurrect.
TCU fans aren't looking for a tourist destination: we're primed for a pilgrimage back to our horned lizard roots. The TCU Horned Frog never was intended to be an amphibious frog that jumps, or has three toes, or says ribbit. We're getting face-to-face with what we really are.
We're Horned Frogs, converted and confident, at last.

Sandy McCollum Hogan, with her parents, Bob '43 and Louise Williams McCollum '45, at Homecoming last fall, is the vice president of community development for Sciport Discovery Center in Shreveport, La., where she lives.