Related Articles:
Conversations with a tide pool | Monterey Memory

Through a fissure
"There are good things to see in the tide pools and there are exciting and interesting thoughts to be generated from the seeing. Every new eye applied to the peep hole ╔ may fish in some new beauty and some new pattern, and the world of the human mind must be enriched by such fishing." -- John Steinbeck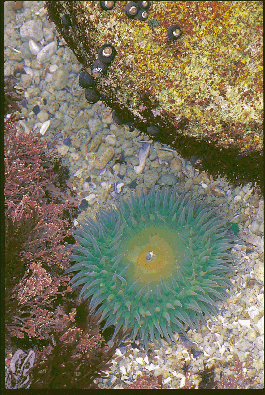 Fans of John Steinbeck will know that the novelist had an abiding love for the sea and its occupants. A native of the Monterey Bay area, his observations of life there make an interesting side note to the story about Willis Hewatt's research. For Hewatt was a contemporary of Steinbeck -- and met him at least once while at Stanford.
Ed Ricketts, a good friend of Steinbeck's and basis for the character Doc in Steinbeck's Cannery Row, lived only a couple of blocks north of Hopkins Marine Station. It was an industrial zone filled with sardine canneries and a class of somewhat seedy workers who kept the businesses in business.
Doc Ricketts, as he was known, was a college dropout but still became such as expert in his field that even against outrage by the more "scientific" community, Stanford printed his Between Pacific Tides in 1939. This detailed tome of the tidal zone came to be known as the marine biologist's bible. It is fairly safe to assume that Willis and Ricketts had at least a few conversations about their similar interests.
Steinbeck, in the forward to Between Pacific Tides, shared this observation about such pursuits. And such men:
"The process of rediscovery might be as follows: a young, inquisitive, and original man might one morning find a fissure in the traditional technique of thinking. Through this fissure he might look out and find a new external world about him╔
"From this nucleus there would develop a frantic new seeing and a cult of new seers who, finding some traditional knowledge incorrect would throw out the whole structure and start afresh. Gradually the structure would be complete ╔ and no one would look beyond it -- until one day a young, inquisitive, and original man might find a fissure in the pattern and look through it and find a new world.
"In the laboratories, fissures are appearing in the structure of our knowledge and many young men are peering excitedly through at a new world. There are answers to the world questions which every man must ask, in the little animals of the tide pools, in their relations one to another, in their color phases, their reproducing methods. One can live in a prefabricated world, smugly and without question, or one can indulge perhaps the great human excitement: that of observation to speculation to hypothesis."