Changing of the Frog
Chancellor Michael Ferrari announces he will retire in May 2003.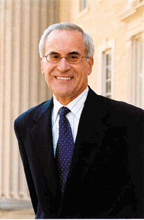 The news that Chancellor Michael Ferrari was retiring next spring may have been the best-kept secret on campus. Ever.
But it shouldn't have seemed so startling. When the ninth top Frog joined TCU in 1998, he said he'd give us five years. When he retires in May to settle closer to his grandkids, he'll have given us what might be his best five years.
"Chancellor Ferrari has done an excellent job for us," said John Roach, chairman of the Board of Trustees. "He's built strongly and accelerated the growth and updating of the university. He's helped the school be highly competitive."
Ferrari's tenure has been marked by one of the most expansive periods in TCU history. He has overseen $150 million worth of facility improvements, including construction of the Tucker Technology Center, the Smith Entrepreneurs Hall, the John Justin Center and various athletic facilities, as well as the renovation of the campus recreation center, residence halls, classrooms and laboratories.
Academically, he spearheaded the restructuring of five colleges and schools into seven and the move to a single-cost tuition structure.
With his June announcement, the chancellor told the TCU family that each of his three appointments as a chancellor or president of a university has been a joy.
"But the association that Jan and I have had with TCU has been by far the most rewarding and fulfilling period of our lives and entire career in higher education," he said. "Nonetheless, since Sept. 11, Jan and I have felt increasingly that spending the past 40 years thinking about, engulfed in and caring for the well-being and education of Ôother peoples' children' (and mindful of the great rewards and blessings that have come our way from this service), the time has come for us to be more fully engaged in and with the lives of our own children and grandchildren."
A chancellor search committee, headed by TCU trustee R. Denny Alexander, began work in August.
Delivering victory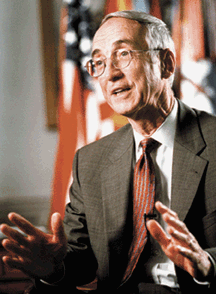 Charged with streamlining and modernizing the United States maritime forces when he assumed his post in early 2001, Secretary of the Navy Gordon R. England '75 (MBA) saw his mission change after the terrorist attacks of Sept. 11.
Peacetime forces rapidly became a wartime machine.
England's charge of organizing, equipping and mobilizing 830,000 troops and civilians, 315 warships and 4,100 aircraft for Operation Enduring Freedom became the ultimate challenge in managing a global supply chain in an uncertain environment.
The task has taken England, the 72nd Secretary of the Navy, aboard warships, into Pentagon boardrooms and face to face with dozens of international leaders.
In June, he shared his insights of global supply chain management with nearly 100 top professionals from Tarrant County and across the nation at TCU's first Global Supply Chain Conference, sponsored in part by the M.J. Neeley School of Business Supply and Value Chain Center.
"The ability to supply at sea is the backbone of the U.S. Navy," England said. "Strategy is important, but without an efficient and effective supply chain, you can easily lose the war -- either the commercial war or the military war. And in the business of protecting America, the stakes have never been higher."
Using pre- and post-Sept. 11 examples, England explained how the Navy has dramatically improved its own logistics and looked ahead to a changing global supply chain.
With Operation Enduring Freedom, England said, America marks a turning point in modern warfare and the supply chain. A combination of tactics and technology never used before is helping the U.S. fight terrorism.
"President Bush has said that America can keep the peace by redefining war on our terms," he said. "That means our armed forces must have every tool and every process to answer any kind of threat, including a modern supply chain."
Hey kid, go suck an egg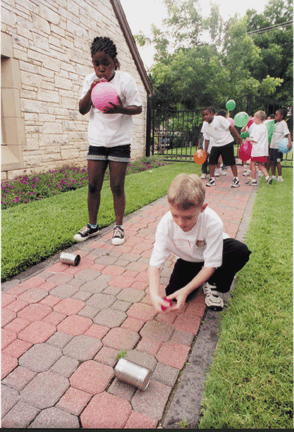 Suck an egg into a bottle. Play detective using forensic science. Delve into physics with a rocket launch. Build a robot.
If there was one lesson the more than 100 children, aged 5 to 11, learned at TCU's Camp Duo this summer, it was that math and science are anything but boring.
The two-week session, sponsored by TCU Institute of Mathematics, Science and Technology Education, was a rousing success as the day campers got into the interactive exploits -- making butter, exploring model caves, playing with gears and cycles and using balloons to race tin cans, right.
It all helps facilitate the learning process, said Janet Kelly, a professor in TCU's School of Education and director of the institute. Kids are curious by nature and aren't afraid of getting their hands dirty, "Kelly said. "This camp encourages them to roll up their sleeves and explore the world of science and math by examining snakes, spiders, caves, gadgets and small chemical reactions. Our goal is to get kids excited about math and science before they lose interest."
People to People for Peace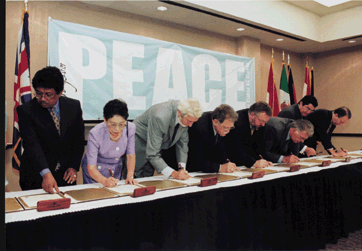 Fort Worth Mayor Ken Barr '64 led representatives from nine nations in signing the first People to People for Peace Accord at the Kelly Center in July. TCU welcomed ambassadors from Costa Rica, Mexico, Northern Ireland, Italy, Hungary, Japan, Germany, Indonesia and the United States to the weeklong forum, sponsored by the City of Fort Worth and Fort Worth Sister Cities International.
The conference provided a unique opportunity for dialogue between youth and political leaders to advance the peace process across the globe, including partnering to combat terrorism, promoting voter participation, educating citizens about commonalities in religion and faiths.
Community building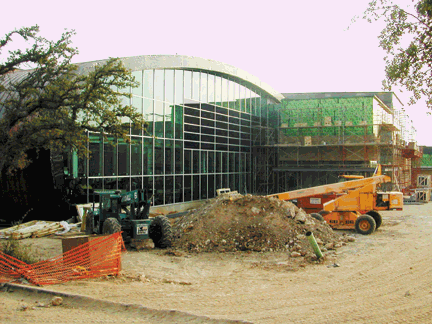 A walk across campus this summer might leave one thinking TCU has designated the crane as the school's official bird. We're talking a tall metal crane, of course. The type that lifts giant girders and roofing materials into place. It's all part of the University's ongoing commitment to making TCU a premier educational campus that provides the optimal college experience.
The short list of major projects:
-- Smith Entrepreneurs Hall, just north of Tandy Hall, will be ready for use in January.
-- The student recreation center on the site of the Rickel Building will provide 202,000 square feet of health club-quality amenities in November.
-- Lupton Stadium for baseball will be ready this fall.
-- The men's and women's basketball programs will enjoy renovated locker rooms and new space for officials this fall.
-- Classroom renovations in Winton-Scott, Sid Richardson and areas of Moudy North and South, Miller Speech & Hearing Clinic, Reed Hall, the Moore Building and the Bass Building include complete interior floors, ceilings, lighting, teaching walls and furniture.
-- A museum for the Monnig meteorite collection will open by the first of the year on the main floor of Sid Richardson.
-- Milton-Daniel residence hall is getting an interior makeover, complete with new furniture.
-- The Worth Hills drainage ditch has been filled in to create a covered culvert beneath a landscaped intramural play area.
Miracle in progress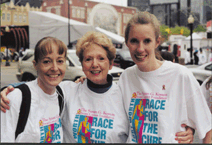 Robbyn Kindle '00, far left, was bedridden when she was awarded her diploma two years ago. In desperate need of a liver, small bowel, kidney and pancreas transplant, Kindle was counting the minutes of life as the TCU community quickly raised more than $80,000 for her quadruple transplant in May 2000.
Today, Kindle weighs 120 pounds (up from 98 pounds), and eats just about anything she wants to. A registered dietician, Kindle passed the American Dietetics Association's national exam this summer. She now advocates for organ donation, and in April she walked in Fort Worth's Race for the Cure with Evelyn Roberts, center, a retired dietetics professor, and former TCU professor Lacye Osborn, right.
Sprechen Sie Frog?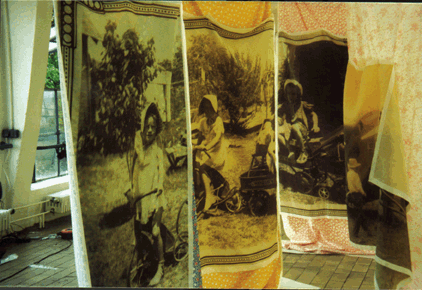 Trier, Germany, got a taste of Horned Frog art this summer when art faculty members David Conn and Terri Cummings took their work to the world stage as part of an exchange organized through Sister Cities International. The two were among six Fort Worth artists invited to Trier to exhibit their art in Landscapes: Art of Fort Worth. Conn's linoleum cuts were inspired by his first trip to Germany two years ago and a camping trip in the New Mexico wilderness last summer. Cummings' inspiration for her site-specific installation -- five fabric panels -- came from two historical family photos of her mother and grandmother that she enlarged on fabric, above.
Chamber made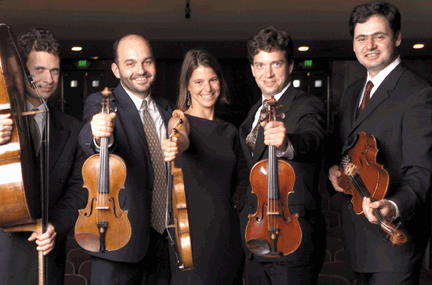 Rave reviews followed the performances of the 5th Annual Mimir Chamber Music Festival this summer. A premiere summer camp for aspiring artists and a venue for professional musicians, the festival is dedicated to the study and performance of chamber music. Guest artists, selected for their superb performance skills, are chosen because they are also great teachers. The result is two-week celebration of chamber music at its best. Below, from left, are Brinton Smith, Baird Dodge, Isabel Trautwein, Executive Director Curt Thompson and Misha Galaganov.
Nice toss, Coach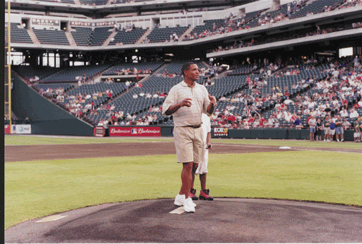 Top hoop Frog Neil Dougherty has joked that he's a little publicity shy -- even about being on the cover of the team media guide and season ticket brochure, which he says he will do this year.
But the basketball recruiting wizard, formerly of Kansas Jayhawk fame, knows the value of exposure. That's why he listened to the pleas of athletic promotion gurus and agreed to throw out the first pitch at the June 25 Rangers-Angels game at The Ballpark in Arlington. Joining him was his 12-year-old son Ryan.
And to no one's surprise, the former star athlete at Leavenworth (Kan.) High School tossed a strike in front of tens of thousands meeting him for the first time.
Here's hoping the basketball season is a home run.
Roll those R's
TCU's Office of Admission is going bilingual -- every counselor and most of the staff are learning to roll their R's and enunciate their N's. The goal is to attract more Hispanic students by making it easier for the families to communicate. Lessons in grammar, vocabulary and Hispanic culture are punctuated with practice dialogues designed to simulate conversations that admissions officials are likely to have with prospective students and their parents, says Spanish professor Lee Daniel, who teaches the class. Previously, the admissions office enlisted students to serve as translators when communicating with Spanish-speaking families. Now the staff members are speaking Spanish to each other every day in the office. "We may not all be proficient yet, but we are making progress," says admissions counselor Victoria Herrera, who is already fluent.
Note-able achievements
By day, they're attorneys, physicians, travel agents and a lot of other things. By night, they are pianists who practice with the intensity of seasoned performers.
The 74 competitors at the third International Piano Competition for Out-standing Amateurs, popularly known as the amateur Cliburn, often perform on a level that approaches professionalism of the highest quality.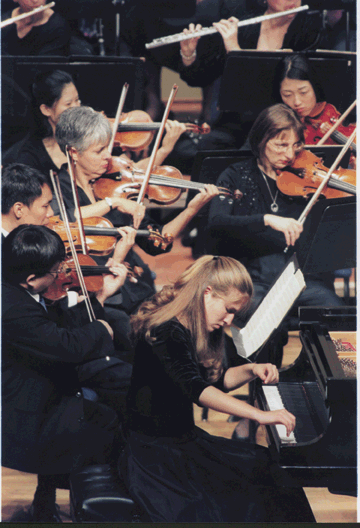 Summer 2002 was no exception. Taking a cue from last year's 11th Van Cliburn Inter-national Piano Compe-tition, this year's amateurs' event ended with a tie for first place. Victoria Bragin, a chemistry professor in California, and Michael Hawley, director of special projects for the Massachusetts Institute of Technology, were both awarded first prize after a 3 1/2-hour final round at Ed Landreth Auditorium.
The weeklong event, open only to nonprofessionals over the age of 35, is generally regarded as the leading piano competition in the world for amateurs. But it is only part of a monthlong celebration of piano performance sponsored by the Institute, which enjoyed its 22nd season in June.
During the Institute, an international cadre of up-and-coming young pianists are tutored by the world's foremost instructors as they prepared to be the next great professional performers.
The plum for the students is the chance to perform publicly with the Fort Worth Symphony, a unique opportunity for the pianists -- some as young as 12.
Winners of the student competition were Venezuelan Alicia Gabriela Martinez, whose performance of Tchaikovsky's Piano Concerto No. 1 with the Fort Worth Symphony made her sound like a possible candidate to return in three years for the big Cliburn Competition. She took first prize in session one.
Second and third place went to promising American Joshua Cullen-Carrozza and Shao Ting, a student at the Shanghai Conservatory.
In the second session, Malaysian pianist Mei-Yi Foo, from the Royal College of Music in London, gave a most impressive performance of Prokofiev's Piano Concerto No. 3 to win the top prize.
Korean Sunah Kim, a student of 1962 Cliburn gold medalist Ralph Votapek at Michigan State University, and Japanese pianist Riko Higuma, who studies with Phillip Kawin at the Manhattan School of Music, finished second and third, respectively .
Featured artist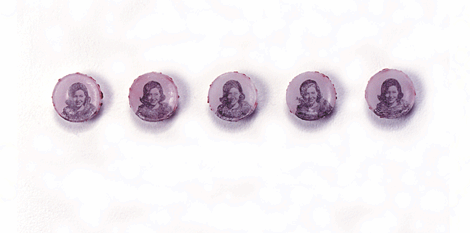 Nostalgia is awakened through the art of Denise Stringer Davis '02 MFA. While her degree is in printmaking, her work, which explores ideas relating to memory and time, includes sculptural and installation elements. Her work was among those displayed in the Moudy Exhibition Hall during the graduate art students' Master of Fine Arts thesis exhibition in May.
Entrepreneur summit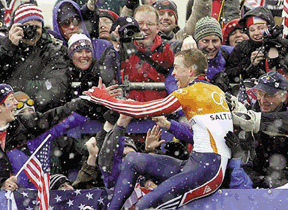 The drive to become the best separates the great from the average, both in business and in sports. That is the message third-generation Olympian and 2002 Winter Olympics gold medallist Jimmy Shea shared in May with 150 TCU entrepreneur students and alumni at the second annual Entrepreneurs Summit, sponsored by the Neeley School of Business.
Coming from a family of Olympic champions, Shea, above, shared how he found his motivation in his own household and family, and about his desire to have the sport of skeleton (a sledding event) reintroduced at the Winter Games.
"But my greatest moment was raising that American flag during the opening ceremonies with my father. That will be a moment I will always cherish," he said.
Packing the purple vote
Backed by a team of TCU public relations students and Horned Frog faithful everywhere, purple beat out aqua and pink for its rightful place in M&M bags across the world.
The results of the company's 2002 Global Color Vote were announced in June with purple receiving 41 percent of Internet votes. It is the company's first color addition since blue replaced tan in 1995.
Students from Maggie Thomas' senior-level public relations writing class played a large role in the vote locally by campaigning at malls, contacting other purple-clad universities and sending purple M&M gift baskets to local DJs.
The campaign also included local appearances by a giant purple M&M, who was really student Mindi Storey in a costume made by her grandmother.
On my summer vacation ...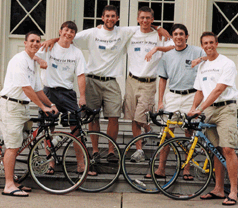 ... I biked across America. That's the report six TCU fraternity brothers will have when classes begin this fall. Members of the TCU chapter of Pi Kappa Phi, the men are among 70 undergraduate members of the national fraternity from 32 colleges and universities participating in the Journey of Hope, a two-month bike ride stretching 4,000 miles across the country. Representing TCU were Brian Casebolt, Grayson Allen, John Anderson, Chris Oldham, Eric Fare and Ben Griffith. The coast-to-coast trek began June 2 in San Francisco and ended Aug. 4 in Washington, D.C. The event is a project of Push America, the national outreach project of Pi Kappa Phi, which raises money and provides service and education to promote a greater understanding of people with disabilities. During the ride, the cyclists and crew visited 117 communities to donate their time and manpower to spread a message of hope and understanding for people with disabilities. Several members of the TCU team became interested in the Journey of Hope after volunteering at TCU's Rise School for children with Down syndrome.
In brief
New degrees of excellence
The environmental sciences department and M.J. Neeley School of Business have teamed up to offer a dual MS/MBA degree designed to create managers able to direct a company's financial operations and monitor its business projects to ensure environmental custodianship. "For years, business and the environment have seemed to be at opposite ends," said Leo Newland, director of TCU's environmental sciences program. "I think that business has now realized how important it is to be green and to sell green products, not only from a marketing point of view, but also from an economic or financial point of view." For information, call 817-257-7155.
A new partnership between the M.J. Neeley School of Business and the Universidad de las Americas (UDLA) in Puebla, Mexico, will enable students to concurrently earn a master's degree from both institutions. Upon completion, graduates will hold a master's degree in international management from TCU and the Maestr'a en Marketing y Negocios Internacionales (MMNI) from UDLA, which will allow them to "be instrumental in providing business leadership in the growing economic partnership between the U.S. and Mexico," said Bob Greer, Neeley's associate dean for graduate studies.
Accolades
Richard Allen has won his second consecutive Emmy as a member of the writing team for As the World Turns. The show won the honor for Outstanding Drama Series Writing Team at the 2001-2002 Daytime Emmy Awards in May. Allen received his first Emmy nomination in 1987 for his writing on Days of Our Lives, and has written for One Life to Live, General Hospital and Another World. He no longer writes for As the World Turns, but remains active professionally.
Physics professor Waldek Zerda will serve as a Fulbright Scholar in Katowice, Poland, this fall where he will teach and research at one of his alma maters, Silesian University. The research projects involve the study of superhard materials using x-ray and neutron scattering techniques as well as work in Raman microimaging systems.
Brite in the Bayou City
Brite Divinity School will expand its seminary program this fall, opening a new Houston Center, located at Memorial Drive Christian Church. The satellite campus in the Bayou City will offer one-third of the traditional seminary program, so students can begin coursework before relocating to Fort Worth.
And rewriting history
Popular historian and writer Joan Hewatt Swaim'56, whose work often graces the pages of The TCU Magazine, has been commissioned to follow in big footsteps as she writes the history of TCU from 1973 to the present. Swaim's work will build on Colby D. Hall's Texas Christian University: A College of the Cattle Frontier, published in 1947, and Jerome A. Moore's Texas Christian University: A Hundred Years of History, published in 1974. The book is slated for completion next fall.
TCU Tomes
Happenings
By Linda Powley '89 under pen name Katie Cobb
HarperCollins Publishers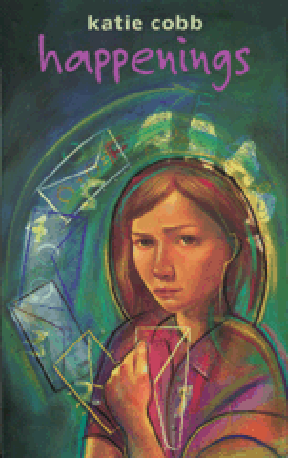 What happens when you break the rules? This young adult novel explores the answer. Kelsey Gene Blackwell and her classmates have decided that until Mrs. Delaney, their Advanced Placement English teacher, teaches like she used to, they will do nothing. No homework. No tests. But doing this proves to be more detrimental than they thought. It becomes a disaster threatening the students academic future and Kelsey's relationship with her family and friends. Worst of all is when the students' discover the real reason behind their teacher's change in behavior. Order the book at amazon.com or at area bookstores.
Literary Fort Worth
Edited by Judy Alter '70 and James Ward Lee '00
TCU Press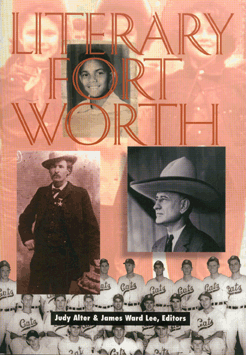 Fort Worth is often dismissed as a semi-rural cowtown. But a city with a literary reputation? TCU Press believes so in Literary Fort Worth, a collection of essays, poetry, short stories and novel excerpts, all about Fort Worth and most written by one-time residents. Fort Worth is in many ways the most typical of Texas cities. People mingle as easily at the Bass Hall with its world-class entertainers as they do at the While Elephant Saloon or the Cowtown Coliseum. Literary Fort Worth is a smorgasbord with something to appeal to almost any reader's taste. Contributors include Dan Jenkins, Bud Shrake and Betsy Colquitt. It can be ordered at online bookstores, the TCU Bookstore or by calling 1-800-826-8911.
Grandmother Stories From the Heart of Texas
Edited by Jane Austin Bruckner '98 (MLA)
Eakin Press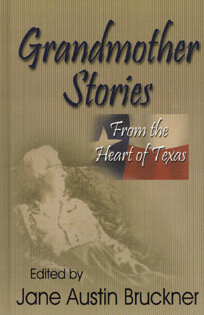 Stories are treasures, and so are grandmothers. In this book, you are invited to have a cup of tea and come into the world of grandmothers through the pen of noted authors such as Elmer Kelton, Joyce Roach and others. These rich, deeply preserved memories -- some simple, some profound -- illustrate courage and creativity and show us how to tap into our own strength, tenacity and heart. The book includes poems and recipes, as well as tips on how to write your own grandmother story. It can be ordered at amazon.com.