Related Articles:
Stilley the One | Score one for the home team | Net gain | Terrific Terry | Speed demon
Brave heart
In a final attempt to become an American pro, former Horned Frog London Dunlap '00 roams the gridiron for NFL Europe's Scottish Claymores.
By Matt Vautour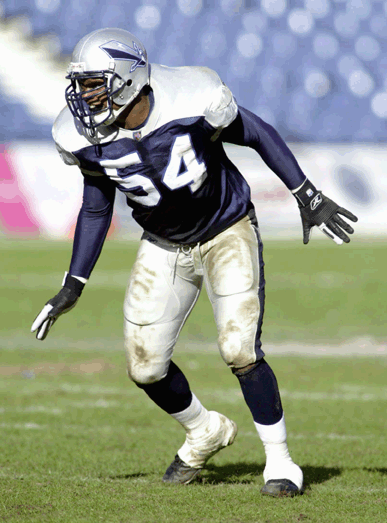 One fan has his face painted royal blue with a white diagonal cross. In his left hand he holds a long dowel with a flag that matches his face.
As linebacker London Dunlap '00 crosses the line of scrimmage into the Berlin Thunder backfield and wraps up a running back for a two-yard loss, another fan shouts: "Yay, Claymores," waving a Scottish Flag frantically.
The thickly accented public address announcer explains to the crowd that it is now third down and the Thunder need 12 yards to get a first down.
Nearby, a woman turns to the man sitting next to her and wonders aloud: "How many yards do they need to get a second down?"
"I don't think they can do that," he responds, a bit unsure of his answer.
Dunlap smiles as he trots toward the bench, high-fiving his Scottish Claymores teammates. On the football field, any football field, the former TCU star is at home, but the fans' football ignorance makes one thing obvious: He is a long way from Texas.
"A lot of people still just know the touchdown and that somebody runs with the ball, but it's starting to grow," he said, laughing at his role as gridiron ambassador. "Once in a while people will say, 'You play American football? That's for punks. Rugby is a real sport.' "
Dunlap doesn't mind. While NFL Europe fans are still picking up the nuances of American football, most of the 11,722 who half-fill Scotland's national soccer stadium are passionately supportive.
Dunlap, like many players in the league, is glad to have someone to play for.
"Just having an opportunity to still play football, which millions of people aren't able to do, is great," he said.
The European arm of the NFL is its developmental league. In addition to trying to spread the game's popularity beyond North America, the six-team league is a testing ground for players wanting to prove that they are good enough to suit up on autumn Sundays. In addition to the Glasgow-based Scotland team, there are three squads in Germany (Berlin, Dusseldorf and Frankfurt), one in Amsterdam and one in Barcelona.
For American players, the culture transition in Scotland is a little easier than for their league rivals, thanks to reduced language barriers. Well, it's mostly the same language.
"They call french fries chips, and elevators are lifts," Dunlap said. The Claymores players and coaches live together in a hotel connected to Glasgow's Central Station. On off days they can catch trains to nearby Edinburgh and Sterling, the home of the William Wallace monument.
"I had seen Braveheart before," Dunlap said. "But I didn't really know the history of William Wallace before I got here."
This was Dunlap's second year with the Claymores. He cut back on sightseeing the second time around, focusing on football and his goal to sign with an NFL team this fall.
After a TCU career highlighted by garnering the 1998 defensive Most Valuable Player honors as a junior in the 28-19 Sun Bowl win over USC, Dunlap signed as an undrafted free agent with the San Francisco 49ers in fall 2000.
He suffered a rib injury early in camp and subsequently was waived. When he was healthy again, the Green Bay Packers signed him and allocated him to the Claymores for his first European summer last year. He started eight of 10 games at linebacker and made 15 tackles before returning to Wisconsin. After being cut by the Packers, he got a job with the Texas Department of Protection and Regulatory Services as a child specialist.
He considered hanging up his cleats.
But he stayed in shape, hoping for one last chance to prove himself. His performance in Scotland was good enough to get him invited back, this time as a free agent.
Trip No. 2 to the land of kilts and bagpipes was different this time.
"I've been a lot more focused considering I'm over here as a free agent hoping to get an opportunity to go back and sign with an NFL team," he said. "I'm a little wiser this time. Now I really understand the way it works. I'm here on a mission."
Because he was accustomed to life in Glasgow, he helped some of the new players adjust, explaining the currency, the customs and the slang.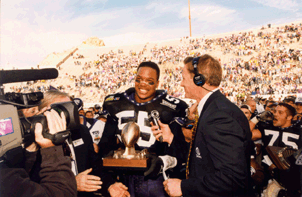 "Initially I did kind of tell people different things to do and what you need before you come over here. I tried to comfort a lot of new players coming in and help people."
Dunlap's teammates often complain about the hotel's meager nine-station TV package where The Simpsons and Star Trek are the only regularly available American shows. The two sports networks are dominated by cricket, rugby and, of course, soccer.
"Hey, at least it is in English," Dunlap said. "I turned on the TV in Dusseldorf and I couldn't understand anything."
Claymores coach Gene Dahlquist praised Dunlap's leadership and performance.
"His having been here before, people would ask him questions and he would supply the right answer for them," Dahlquist said. "That helped out quite a bit.
"He's one of the individuals who is trying to parlay this into an opportunity with an NFL club. We felt he was a good enough player with us last year to bring him back in hopes that he will get another opportunity with an NFL team. I think it has been good for him. I think he has helped himself."
Dunlap made 19 tackles this season for the Claymores, who finished 5-5.
Even if this experience doesn't put him in pads on Sundays this fall, Dunlap values what his two summers in Europe have meant to him as a person.
"Being exposed to different cultures helps you understand your culture better," he said. "Being here has helped develop my personality to a certain extent. I've always been a jolly dude, but being over here has helped me appreciate what I have back in the states. I do want to travel more later in life, too."
And he's not ready to give up football just yet.
"I still want to play," he said. "I've still got the Horned Frog in me."
Matt Vautour is a sports writer based in Massachusetts.
Horned Frog pros
The TCU Horned Frogs have made their presence felt in recent NFL drafts. Over the last two years, seven Frogs have been chosen in the annual National Football League event.
In April, tight end Matt Schobel was picked in the third round by the Cincinnati Bengals. The previous year, six Frogs -- the largest number produced by TCU -- were selected, highlighted by LaDainian Tomlinson, the first-round pick of the San Diego Chargers.
Other 2001 draftees were tight end Aaron Schobel (Buffalo Bills), fullback George Layne (Kansas City Chiefs), defensive back Curtis Fuller (Seattle Seahawks), defensive lineman Shawn Worthen (Minnesota Vikings) and wide receiver Cedric James (Minnesota Vikings).
Here are all the ex-Frogs who have played professional football, through the 2001 season:
Ki Aldrich
Chicago Cardinals 1939-40
Washington Redskins 1941-42, 1945-47
Bruce Alford, Jr.
Washington Redskins 1967
Buffalo Bills 1968-69
Bruce Alford, Sr.
New York Yankees 1946-49
New York Yanks 1950-51
Anthony Allen
Denver Gold 1983-84
Arizona Outlaws 1985
Scott Ankrom
Dallas Cowboys 1989-90
Ramon Armstrong
Oakland Raiders 1960
Morris Bailey
Edmonton Eskimos 1950
Gil Bartosh
British Columbia Lions 1955
Patrick Batteaux
San Diego Chargers 2000-01
Sammy Baugh
Washington Redskins 1937-52
Mitchell Benson
Indianapolis Colts 1989-91
Lindy Berry
Edmonton Eskimos 1950-51
Ray Berry
Oakland Invaders 1983
Kelly Blackwell
Chicago Bears 1992
Dallas Cowboys 1993
San Diego Chargers 1993
Lyle Blackwood
Cincinnati Bengals 1973-75
Seattle Seahawks 1976
Baltimore Colts 1977-80
Miami Dolphins 1981-87

John Booty
New York Jets 1989-91
Philadelphia Eagles 1992
Phoenix Cardinals 1993-96
Ben Boswell
Portsmith Spartans 1933
Boston Redskins 1934
Doug Brightwell
Saskatchewan Roughriders 1949
Edmonton Eskimos 1950
George Brown
New York Yankees 1949
New York Yanks 1950
British Columbia Lions 1954

Larry Brown
Dallas Cowboys 1991-95, 1998
Oakland Raiders 1996-97
Norm Bulaich
Baltimore Colts 1970-72
Philadelphia Eagles 1973-74
Miami Dolphins 1975-79
Charley Casper
St. Louis Gunners 1934
Green Bay Packers 1934
Pittsburgh Pirates 1935
Kyle Clifton
New York Jets 1984-96

Ron Clinkscale
British Columbia Lions 1955
Calgary Stampeders 1956-68
Linzy Cole
Chicago Bears 1970
Houston Oilers 1971
Buffalo Bills 1972
Philadelphia Bell 1974

Roosevelt Collins
Miami Dolphins 1992-93
Norm Cox
Chicago Rockets 1946-47
Bob Creech
Philadelphia Eagles 1971-72
New Orleans Saints 1973
Houston Texans 1974
Shreveport Steamers 1974-75
Tommy J. Crutcher
Green Bay Packers 1964-67, 1971-72
New York Giants 1968-69
Chuck Curtis
Winnipeg Blue Bombers 1957
Charlie Davis
Pittsburgh Steelers 1974
St. Louis Cardinals 1975-79
Houston Gamblers 1984
Darrell Davis
New York Jets 1990, 1993-97
Kansas City Chiefs 1991-92
Kenneth Davis
Green Bay Packers 1986-88
Buffalo Bills 1989-94
Kevin Dean
San Francisco 49ers 1987
Larry Dribbles
Calgary Stampeders 1973
Weldon Scratch Edwards
Washington Redskins 1948
Bill Elliott
Edmonton Eskimos 1948
Drew Ellis
Philadelphia Eagles 1938-39
Bryan Engram
Calgary Stampeders 1956-57

Hunter Enis
Dallas Texans 1960
San Diego Chargers 1961
Denver Broncos 1962
Oakland Raiders 1963
Phillip Epps
Green Bay Packers 1982-88
Buffalo Bills 1989
Greg Evans
Buffalo Bills 1994-95
Indianapolis Colts 1996

Lon Evans
Green Bay Packers 1933-37
Norm Evans
Houston Oilers 1965
Miami Dolphins 1966-75
Seattle Seahawks 1976-77
Jim Fauver
Edmonton Eskimos
Bob Jack Floyd
Green Bay Packers 1952
Chicago Bears 1953
Don Floyd
Houston Oilers 1960-67
Curtis Fuller
Seattle Seahawks 2001
Billy Gault
Minnesota Vikings 1961
Donnie Gibbs
New Orleans Saints 1974

Sonny Gibbs
Dallas Cowboys 1963
Detroit Lions 1964
John Hall
Chicago Cardinals 1940-41, 1943
Detroit Lions 1942
Norm Hamilton
Montreal Alouettes 1957
Phil Handler
Chicago Cardinals 1930-36
Marshall Harris
Cleveland Browns 1980-82
New England Patriots 1983
New Jersey Generals 1984
Sherrill Headrick
Dallas Texans 1960-62
Kansas City Chiefs 1963-67
Cincinnati Bengals 1968
Ken Henson
Pittsburgh Steelers 1965
Joe Hines
Washington Federals 1984
Grassy Hinton
Staten Island Stapeltons 1932
Foster Howell
Cincinnati Reds 1934
Gaylon Hyder
St. Louis Rams 1999-2000
Cleveland Browns 2001
Cedric Jackson
Detroit Lions 1991
Cedric James
Minnesota Vikings 2001
Tony Jeffrey
Phoenix Cardinals 1988
Lenoy Jones
Houston/Tennessee Oilers 1996-98
Cleveland Browns 1999-2001
Mike Keathley
San Diego Chargers 2001
Frank Kring
Detroit Lions 1945
Jimmy Lawrence
Chicago Cardinals 1936-39
Green Bay Packers 1939
George Layne
Atlanta Falcons 2001
Darrell Lester
Green Bay Packers 1937-38
Wilton Bill Lewis
Cincinnati Reds 1934
Bob Lilly
Dallas Cowboys 1962-74
Aubrey Linne
Baltimore Colts 1961
Toronto Argonauts 1962-63

Don Looney
Philadelphia Eagles 1940
Pittsburgh Steelers 1941-42
Robert Lyles
Houston Oilers 1984-89
Atlanta Falcons 1990-92

James Maness
Chicago Bears 1985
Tillie Manton
New York Giants 1936-38
Washington Redskins 1938
Brooklyn Dodgers 1943
Chance McCarty
Tampa Bay Buccaneers 1998
Dallas Cowboys 1999
Mickey McCarty
Kansas City Chiefs 1969
Chicago Fire 1974
Detroit Wheels 1974
Robert McWright
New York Jets 1990-91
Basil Mitchell
Green Bay Packers 1999
Denver Broncos 2000
Ross Montgomery
Chicago Bears 1969-70
Guy Morriss
Philadelphia Eagles 1973-83
New England Patriots 1984-87
John Morton
San Francisco 49ers 1953
Don Narrell
Edmonton Eskimos 1950
Kelvin Newton
Denver Gold 1983-84
Emery Nix
New York Giants 1943, 1946
Kent Nix
Pittsburgh Steelers 1967-69
Chicago Bears 1970-71
Houston Oilers 1972
Davey OĠBrien
Philadelphia Eagles 1939-40
Jimmy Oliver
San Diego Chargers 1995-96
Dallas Cowboys 1998
Jim OĠNeal
Chicago Rockets 1946-47
Derrell Palmer
New York Yankees 1946-48
Cleveland Browns 1949-53
Darrell Patterson
Winnipeg Blue Bombers 1984-90
Cliff Patton
Philadelphia Eagles 1946-50
Chicago Cardinals 1951
Stanley Petry
Kansas City Chiefs 1989-90
Hugh Pitts
Los Angeles Rams 1956
Houston Oilers 1960
Greg Porter
Washington Federals 1984
Merlin Priddy
Buffalo Bills 1960
Mike Renfro
Houston Oilers 1978-84
Dallas Cowboys 1984-87
Ray Rhodes
New York Giants 1974-79
Rollin Roach
Chicago Cardinals 1927
Joe Robb
Philadelphia Eagles 1956-60
St. Louis Cardinals 1961-67
Detroit Lions 1968-71
Houston Texans 1974
Shreveport Steamers 1974
Barret Robbins
Oakland Raiders 1995-01
Wesley Roberts
New York Jets 1980
Michigan Panthers 1983
Glynn Roberts
Chicago Cardinals 1939
Justin Rowland
Chicago Bears 1960
Minnesota Vikings 1962
Denver Broncos 1963
Bill Sadler
Detroit Wheels 1974
San Antonio Wings 1975
Aaron Schobel
Buffalo Bills 2001
Jim Shofner
Cleveland Browns 1958-63
Fred Shook
Chicago Cardinals 1941
Allanda Smith
Los Angeles Express 1984-85
Jack Spikes
Dallas Texans 1960-62
Kansas City Chiefs 1963-64
San Diego Chargers 1964
Houston Oilers 1965
Buffalo Bills 1966-67
Pete Stout
Washington Redskins 1949-50

Jim Swink
Dallas Texans 1960
Mike Taliferro
Denver Gold 1985

Stan Talley
Oakland Invaders 1983-85
Los Angeles Raiders 1986-87
Sean Thomas
Atlanta Falcons 1985
Cincinnati Bengals 1985
San Francisco 49ers 1987
Charles Bubba Thornton
Buffalo Bills 1969
Jacksonville Sharks 1974

LaDainian Tomlinson
San Diego Chargers 2001
Greg Townsend
Los Angeles Raiders 1983-93
Jason Tucker
Dallas Cowboys 1999-2000
Ryan Tucker
St. Louis Rams 1997-2001
Vernon Uecker
Winnipeg Blue Bombers 1957
Ted Vaught
San Francisco 49ers 1955
Willie Walls
New York Giants 1937-39, 1941-43
Fred Washington
Chicago Bears 1990
John Washington
New York Giants 1998
Dallas Cowboys 1999
Stanley Washington
Montreal Concordes 1984
Saskatchewan Roughriders 1984
Toronto Argonauts 1985

Vernon Wells
Kansas City Chiefs 1977
Calgary Stampeders 1978
Allie White
Philadelphia Eagles 1939

Jake Williams
Chicago Cardinals 1929-33
Shawn Worthen
Minnesota Vikings 2001
James Wright
Atlanta Falcons 1978-79
Denver Broncos 1980-85
Top