Other academe stories
It's like what mall girls do | Socates Today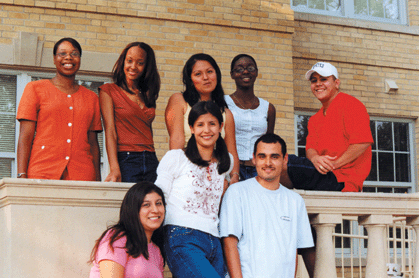 Expanding horizons
The graduation of the first class of Community Scholars is a significant milestone in TCU's commitment to diversity.
By Rachel Stowe Master '91
When Vanessa Pena arrived at TCU in fall 2000, she wondered if she had gotten in over her head. Now, with degree in hand, the Northside High School alumna and first-generation college student plans to enter medical school in 2005.
A minority at a school not known for diversity, Pena is just one of the success stories in the Community Scholars Program. Determined to attract qualified students from local high schools who otherwise might not consider TCU, administrators in 2000 identified six Fort Worth-area high schools and offered full-ride scholarships to top students. Eight in the first class of 12 graduate this spring. The other four do so next year. Three additional schools are being added to the list next year.
The Community Scholars Program now has 56 students, a handsome scholarship commitment and strong inroads into diversifying enrollment. The program includes:
- More than $1 million in scholarships, which pays 60 percent of the cost of tuition, room and board. Other academic scholarships and/or financial aid cover nearly all of the remaining expenses.
- Targeted academic and personal support.
- Guaranteed access to Freshman Seminars and the Chancellor's Leadership Program.
- Undergraduate opportunities for graduate-style faculty mentoring, research and scholarly work through the Ronald E. McNair Post-Baccalaureate Program.
Support beyond financial assistance has made this program extremely effective, Pena said. "It's much more than a scholarship program. They gave us money, but they gave us a lot more -- they gave us support throughout our years here. And I think that's really important."
The prep for success begins almost immediately with an intense summer program to smooth the transition from high school. That support then continues every step of the way.
"It's very hands-on," said Darron Turner, associate dean of student development. "There are very few students in the program we don't see at least once a week, whether they're just stopping by to say hello or they have a question. We're actively involved in what they're doing."
Community Scholars have faculty and student mentors and access to tutors, computers, workshops and cultural events, as well as opportunities for leadership training, internships and study abroad programs.
"I think it's very easy to come in and get a scholarship and be lost and not know where to go," Turner said. "One of the things we found out is that failing in universities doesn't always have as much to do with ability as much as not knowing where to go for the right resources. So we try to take some of those issues off the table for them. They know for sure they have at least one person they can call and ask a question." The increased diversity on campus that the program offers benefits everyone, said Cornell Thomas, professor and special assistant to the chancellor for diversity and community.
"If we can create a global community here on campus, we can prepare all of our students for the global community they're going to live in," Thomas said. "I can't overemphasize that if schools are not preparing students for the kind of environment they're going to live in, then schools are not doing their jobs."
Program participants express their appreciation. Elizabeth Surita, one of the spring graduates, plans to work on a master's in speech language pathology at the University of Houston. She said she has watched both the program and the students involved grow.
"I've changed a lot. I've become more outspoken, more outgoing," she said. "The program has definitely put me in a lot of positions where I've had to be a leader and be a representative of not only the program but also of TCU, and that's helped me grow as a person."
For more information about Community Scholars, call 817-257-7796 or email c.thomas@tcu.edu.
Participating High Schools
Diamond Hill-Jarvis, Fort Worth
Dunbar, Fort Worth
Sam Houston, Arlington
North Side, Fort Worth
Polytechnic, Fort Worth
O.D. Wyatt, Fort Worth

Three schools being added for the 2005-06 academic year:
Lincoln, Dallas
South Hills, Fort Worth
Trimble Technical, Fort Worth
Top