More in Riff Ram
First Person ... Danny Morrison

Simply awesome individually, tailbacks Lonta Hobbs and Robert Merrill have flopped as a tandem because of injuries. Now, they're finally both healthy at the same time. Will this be the season they become ...
A one-two punch?
By Greg Riddle '94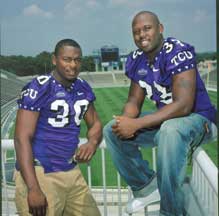 For a while, there was no disputing who was "Tailback U." Southern Cal held that title, and it was well-deserved, as four of the school's tailbacks won the Heisman Trophy between 1965 and 1981.
TCU, however, can now lay claim to being worthy of the nickname as well. That's because a Horned Frog running back has gone on to play in the NFL in every decade since the 1920s.
LaDainian Tomlinson is carrying on that tradition with the San Diego Chargers, having deftly taken the handoff when the torch was passed to him by another former Frog tailback, Basil Mitchell. And two current TCU tailbacks -- senior Lonta Hobbs and junior Robert Merrill -- could be next in line.
"I hope to continue to the NFL," Hobbs said. "I've talked to LT. He said it's mostly a mental thing, but you also have to be physically ready."
"It's a dream to be an NFL player," Merrill said. "Hopefully one day I'll get a chance."
Merrill has seen firsthand what it takes to make it to the NFL. He's a cousin of Wane McGarity, who played wide receiver for the Dallas Cowboys and New Orleans Saints.
"He's a big part of my life," Merrill said. "I looked up to him and wanted to emulate him."
If Tomlinson -- TCU's all-time leading rusher with 5,263 yards -- is the standard by which the school's tailbacks are measured, then Hobbs and Merrill have a shot at joining him in the NFL.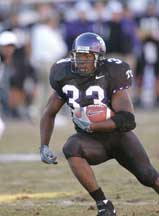 After redshirting in 2002, Merrill has run for 1,860 yards over the last two years. That's more yards than any player -- including Tomlinson -- has run in their first two years at TCU.
Hobbs burst onto the scene in 2002, running for 287 yards against Memphis and finishing the season with 1,029 yards -- a TCU freshman record that was topped by Merrill's 1,107-yard effort the following year. Hobbs enters this season's Sept. 3 opener at Oklahoma ranked eighth on TCU's all-time rushing list with 2,335 yards, and he's tied for second in school history with 31 rushing touchdowns.
Hobbs and Merrill will both get a chance to carry the football for the Frogs in their first season in the Mountain West Conference. But they'll have to be content with sharing the carries.
"They're both treated as starters," TCU coach Gary Patterson said. "They were that way a year ago. The way they do the carries -- one goes in, and when he's tired, he holds his hand up and the next guy goes in."
So how will the Frogs pick a starter between the 5-10, 220-pound Hobbs and the 5-10, 204-pound Merrill?
"It all depends on who had the best week [in practice]," Patterson said. "Without knowing anything else, Lonta would probably start the game because he's going to be the senior. But right now, we don't have an opinion. We'd be happy with either one of them."
Although they're competing for playing time, Hobbs and Merrill go out of their way to help each other during practice and film sessions by pointing out open running lanes that were missed or when a linebacker or defensive back might be blitzing. And despite their NFL aspirations, both tailbacks said they're not concerned with who starts, who plays in the fourth quarter or the fact they'll be rotating in the backfield.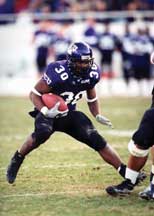 "I think it's good for the team and it's good for both of us," Merrill said. "We can stay healthy."
That has been a problem for both players.
After his scintillating freshman season, Hobbs suffered a concussion and injured his shoulder in a car accident and couldn't take part in football activities for two months. Injuries then kept him out of two games in 2003 and three games last season. Merrill was plagued by a hamstring injury early last season and averaged only 37 rushing yards per game over the first six games.
"The biggest thing we're excited about is they stayed healthy this spring," Patterson said. "That's the first time that's happened with both those guys."
Despite the injuries, Hobbs ran for 647 yards and 10 touchdowns and Merrill rushed for 753 yards and six scores last year as TCU went 5-6 and fell one win short of going to a bowl for a seventh consecutive season.
The pairing of Hobbs and Merrill in the backfield resembles something out of "The Odd Couple," as the two don't have a lot in common. Hobbs is a bit of an extrovert; Merrill tends to keep to himself and is more of a homebody.
Hobbs said he doesn't have many hobbies outside of football -- "I don't even play video games that much." Merrill, meanwhile, is passionate about raising reptiles and amphibians. He currently has two pythons at home in San Antonio.
"My dad looks after them," he said. "My mom won't go anywhere near them."
The two tailbacks also took remarkably different paths to TCU.
As a senior at Class 3A Clarksville High School in 2001, Hobbs ran for less than 1,000 yards for a team that finished 1-9. Merrill was at the other end of the spectrum, running for 2,891 yards and scoring 39 touchdowns for a San Antonio Taft team that was the Class 5A Division I state runner-up.
Not surprisingly, Merrill had schools such as Texas, Texas Tech and Oklahoma State trying to entice him to join their backfield. But he chose the Horned Frogs so he could stay relatively close to home and because high school teammates Marvin Godbolt and Ranorris Ray were going to TCU.
Hobbs, who also played linebacker and defensive back as a senior, attracted several recruiters with his defensive prowess. But he longed for a chance to showcase his offensive skills in college.
"I think most people were not recruiting him as a running back. I think they were recruiting him as a linebacker," Patterson said. "I think that was the biggest difference. We wanted him as a tailback."
Tragedy also played a role in Hobbs' recruiting. In September 2001, he was scheduled to fly to California for a recruiting visit to UCLA. But a week before his trip, the 9-11 terrorist attacks occurred.
"I'm a country boy, and I had never flown before," Hobbs said. "When that happened, it kind of made me say, 'I don't think I'm going to get on that plane.' I didn't go out there."
This season, Hobbs and Merrill have a chance to accomplish something that's happened only 33 times in NCAA Division I-A history -- two players from the same team each running for 1,000 yards in the same season. Some of the great running back duos in college football history -- Marcus Allen and Charles White at USC, Barry Sanders and Thurman Thomas at OSU, Roger Craig and Mike Rozier at Nebraska -- aren't on that list.
"I think we're as good as any running backs throughout the NCAA," Merrill said. "It'll be a goal of ours to both get 1,000 yards in the same year."
If it happens, that would just be one more reason to call TCU "Tailback U."
Greg Riddle '94 is a sports writer for The Dallas Morning News.