African Queen
Brite graduate offers ray of hope to South African homeland.
By Rachel Stowe Master '91



In September, fresh from completing her doctoral work at Brite Divinity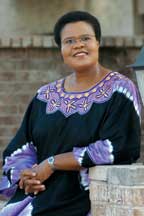 School, Makhosazana "Makhosi" Nzimande '05 packed her bags, said goodbye and began the long journey home to Durban, South Africa.
After six years on campus, Nzimande — a charming, passionate Zulu woman and an exceptionally bright student — left a big hole. But the excitement of her work ahead overshadowed the sadness of her departure. And as supporters bade her farewell, they saw a beacon of hope heading back to the people — especially black women — in post-apartheid South Africa.
Nzimande is only the second black South African woman to hold a Ph.D. in Hebrew Bible — but her degree is from the United States. "And that on its own is quite prestigious," she said, "given the high education standards in the United States."
She will graduate in absentia in December, as she was rushing to get home in time for the Old Testament Society of South Africa annual meeting, where she planned to look for a university job. Meanwhile, she will keep busy with a research fellowship for the Southern African Religions and Cultures Encyclopedia Project in association with the University of KwaZulu-Natal in Durban.
"In addition to contributing to the encyclopedia, I will also be publishing my own papers and conducting research on the interpretation of the Hebrew Bible from a post-colonial hermeneutical perspective as a black Zulu woman living in post-apartheid South Africa," she said.
In other words, she will be using the Bible to help her fellow South Africans heal from the wounds inflicted throughout the centuries of colonization and, in more modern times, apartheid
A SEASIDE HAVEN, Durban is a beautiful, evergreen city with a warm, tropical climate. In technological advances and level of sophistication, it's not much different from Fort Worth or Dallas. But in terms of social justice, Durban is another world.
South Africa has only experienced democracy for 11 years, and the government started by Nelson Mandela still must deal with racial integration, poverty and economic empowerment, not to mention the HIV/AIDS epidemic ravaging its people. Black women have a particularly difficult road. Although they struggled alongside their men against apartheid, in the new democracy these women are typically denied a place of dignity — even by the black men now in power.
"We are called to be biblical scholars who are not just sitting at the ivory
towers of the biblical academy enjoying filtered coffee, biscuits and glasses of wine when the people we seek to represent are dying of hunger, of poverty, of malnutrition, of AIDS," Nzimande said. "One of the questions that remains is how do we as privileged, elite black women merge our social existence with the social existence of the black women who belong to lower classes than we do? And how do we empower and uplift those women utilizing the Bible? And also how do we read the Bible for decolonization in the church and in the biblical academy for the purpose of dealing, for instance, with the self-loathing mentality on blackness that was instilled by colonization in general and by apartheid in particular?"
Nzimande comes with credentials. Her dissertation — Postcolonial Biblical Interpretation in Post-Apartheid South Africa: The (Queens and Queen Mothers) in the Hebrew Bible in the Light of Queen Jezebel and the Queen Mother of Lemuel — uses post-colonialism as a lens by which to study the Bible.
Post-colonialism is a perspective of indigenous people who came out of a former empire and a way for them to use their own traditions to shape their modern world views: how they understand the Bible and religion, how they set up governments. Post-colonials read the Bible through a "contextual theology," meaning their current context provides a matrix of interpretation. So while they can see the Bible as a historical text, their interest focuses on what it has to say today.
"This way they use their own histories, religions and cultures as aids in giving biblical texts new meaning," Nzimande said.
A former youth director in South Africa's Anglican Church (what would be called Episcopal), Nzimande is eager to get involved again.
"I would like to utilize my expertise to assist clergy and the so-called movers and shakers in the church to better interpret the Bible within the South African context, utilizing interpretive, hermeneutical tools that are suitable for their own context as black people who are still addressing the ills of colonizing and apartheid," she said.
On the academic side, Nzimande said opportunities abound in a new democracy.
"One of the problems we are having is an 'intellectual brain drain' whereby there is an exodus of top academics from the African continent to America and Europe," she said, noting that she plans to stay to be a resource to Africa.
Her former professors expect her job search to be brief.
"I think she will be in a full-time teaching post very quickly," said Leo G. Perdue, professor of Hebrew Bible. "She's going to be a very powerful voice because she's remarkably intelligent and very personable. She's very charismatic.
"She was that way here and had a large following of friends, and I think she'll do the same in South Africa. She'll be a very strong, prophetic voice emphasizing the rights of black women in South Africa — and also will continue to speak out against Western imperialists who have refused to return their stolen property."
As she turned toward home, Nzimande admitted there are several things she will miss, such as the easy access to resources from campus libraries, TCU's small class size and, well, a good steak.
"I've grown very fond of Texas steaks," she said with a laugh, adding that she will also miss her "many, many, many friends, colleagues and faculty."
And she expressed enormous gratitude for the way the TCU and Brite communities embraced her. "I feel like this was an opportunity that was a pedagogical empowerment. It is a torch that I will carry with me, and I will let its light shine to other African women elsewhere. Brite blood will run forever in my veins, and my scholarship shall
forever be influenced and shaped by my learning experiences from drinking from the rich wells of Brite's academic excellence.
"Wherever I go, I will raise the color purple, the color of TCU, and I will
forever raise the torch of light that Brite gave me and enlighten also the minds and influence the lives of many, especially African women and young people in South Africa, in Africa and around the world in general."
Those who know her best don't expect anything less.
Comment at tcumagazine@tcu.edu.