After the storm
TCU is 472 miles from New Orleans.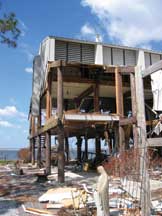 But by Aug. 30, the day after Katrina hit, the Big Easy seemed like another planet.

Or right next door, depending on your perspective.

Our greater-Horned Frog community has more than 900 alumni living at addresses ravaged by Katrina, and nearly 350 affected by Rita. More than 50 current students come from the area. Add in assorted friends and relatives, and basically everyone here knows someone from there. We all felt the after-effects to one degree or another.

Perspective is a good thing when tragedy occurs. It helps us focus on the future and make sense of the present. So we asked a few of our experts about the lessons we need to learn; and we gathered stories from your fellow Frogs.

We were encouraged by the insight, courage, sacrifice and adaptability of our community.
We hope you are too.
The role of culture
What impact might relocated evacuees have on their new communities?
By Jeff Ferrell
Professor of Sociology
The role of religion
What answers does faith have in times of crisis?
By Christie Cozad Neuger
Professor of Religion
The environment
Did global warming cause this year's storms?
By Mike Slattery
Director, Institute for Environmental Studies
The political fallout
How did politics affect the recovery effort?
By Jim Riddlesperger, Chair
Department of political science
Helping the victims
How did the Harris School of Nursing respond to hurricane relief efforts?
By Susan Weeks
Professor of Nursing
(As told to Allison F. Speer '91)

The face of Katrina
What must we learn about race and poverty from Katrina?
By Linda Moore, Chair
Department of Social Work
First person
Students and alumni share their experiences dealing with the disaster