More in Riff Ram
First person with Nicole Leimbach | Revvin' up his game | A point of interest


One quarterback. 3,600 pounds of offensive linemen. One dinner.
Read their conversation here.

Another off-the-bench hero
When junior quarterback Jeff Ballard replaced injured starter Tye Gunn, Frog Nation held its collective breath. Twenty touchdowns, a Top 15 ranking and a string of victories later, the backup just might be the Frogs' MVP.
By Rick Waters '95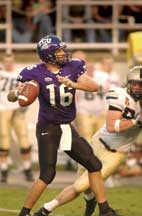 Jeff Ballard never thought there would be a "this season." When the 2005 campaign began, the junior quarterback was on the sideline talking to senior starter Tye Gunn about the Oklahoma Sooner defense.

Perhaps later in the year, he might see action on the field, probably during a blow out.
"I felt like Tye would start all 11 games and play well the entire year," Ballard said. "I thought I would be by his side learning from him for next season. My mentality was to get prepared for next season. I didn't expect this season to turn out the way it did. Not in a million years."

But the Frogs' season turned on a play mid-way through the third quarter in Provo, Utah. With the Frogs down 18 points on the road, Gunn avoided the rush of two BYU defenders and scrambled ahead for a minimal gain, but the tackle left him lying on the field with a separated shoulder.

In stepped Ballard, who guided the Frogs to five consecutive touchdowns in regulation and overtime.

"I'm still surprised to see how calm and poised he was when we go back and watch the tape," senior offensive tackle Michael Toudouze said. "He's out there avoiding the rush, breaking tackles and playing like a running back. I didn't know where that came from."

Few did.

Ballard had attempted only one pass before the season began, and was virtual unknown on the Frogs' bench. Last season when both quarterbacks Gunn and Brandon Hassell traded injuries, another quarterback Kyle Kummer got the starting nod.

But none of that mattered in Provo, and not only did Ballard rescue the Frogs against BYU, but he went on to lead the Frogs (10-1, 8-0) through the rest of the Mountain West with an unblemished record, clobbering their last six opponents by an average of 25 points.

Throw in a Top 15 ranking and the fact that the title was the program's first outright conference championship since the Southwest Conference in 1958, and Ballard's story is a true out-of-nowhere story.

While an improved defense has been a vital piece in TCU's championship run, the Frogs wouldn't be in such a position without Ballard.

In truth, Ballard saved the Frogs' season.

"He surprised me," junior offensive lineman Herbert Taylor said. "I was impressed with him on the practice field, but I didn't expect him to be carrying us through an undefeated season in conference."

Head Coach Gary Patterson has a different take: "He's probably surprised a few people, but I don't think the coaching staff is surprised. We made him our No. 2 quarterback heading into the season for a reason. He had a great summer, and he was ready to go once this season started."

Ballard's statistics probably won't earn him a place on the Mountain West's all-conference team. He has 1,526 passing yards, 327 rushing yards and 20 total touchdowns. Not bad, but in a league with two 300-yard per game passers, it pales in comparison.
In fact, Ballard is averaging only 188.4 passing yards per game.

But what Ballard has successfully done is engineer an offense that doesn't require him to pile up arcade-like numbers.

He's steered the offense out of trouble and sprinkled in an impressive run when necessary.
And he's done it well.

"I've learned that my job is to manage the team a little bit," Ballard said. "I tried to push things on a few occasions, but I've learned I just need to make reads and put us in the right play."

The only thing he has struggled with, according to his coaches, is dealing with occasions when he does make a mistake.

Ballard struggled against Wyoming on Oct. 8 and lost some confidence after a rough performance.

"He's better executing the offense and he's really improved as a leader," quarterbacks coach Dick Winder said. "But he still has to learn to move on because you're going to make mistakes in this position. You can't have the last play back."

Ballard, of course, has had more good plays than bad this season.

"I'm having the sort of season I hoped for when I was put in the lineup," Ballard said. "But I know we're not finished."

Yes, there's the matter of the Frogs' bowl game in Houston on Dec. 31 against Big 12 foe Iowa State.

"We're excited to be back in a bowl game period, we don't care where it is or who it's against," he said.

So is he the Frogs' MVP?

Ballard says it's his offensive line. The offensive line says he is just being modest.

"Truth is, I just did what was asked of me," Ballard said. "I did my job and the rest of the team did their job. That's really the story of this team. We did it together."

And that's why they are conference champions.

Comment at tcumagazine@tcu.edu.