Purple in the White House | Notables | A healthy outlook

A healthy outlook
Nurse on the front lines of the anthrax scare healed sick around the world.
By Saedra Pinkerton
At 17, Joyce Goff '73 was a single mother in Lubbock struggling to finish high school. Though opportunities were scarce, she would grow up to combat some of the nation's greatest threats and provide health care to impoverished people around the globe.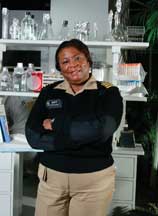 A chief nurse with the Centers for Disease Control and Prevention, Capt. Joyce Goff '71 served as an officer in the U.S. Public Health Service (USPHS) Commissioned Corps, one of the country's seven uniformed services, for 15 years before retiring in January.
A chief nurse with the Centers for Disease Control and Prevention, Capt. Goff served as a health education specialist in the National Immunization Program, where she created and presented training programs for physicians and nurses. When anthrax attacks threatened politicians and postal workers, she was a first-responder, evaluating exposure levels and making sure every person understood the risks and benefits of opting for the anthrax vaccine.
"It was my responsibility to work with three students who worked in [former Sen. Tom] Daschle's office," she says. "They returned home to three different parts of the country, and every other week I had to fly out to each of them to administer medications and assess any exposure level on their campuses."
Despite the fear and uncertainty surrounding that first bioterror attack in the United States, Goff remained focused and unafraid.
"It was like going to war," she said. "It's a job. You rise to the occasion as part of the team. You're going to help people and do good. You know what the risks are, and you do what is necessary to protect yourself."
Over the years her CDC duties took her frequently to Asia and Africa, where she worked to eradicate polio by educating people about immunization. A three-month tour to a rural village in India took her farther from her West Texas roots than she ever expected.
"I was out there, in a remote part of the country, with no American partner. I could only pray I could trust the interpreter. Many of these people had never seen a black person before, and many had never seen a woman traveling by herself. One English speaker said to me, 'Madame, why has your husband let you come so far?' "
She nursed men (custom and religion banned female patients from the hospital) in open-air rooms without doors or windows. The hospital even lacked a waste system. "A frightening scene since polio is transmitted through waste," she recalled.
Each night, Goff returned to her un-air-conditioned room and wrapped herself in layers of sheets to repel insects. She tried to adapt to local customs, always covering herself in a sari and never dining alone in public. But one night she ventured down to the restaurant in her motel to pick up food.
"I was waiting for them to prepare my food when two strange men sat down at the table with me," she said. "The manager brusquely came over and told them to move. Apparently they assumed I was a prostitute since I was alone."
Despite her international travels and professional kudos, Goff makes it a point to remember the faces of desperation that she encountered every day in India.
"I remember a little girl from Lubbock, going away to college to start a journey. My God, you never stop. As you step through doors, others keep opening. And there are a lot of things I still want to do.
"Luckily, the average woman lives to 80 now, so I have 30 more years to go." — SP
Comment at tcumagazine@tcu.edu