Education | Teaching | Nutrition | Humanities |
Fine Arts | Advertising | Ad/PR | Geology | Honors Convocation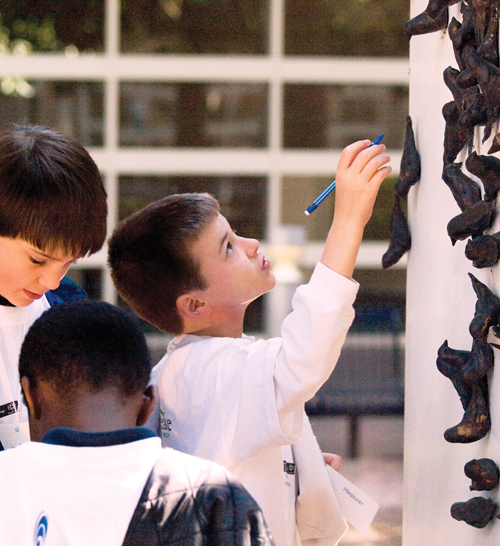 Trail of knowledge

Elementary school kids find that math and science are all around them.

By Cathy Frisinger
If you happened to be walking around campus in early April and thought the students looked young —very young — it's likely you stumbled across some of the fourth- and fifth-graders participating in the two-day Math and Science Trail event.
This is the second year for the program, which was developed by education assistant Professor Kathy Smith for the College of Education's Mathematics in the Elementary School course, and is a combined effort between the College; the TCU Andrews Institute of Mathematics, Science and Technology Education; and the Fort Worth school district.
This year, some 220 elementary students from Fort Worth schools got practical-application lessons in math and science from TCU education students at 10 campus locations, who in turn got practical experience in teaching — and everyone got a diverting day outside the classroom.
Of course, being fun didn't mean young minds weren't being stretched. TCU students, with the "TEKS" (Texas essential knowledge skills) requirements for fourth-, fifth- and sixth-graders in hand, developed the questions that would face the grade-schoolers.
Tucker Technology was the first stop of the day for Oakhurst Elementary fifth-grader Sebastian Montoya and fourth-grader Donovan Rivera. The students used yellow rulers to measure sidewalk squares and compute the area of each square. Sebastian, a tall boy wearing camo shorts and a blue jacket, did the math in the air with his hands — "60 times 60 is 3,600" — and Donovan, looking sweet and serious in dark-rimmed glasses, recorded the answer.
At the Moudy Building, the students correctly predicted the temperature of the soil — it was a chilly 15 degrees Celsius that day — and then did a brief experiment to determine what happens to their pulse rate after exercise. The answer: It goes up, except for one student, who perhaps didn't count his pulse beats correctly.
On the steps of Robert Carr Chapel the students identified rectangles, triangles, trapezoids, semi-circles and other geometric shapes they are supposed to know in the building's architecture.
"It's a win-win situation," said Smith. "The elementary students were allowed to get out of school for the day, but they're still learning. We're trying to make them see that math and science are part of their life," not confined to a classroom.
"The teachers are supposed to step aside and allow the TCU students to do the teaching. One of the professors not involved in the project said they came into her class afterward and couldn't stop talking about it."
And the public school teachers had their own educational experience, getting information on how to create learning trails on their own campuses.
Sara Holloway, a science coach from Oakhurst, said the outing benefits the youngsters in another way. "It's exciting because, except for one student who'd been to a football game, our students have never had the experience of visiting a college campus."

Comment about this story at tcumagazine@tcu.edu