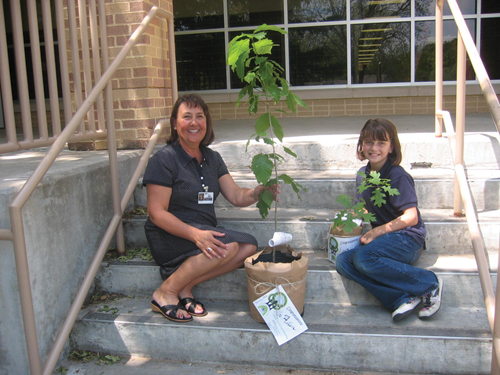 Ring bearers
Got a favorite tree? Then join The Great Tree Ring and help preserve our tall green friends.

By Nancy Allison
Megan North tells her favorite tree good night each evening and hugs it as she heads for school.
Turner Black thinks fairies might live in the cool shade of his tree.
Danielle Kelley loves the John Peter Smith tree because it represents the good that its namesake has given to the poor of the community.
Gabbye Guess' tree is home to a beloved swing.
And Randy Ortiz Montes' grandfather planted his special tree, which reminds him of his deceased grandpa every day.
These Fort Worth third-graders were among the winners in the Great Tree Story Contest, an essay contest sponsored by an alliance of people and organizations that have dubbed themselves Ring Bearers for their participation in a collaborative effort known as the Great Tree Ring.
The Great Tree Story Contest is just one initiative of the "Ring," but the most important one in the organization's one-year history, said Provost Nowell Donovan, the architect of the Ring.
"We need to find a way to turn kids on to science," he said. "Just as important is to teach young people to communicate with nuance and precision. We hope that by challenging them to tell a story well about a familiar object, we're doing both."
Donovan's inspiration for the Great Tree Ring was an ancient Douglas Fir on the grounds of Scone Palace near Perth, Scotland. A plaque by the tree revealed that it grew from seeds that Scottish botanist David Douglas brought back from the Pacific Northwest in 1824.
Learning the tree's story made an impact, and as Donovon traveled he began to find more tree stories, thanks to the Millennium Commission's project to identify Britain's most ancient trees. One was The Birnam Oak, with a circumference of 18 feet, said to be a remnant of the Birnam Wood mentioned in Shakespeare's Macbeth. Fortingall Yew in Tayside was another tree of astounding girth, not to mention age. The gnarled old tree has weathered over 3,000 years of life on Earth.
Back in Fort Worth, Donovan decided to do something locally to connect people with their own amazing trees and the stories they tell. In the summer of 2006, he gave a talk at the Botanical Research Institute of Texas outlining his idea.
"We loved it," said Pat Harrison, director of education at BRIT. "It fits right in with our most important goal: to foster a sense of place and an appreciation of nature in the young." BRIT got busy brainstorming and making connections, and it wasn't long before The Great Tree Ring was formed.
Many scientists trace their first enthusiasm back to childhood, when they spent hours outdoors studying bugs, stars, snakes or trees. So the ultimate goal of the Ring initiative is to entice young people outside.
"At BRIT, we have taken as our tagline: 'No child left indoors,' " said Harrison. "Stewardship can't begin too early. When children make a connection to nature, they want to learn about it and come to care about it. By giving kids a better appreciation of what exists in their own back yards, we make them better stewards of the land."
Many of TCU's trees will soon be telling their own stories - or at least introducing themselves to us. The campus is already tree-rich, sporting nearly 40 different species on its 260-acre grounds. Donovan has begun working with a forester to identify and provide information on our best specimens. Once the arboretum concept at TCU gains momentum, "a stroll around campus will be a learning experience."
The Great Tree Ring will host a symposium at TCU in 2009 to discuss relevant tree topics such as urban and community forestry, sustainability and habitat preservation. The goal is to create more awareness of the benefits and challenges of tree conservation.
Nurturing and celebrating trees locally as well as globally is the aim of The Great Tree Ring's web site. From trees in literature, art and music to history, mythology and botany, the site is both fun and science-worthy. It includes specimen trees in the Fort Worth area, "with names, locations, descriptions and stories about our native, historical, beautiful, huge or otherwise significant trees," said Harrison.
Trees make cities attractive and livable, but they do much more. Michelle Villafranca, forester for the City of Fort Worth, notes that trees not only provide many aesthetic and functional benefits, but also provide basic infrastructure needs for cities.
"Benefits such as filtering groundwater, slowing runoff and erosion, and reducing energy costs, are essential functions in our urban setting," she said. "Through The Great Tree Ring alliance, we hope to educate the public across the region about our urban forest and the Cross Timbers ecosystem. Through education we can save and enhance both."
The web site also provides access to all of the Ring Bearers' individual web sites so visitors can get to know these great resources as well.
For instance, did you know about the 20 miles of hiking trails available to visitors of the Fort Worth Nature Reserve? This habitat, dominated by centuries-old post oaks and blackjack oaks, is known as the Western Cross Timbers. It's a "remnant of an ancient forest," said supervisor Ken Seleske, "that connects the huge eastern deciduous forests with the grasslands of the Great Plains."
Courtney Blevins, a tree educator at the Texas Forest Service, helps maintain champion tree lists for the state of Texas. This means searching out and helping people measure the biggest trees in the state for each species. Her goal is to re-create that list in Fort Worth, and to encourage people to be on the lookout for the biggest trees in their neighborhood.
Often, we don't act to preserve gifts of the natural world until it's too late, said Harrison, who vividly remembers her own "great tree," complete with swing, in the small east Texas town where she grew up.
"I spent summers looking across the valley from my big old tree. I was the older sister, and this was my safe place, my escape from the busyness and noise of family. It was my place to sit and dream, plan and read."

Ring Bearers in The Great Tree Ring:
TCU
www.ensc.tcu.edu
Botanic Research Institute of Texas
www.brit.org/education
Fort Worth Parks & Community Services Department:
* Forestry Section
www.fortworthgov.org/pacs/fwpacsd/forestry
* Fort Worth Botanic Garden
www.fwbg.org
* Fort Worth Nature Center & Refuge
www.fwnaturecenter.org
Cross Timbers Urban Forestry Council
www.ctufc.org
Fort Worth Independent School District
fortworthisd.org
Texas Forest Service
txforestservice.tamu.edu

Comment at tcumagazine@tcu.edu.