Splash Page
|
Alumni profile
| Notables
Notables
Tall in the saddle
When Terry Stuart Forst '92 (RM) learned she was a 2007 inductee into the National Cowgirl Museum and Hall of Fame, she was "shocked."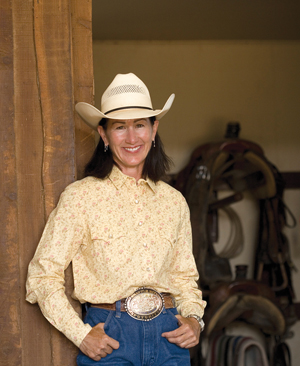 But the November induction was an experience she treasures. "To meet all those ladies, I was like a fish out of water. I was so impressed."
Forst is ranch manager at the 40,000-plus-acre RT Stuart Ranch LLC, also known as the 7S Stuart Ranch. Headquartered in Waurika, Okla., it's the state's oldest ranch under continuous family ownership. Forst's dad handed her the reins in 1993, a year after she graduated from TCU's Ranch Management program.
Although Forst grew up in the ranch business, life took her in a different direction. "I had quit the ranch and was doing some other things, and I needed some confidence, something to get me back on the right track," she recalled.
Homesteaded in 1868 by Forst's great-great-grandfather, the ranch is laid out across parts of the historic Chisholm Trail, including what experts have described as "some of the best preserved ruts" on the trail.
Under Forst's able hands, the ranch has earned a reputation as one of the most profitable in the Southwest and as a premier producer of Herefords and Black Baldies as well as all-around cowhorses. It has produced numerous world champion Quarter Horses as well as 1995 Superhorse "Genuine Redbud" and 2004 Superhorse "Real Gun."
Forst also shows in amateur cowhorse and roping events and recently was named Reserved World Champion, Non-Pro Bridle at the National Reined Cow Horse Association World Championship Show.
Looking ahead, the family tradition seems poised to continue with Forst's two sons. Robert is running a wildlife program while studying at Southeastern Oklahoma State University, and Clay is graduating from Oklahoma State University before beginning TCU's Ranch Management program in August.
- - - - - - - - - - -
A peak experience
Everest may be the highest peak in the world, but K2 is the most dangerous. Located in the Karakoram range on the border between Pakistan and China, K2 is steeper than Everest, the faces are more exposed and the weather more unpredictable. No wonder it's nicknamed Savage Mountain.
"More people have stood atop Everest last summer alone than have summitted K2 in its entire history," said Trey Cook '84, editor of Boardsports Source magazine.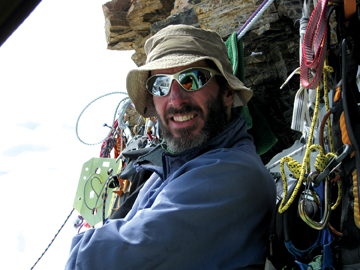 So naturally the adventure-seeking Cook wanted to be one of those few people.
He'd been working his way toward the challenge for years, starting with Denali, the highest peak in North America at 20,000 feet, in 2000.
In 2004, he tackled Cho Oyu in Nepal, the fifth-highest mountain in the world, which proved to be far more challenging. But if Cho Oyu was several times more challenging than Denali, then K2 was exponentially more challenging than the Nepalese peak.
Cook, part of a 10-man team from America, set out to climb the Cesen Spur of K2, a seldom-climbed route, without the assistance of Sherpas or supplemental oxygen. It was a grueling experience. The weather ranged from 110 degrees inside the tent at base camp to howling blizzards.
The steepness of the climb would have been reasonable for a well-trained climber at a lower altitude but was extremely challenging at the heights they were at. Cook reached 7,000 meters (23,000 feet) three times, but each time was driven back by storms. His group spent 80 days on the mountain, and they were sick and exhausted when they turned back.
Nevertheless, Cook, who lives in Chamonix, France, considers the attempt to climb K2 a peak experience in his life.
Would he try it again?
"You know, with a sponsor and the right team, I might be tempted."
- - - - - - - - - - -
Sister act

When Diana Vela '05 (PhD) was doing research work for her thesis, she expected to earn a doctoral degree in English. She just never expected to see her research end up on a New Mexico historical marker.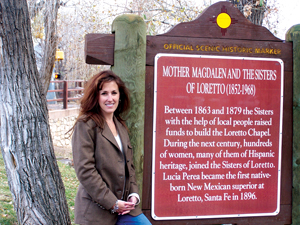 Vela focused her thesis on historical writings by women in the Southwest. "When I began looking for a dissertation topic, there was not a whole lot out there on female writers and so much of what was there was from the Northeast - Phyllis Wheatley, Abigail Adams."
So she began thinking about who the Southwest settlers were, and who among those was literate, and she hit upon the idea of nuns. They were educated, they were pioneers, and little - if any - attention had been paid to their writings.
Her dissertation looked at three groups of nuns, including the Sisters of Loretto in Santa Fe, N.M. The writings that Vela focused on were Sister Magdalen's letters home to family, which the nun had copied over into her Spanish practice book as an exercise in learning that language.
End of dissertation story - almost.
Vela's father was vacationing in Santa Fe about two years ago, when he saw a story about a new state program to put up roadside markers honoring key women in the state's history. He told his daughter, who filled out an application nominating the nuns and provided the necessary historical documentation.
On Dec. 1, a marker honoring "Mother Magdalen and Sisters of Loretto (1852-1968)" was dedicated, the first of 54 such roadside markers to be established. Vela persuaded actresses Ali MacGraw and Barbara Bossun to read some of the letters at the dedication, which was attended by New Mexico Gov. Bill Richardson and other dignitaries. The 5-foot "Official Scenic Historic Marker" preserves a bit of history, as seen from the oft-overlooked female perspective.
- - - - - - - - - - -
Encore

At age 83, George Stephens '42 can't imagine living past 90, but if he does, he knows he'll be performing. Always has. "While I may not have had the most talent," admits the strapping bass baritone with an actor's twinkle, "nobody can deny that I haven't demonstrated pretty good range."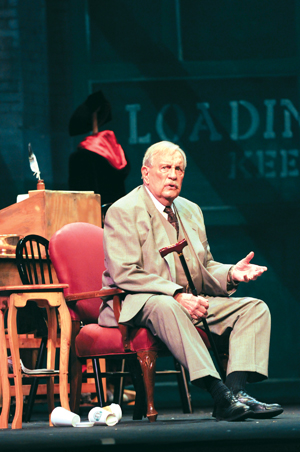 From Jesus in Bach's St. Matthew Passion to Tevye in Fiddler on the Roof to Buffalo Bill in Annie Get Your Gun, Stephens' career credits read like an encyclopedia of the arts: He's been Doc Gibbs in Our Town, Kent in Twelfth Night and Whiteside in The Man Who Came to Dinner among scores of other roles.
So when Richard Estes, TCU professor of opera, called about a role in the department's April production of Mozart versus Salieri, Stephens had a new role: The Impresario.
The opera was Stephens' return to the TCU stage in more than 60 years. He attended the university off and on in the 1940s, interrupting his studies to serve in Europe during World War II, then continuing briefly before enrolling in the American Theatre Wing in New York. But while a Horned Frog, he partnered with Melvin Dacus '44 to form the TCU Quartet, which broke attendance records all over Texas with the College Capers of 1942. Only Mae West's shows drew more that year.
Stephens boasts that his mother, Vier '12, attended the school when it was in Waco and was once engaged to Milton Daniel before a Colorado cowboy put a banana peel down her shirt and stole her heart. "Two years later, I was born," he says with raised eyebrows and a smirk.
His enthusiasm and engaging personality were a hit with students in the production, Estes said. "George has such great dramatic instincts. He had everyone in stitches. It was a fringe benefit to me for the students to see someone of my generation demonstrate such passion for the art form. It's inspiring."
The experience was an opportunity to connect with TCU again, Stephens said. "I was honored to be asked to be in the production, and I am enjoying every minute of it. I hope they'll have me back."
Sounds like an encore is in order.
- - - - - - - - - - -
Packing a peck of pickles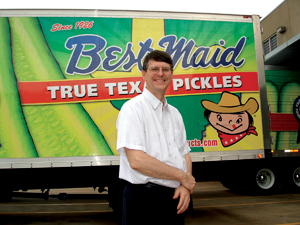 When Mike Wuller '83 was at TCU studying biology, he got himself a dilly of a summer job one year working for pickle company Best Maid.
"I had taken med tech classes and since I had the background in bacteria and fermentation and all the things that are necessary in taking a cucumber and making it into a pickle, I walked in and said, ÔYou probably use this kind of bacteria in your process,' and they were amazed."
Although food-processing methods today sometimes bypass them, traditional pickle-fermentation methods rely on microbes such as Lactobacillus brevis and Pedigococcus mesenteroides to sour and soften the cucumbers.
Wuller's propensity for translating esoteric science into the pragmatic practice of pickle production paid off, and today he's the technical director for Best Maid, which is headquarted in Fort Worth and has a tank yard in Mansfield.
He's responsible for drawing the specifications for the company's dozens of pickle recipes and coming up with new formulations, such as the habanero spread he created for ZestFest '04 that was so popular the company made it a standard part of their line.
"My test tubes now are 800 tanks, and each one holds one 18-wheeler full of cucumbers." Wuller says. Speaking of college, Wuller recalls making grilled cheese sandwiches in his dorm room in Tom Brown and serving them with pickles from a jar of Best Maid Hamburger Slices. "This even before I had any idea that there were jobs and a paycheck in pickles."
Now Wuller knows well that pickle producing is a position that can pack a lot of punch. His work his taken him to India where he consulted with the USAID/Farmer to Farmer program in Russia. In October he was elected president of Pickle Packers International.
Of course, Muller acknowledges that pickles are primarily green while his alma mater is passionate about purple. He has a remedy for that: Take a Best Maid Gallon Dill (or sour for more zing) and add a couple of quart packages of grape drink mix and refrigerate for a couple of days. "Better than a snow cone, as they don't melt," he said. The purple pickles keep better in an opaque container than in the see-through jars that pickles are packaged in, he advises.
Does this "purple" pickle packer object to having a little fun poked at his occupation?
Not in the slightest. "You can't say pickle without smiling," Wuller says.

Comment at tcumagazine@tcu.edu.