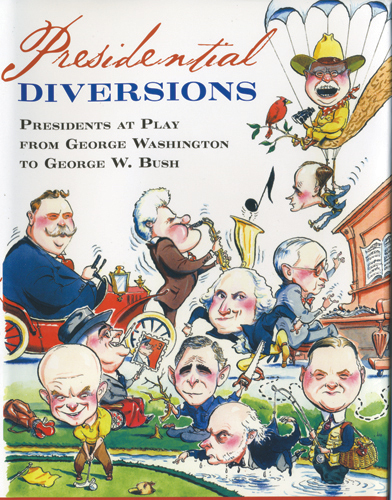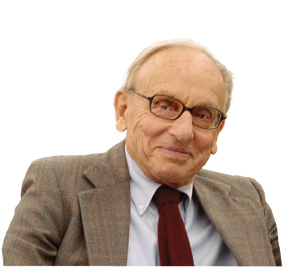 Presidents at Play
Professor Paul Boller's new book offers glimpses into the leisure activities of America's chiefs. We present a small sampling.

By Mark Wright '07 (MS)
John Quincy Adams

John Quincy Adams, the son of John Adams, was the first — and only — President to swim nude in the Potomac River. Every morning, when he was President, he walked to the Potomac, took off his clothes, and plunged into the water. One morning a tramp stole his clothes when he was swimming, and he had to ask a boy who happened by to run to the White House to get some clothes for him. Another morning, a reporter, it is said, sat down on his clothes after he hopped into the river and refused to let him have them until he promised to be interviewed.
* * *
Dwight D. Eisenhower


In 1954, the U.S. golf Association installed a putting green, just outside President Eisenhower's office, where he could practice late afternoons during the week with no gawkers around. But there were squirrels. Before long, the little creatures decided the new green was a handy storage area for their acorns, and they began digging holes all over the place. Eisenhower asked the Secret Service men to shoot them, but they informed him they weren't authorized to do so. He then instructed White House gardeners to set traps to catch them. At this point a few Democrats organized a "Save the White House Squirrels Fund" to pay for an aluminum fence to ring the green, and Ike's aides announced they would stop trapping the squirrels.
* * *
Abraham Lincoln

During the Civil War, humor was crucial for Abraham Lincoln as a means of relaxing, getting away from his troubles for a while, and relishing his spirits. John Hay, one of his secretaries, recalled how Lincoln once came running into his office a little after midnight with a book in his hand containing an amusing paragraph he wanted to read to Hay. Lincoln, he recalled, was "utterly unconscious that he — with his short shirt hanging above his long legs and setting out behind like the tail feathers of an enormous ostrich — was infinitely funnier than anything in the book he was laughing at."
* * *
Ulysses S. Grant

President Grant's favorite recreation involved horses. He liked to drive as well as ride, and he brought a competitive spirit in his driving. He loved to sit on the edge of his seat in a light racing buggy, pull the brim of his slouch hat down over his eyes, lean forward until his arms and shoulder were just above the dashboard, and then, speaking a few words to the magnificent trotting horse in front of him, sweep past every other driver on the road. Once, when he was speeding along a street near the White House, a policeman arrested him for driving so fast. When it dawned on the officer that he had arrested the President of the United States, he started apologizing. But Grant interrupted him. "Officer," he cried, "do your duty." So the policeman fined him, took his horse and carriage to the police station and let Grant walk back to the White House.
* * *
Harry Truman


Harry S Truman, the plain-spoken man from Independence, Mo., was a great music lover. He was also a fine pianist. But most Americans didn't know this until one day in 1945, when he was Vice-President, he started playing the grand piano in the National Press Club in Washington. The attractive young movie actress Lauren Bacall, then at the start of her career, jumped atop the piano, in a kind of publicity stunt, and sat there dangling her legs over the side while looking mischievously over at Truman as he continued playing. A photographer caught the scene, and the picture soon appeared everywhere. Mrs. Truman was extremely upset; she told her husband she thought "it was time for him to quit playing the piano." He didn't quit, of course, but he was careful about photographers after that.
* * *
John F. Kennedy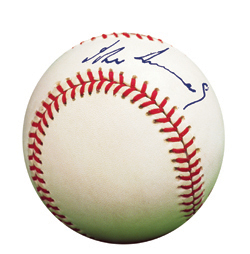 When it came to baseball, President Kennedy was regarded as a "great opening President." Shortly after his inauguration in 1961, he threw what was regarded as the longest and hardest first ball ever tossed by a President, and it ended up in the hands of the White Sox's Manuel Joseph ("Jungle Jim") Rivera. Rivera walked over to the President's box to get the ball signed, as was the custom, but when Kennedy carelessly scribbled his name on it, Rivera cried playfully: "What kind of garbage college is that Harvard, where they didn't even teach you to write? What kind of writing is this? What is this garbage autograph?" Kennedy was highly amused by Rivera's kidding, and he promptly took the ball and signed it carefully this time. "You know," said Rivera, "you're all right."
* * *
Richard M. Nixon

When it came to sports, Richard M. Nixon was a better spectator than he was a participant. "I was not a good athlete," he acknowledged in his memoirs. In 1953, soon after he became vice-president, President Eisenhower took him fishing and tried to teach him how to cast for trout. "It was a disaster," Nixon remembered. After hooking a nearby tree limb three times, he caught Eisenhower's shirt on his fourth try. "The lesson ended abruptly," wrote Nixon afterwards.
* * *
Ronald Reagan

Movies were on Reagan's mind much of the time he was in the White House. Once, James Baker, his chief of staff, gave him a briefing book to review before presiding over an important conference of industrialized nations in Williamsburg, Va., and Reagan never got around to opening the book. "Well, Jim," he explained jauntily, " 'The Sound of Music' was on last night."

Find Boller's book at amazon.com and other major booksellers.
Comment at tcumagazine@tcu.edu.