Tag!
When it comes to school spirit, Horned Frogs have a lot on their plates.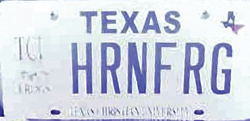 My first TCU license read AGS 99, which are my initials (AGS) and the year I was married ('99). But everyone kept asking why I had A&M plates. When it came time to renew, I got a license plate that is perfect: HRNFRG
Amanda Gore Stallings '97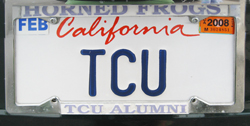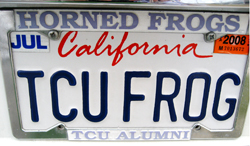 We enjoy having our "TCU" and "TCU FROG" plates in California because people who know TCU get excited when they seem them. We have had people wave the Frog hand signal at us on Pacific Coast Highway and many other places. We have even had a couple of "Aggies" acknowledge the plates. But, the best was minutes after watching the TCU football team beat Oklahoma in 2005 — a man pulled along side of us, rolled down his window and congratulated the Frogs on a great win.
Tom '87 and Cathy Jones Mortimer '89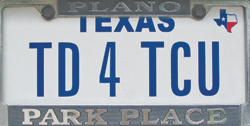 I've proudly displayed my tags for over 20 years. Many have asked whether the "TD" refers to "touchdown" (which was wishful thinking back in the 70's and 80's) or Terry Debo. Take your pick. Go Frogs!
Terry Debo '81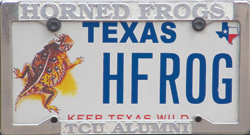 Mine says "HFROG." We've had people honk and give us the horned frog hand symbol in Texas and New Mexico, but the best was when we were driving down the freeway in St. Louis. After much honking and waving, I looked to my right, and two young men were waving and giving us horned frog hand signals — and huge grins.
Jean Walbridge '65 (MLA '02)
My wife and kids gave me a plate that says FRG FAN last year for my birthday.
Chris Curtis '83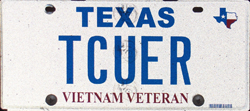 Our daughter Heather is a '00 TCU graduate; son Sean is a graduate of Embry Riddle Aeronautical University. So our plate reads TCUER. When we first put the plates on several years ago, we also had the Texas horned frog plate. One morning, Jackie was pulled over by a Fort Worth police officer — he walked up to the window, did a thumbs-up and said, "Great plate." And surprisingly, while on vacation driving through Mobile, Alabama, a motorist pulled up alongside, honked and gave us the Horned Frog sign.
Ron and Jackie Callanan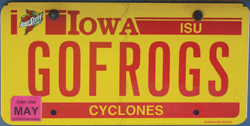 My Iowa State license plate that says "Go Frogs" was a surprise from my dad. Both he and my mom are Iowa State alumni, and I have been an Iowa State fan my entire life. However, after spending several years at TCU, I also considered myself a member of the Horned Frog family. Thus, my dad branded me and my car as a Cyclone-Frog hybrid.
Micaela Mercer
My plate reads K58-TCU. Everywhere I go, people ask me about TCU.
Kay Meadows '58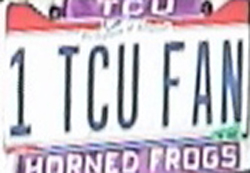 Living on the state line of Ohio and Michigan, I am surrounded by cars that display their college preferences vehemently. We have two plates: mine, which says 1 TCU Fan, and my husband's Yo Ohio 1. But he drives the TCU car during the week because the car with the Ohio plate has been keyed when he drove in Detroit and Ann Arbor, where he works. So I drive the Buckeye car in town. We switch during the weekend.
Mary Mirenda Wendt '84
I put my nickname — MBenn — on the horned frog license plate that says "Keep Texas Wild." I have the TCU decal on my back window so I proudly display both the name of our school and mascot! My hometown is Austin and my license plate drives all my UT friends crazy!
Michael Bennett '06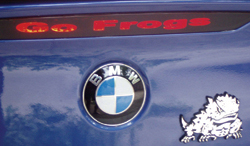 We don't have a vanity license plate, but our third brake light reads "Go Frogs" with every push on the brake pedal. With one alum. a current Horned Frog and a potential future one, we wanted to show our Horned Frog Pride. I ordered the third brake light cover off EBAY for about $10.
Tom Houk '82
My Virginia plates read "TCUTTU" in honor of the two schools I graduated from — TCU and Texas Tech School of Law.
Kimberly Reasoner '01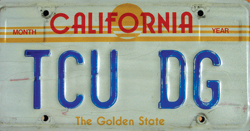 This was my license plate from 1984 until I graduated in May 1987. It was on my bright yellow '74 Volkswagen Bug. No one could miss me coming down the road. I sold the car a year after I graduated but I kept the license plates as a souvenir of my fabulous time at TCU.
Tracy Souter Smith '87
My parents, Jim '58 and Mary Jane Lindsey '59 have had Ba Zu license plates for at least 20 years. The story behind the plate doesn't require explanation to Horned Frogs!
Marjana Lindsey Roach '88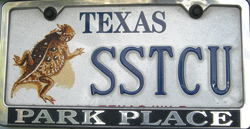 I wanted a personal license plate with the "real horned frog" on it so my husband gave SSTCU to me for an anniversary present. I have a young TCU friend with the same initials and he has already asked if I would will him my personal plate.
Susan N. Smith '61 (MEd '79)

Comment at tcumagazine@tcu.edu.