Environmental Science | Nutrition | Extended Education | Nursing |
RTVF | Liberal Arts | Education | Object lesson | Briefs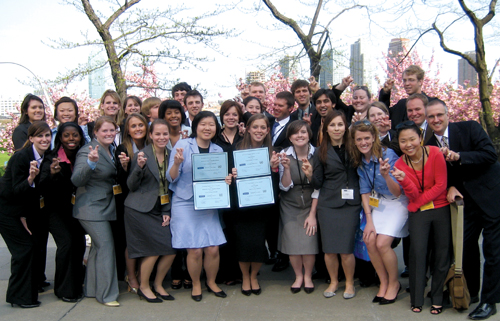 Model UN

TCU team represents Korea in New York City, wins outstanding designation

By Cathy Frisinger
The 10-member TCU team representing the Democratic People's Republic of Korea at this year's National Model United Nations in New York City earned an "Outstanding" designation, the highest level of recognition. A team of 18 TCU students representing the Czech Republic earned a "Distinguished" designation, the second-highest honor.
More than 2000 students from 150 schools from around the world participated in this year's Model United Nations, which took place April 22-26. Each participating school was assigned one or more country to represent, with 180 countries represented at the five-day conference. Before the conference, students researched and wrote two-page position papers outlining their assigned country's position on an issue such as international trade, human rights or global warming. This year, both countries represented by TCU were recognized as having submitted outstanding position papers.
The Model UN is an opportunity for students to experience the art of political negotiating and diplomacy. This is the fifth year that TCU teams have participated in the conference.

Comment about this story at tcumagazine@tcu.edu