Environmental Science | Nutrition | Extended Education | Nursing |
RTVF | Liberal Arts | Education | Object lesson | Briefs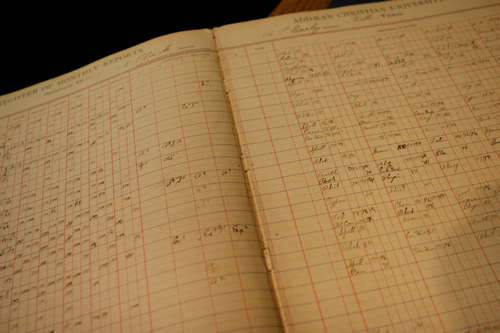 Making the grade

This early academic record book tracks the successes of students during the 19th century

By Cathy Frisinger
Grades were recorded in neat handwriting in a thick green-and-brown-bound ledger book for students who attended AddRan Christian University in the late 1800s.
The first entry in the heavy ledger book is for a student named E.L. Atkins for the first 18-week semester of the 1889-90 academic year. The page is signed at the top by A. Clark, the school president.
Like grade-school students of today, the college students of the era were graded not only on class work but also on behavior. Atkins and the 257 other students in the 1889-90 class each received numerical grades in attendance, deportment, application, order, Sunday school and something called "society work."
Some of the academic subjects of the day sound more like contemporary grade school subjects as well, including reading, arithmetic, penmanship, spelling and grammar. Other subjects sound quaint but academically challenging: elocution, rhetoric, trigonometry, Greek composition and Virgil. Still other classes are subjects that students today might choose to delve into: astronomy, U.S. history, psychology and philosophy.
The ledger book contains academic records through the 1901-02 academic year, though the record-keeping turns haphazard after a while. At some point, grades changed from numbers, with a high of 100, to letter grades.
The book was stored in a vault on the third floor of Sadler Hall until the room was remodeled to serve as a break room, at which time it ended up in the office of registrar Pat Miller. And there it sat for years till Miller decided the document was too valuable and too fragile to be on open display.
The ledger is in good condition for a well-used book more than a century old. The ink is fading, but legible, and the binding is still strong.
A University of Texas archives center constructed a special storage box for the book with a built-in cradle for it to reduce strain on the binding when it is opened. This artifact of TCU's early history is now stored in the Special Collections room of the Mary Couts Burnett Library.

Comment about this story at tcumagazine@tcu.edu