Environmental Science | Nutrition | Extended Education | Nursing |
RTVF | Liberal Arts | Education | Object lesson | Briefs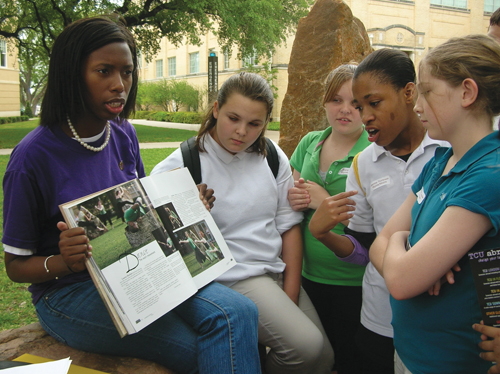 From the mouths ...

Intermediate school-age students experience TCU

By Cathy Frisinger
More than 450 students from Tannahill Intermediate School in Fort Worth got a glimpse of collegiate life at TCU when the College of Education's Center for Urban Education hosted College Bound for sixth-graders in April. In addition to touring the campus and visiting with faculty, they were asked, "What did I learn today?"
Here is a sample of their answers:
"You have to walk a lot in college."
"There is no dress code
and you can chew gum. "
"Some classes start late and some
students do not have classes
every day."
"They have very good cookies. "
"Experience abroad can change
your life."
"Athletes need a degree,
not just play sports."
"We need more electric cars because we are running out
of energy. "
"We learned Riff Ram."
"I learned how to wash my hands in the nursing class. "
"You can write in marker."
"There are a lot of books in the library. "
"College will be more fun than
I thought. "
"Things that seem
boring are actually interesting. "
"TCU is like its own
little town. "
"College is just like school. "

Comment about this story at tcumagazine@tcu.edu