There's a new Frog in town.
Coach "Fran" has come to town. Hopefully, he brought his winning ways with him.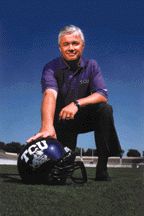 What is it about Dennis Franchione? How did a soft-spoken coach post an overall 133-52-2 collegiate record, a winning percentage placing him squarely at No. 11 among active Division I-A coaches? Punter Royce Huffman -- groggy from a 5:30 a.m. workout and a 7 a.m. team meeting -- doesn't have the answers, but "something" inspired him to put on 20 pounds of muscle between last year's 1-10 season and the one that has everyone holding their breath.
"Coach Fran has a saying," said Huffman, whose sure hands also earned him a spot at wide receiver. "Everyone in the country has 24 hours in a day. The difference between winning and losing football teams is what you do during those 24 hours." Franchione's exact blue eyes have a game plan, all right.
"When you inherit a program that was maybe spiraling downward, one of the things you do is change the image, the mental psyche, the total plan," he said. "This is about the fifth program that was down that I have taken over as head coach in order to turn around. My job is to get rid of those things that lagged a team in the past and then move forward."
The most visible sign that Franchione has punted the old and huddled up the new are the Frog uniforms, complete with the meanest-looking Horned Frog ever. But more important, a new offensive scheme replaces the Sullivan-era setup. Adds Franchione, whose staff includes eight coaches who have nine or more years experience, "The players already have picked up a lot of it from the spring."
Indeed, since the Frogs lost only three starters from last season's squad, the question is not who plays where but rather how they play. With Franchione's Multiple I framework, the Frogs hope to pass almost half of their offensive plays, with a lot of option plays in their running schemes. Many of the formations seen during this spring's Purple-White game (TCU offense vs. TCU defense, basically) used as many as four wide receivers.
On the defensive side of the ball are more answers than questions for Franchione. Solid a year ago, the Frog wrecking crew, too, will operate under new orders, a 4-3 arrangement using three safeties and only two linebackers, a package that emphasizes TCU's secondary speed.
"There will be some growing pains with a new coaching staff and new schemes," Franchione said, "but the biggest thing is that this is not a 1-10 talent team." Can Franchione do for TCU what he did, without exception, for three previous schools?
He thinks so, and his grin only broadens when he considers that TCU is also in the middle of one of the greatest recruiting states in the nation. "[TCU prospects] don't have to fly over a bunch of other schools to get to me anymore," he said. "In some cases, they're just down the road."

Amen
Senior 800-meter distance dynamo Khadevis Robinson is the product of strict, church-going parents. Saying an extended grace before a meal with a friend, Robinson matter-of-factly said, "God has been very good to me; I have to pray." The homage must have paid off: TCU's men sent just eight runners to nationals in June; all eight came home with at least a silver medal -- not to mention the nation's fastest-ever 4x100 team time and, for Robinson, a first-place showing (1:46.04) in the grueling 800-meter event. Less than a month later, running in Europe with the acclaimed Santa Monica Track Club (Carl Lewis is among its alums), Robinson did even better, finishing in 1:45.72.
"And I believe I can run even faster," said Robinson, glad to be back in his Fort Worth hometown. "If the pace is just right, and I'm focused, and I give it my all, I can beat that time." In December, Robinson graduates, but he will have his chance to fulfill his words, chosen a regular with the Santa Monica runners.

Ace!
Former men's tennis coach Tut Bartzen fed his players tennis balls out of old-fashioned five-gallon buckets while other college coaches long ago moved to automatic ball machines. New Head Coach Michael Center intends to replace the buckets, but everything else about TCU Tennis will remain familiar.
"I've always believed that if you wake up every day, arrive on time, work hard, and treat people with respect, then you get better," said the 34-year-old Center, head men's coach at Kansas from 1992-96 and women's coach from 1989-92, earning Big 8 men's championships in 1994, 1995 and 1996 and a women's championship in 1991. "I don't let the little things slide."
Sounds like someone we know.

Join the club
New Frog Club President Chris Curtis '83 has many TCU sports memories -- remember those "Killer Frogs"? -- but he believes his best recollections, and the Frog Club's greatest successes, lie directly ahead. "Now is the time for the Frog Club to grow," he said. "The University has stepped up its commitment to athletics," he said. "Now, everyone else has a chance to step up, too." Among Curtis' goals is positioning the club as the umbrella organization for all TCU Athletics fan and alumni groups. Curtis is an entrepreneur who recently sold Screen Works, the firm that supplies massive JumboTron screens to the Rolling Stones and a dozen other big-name acts. He is married to Nicole Rowell Curtis '90, a former ad exec now "working 24 hours, 7 days a week for the toughest boss," 2-year-old daughter Tristan. The Curtises live in Carrollton.


Top