Related Articles:
More coffee, Maxine



Two-minute warning
The SWC died. The WAC split. Now, some say a leaner, meaner Division I-A could form as early as 2000 -- possibly leaving the Purple on the sidelines. Uh, TCU begs to differ.
By David Van Meter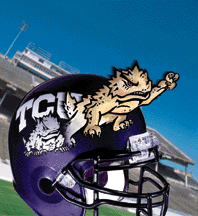 IT HAS BEEN a summer since that hotel phone light blinked incessantly, the waiting message for Athletics Director Eric Hyman.
Come back to TCU. Now.
Old news now, the announcement in late May surprised a lot of people, including Hyman: Eight WAC schools -- Air Force, Brigham Young, Colorado State, New Mexico, San Diego State, UNLV, Utah and Wyoming -- would be leaving the 16-school league on July 31, 1999.
Colorado State President Al Yates, president of the WAC at the same time he led the defection of the eight schools, told the San Diego Union-Tribune, "We've spent most of our time in conversation trying to respond to the question, 'Is there a way to make this 16-team conference work?' Our conclusion in all that was there was not." That must have been a quick chat -- and a closed one at that.
"That's over and done with," said Hyman with a wave of his big hand, a former North Carolina Tar Heel who still casts a formidable shadow in his Daniel-Meyer office. "Now we have the remaining WAC members and those I like to call the Malcontent Eight. They'll go their way, and we'll go our way."
As Hyman rightly points out, the BYU gang are the odd-men out at the moment. "We are the WAC," he said. "We still are a viable conference. We still have basketball shares [in the NCAA Tournament], we still are a member of the Alliance [the WAC conference champion, if ranked No. 6 nationally or higher, can receive a first-tier bowl berth], we still have leadership positions in the NCAA, and we still have a consistent revenue stream. The former WAC teams have none of that."
Still, uncertainty for TCU hangs in the air like a 50-yard Hail Mary, like butterflies before the big game: The contest of TCU's athletic life is now playing at a stadium near you, and TCU's Xs and Os had better come out of a new playbook.
"TCU is moving forward, not by the seat of its pants, but with proper strategy," Hyman maintained, but even he admits to the feeling that probably has 50,000 Frog fans doing a game-face gut check and coming down with a major case of NCAA heebie jeebies. Haven't we seen this before?
Yes, we have. In 1995, the University of Texas, Texas A&M, Texas Tech and Baylor bolted the SWC for the richer valleys of the Big 12. And now, BYU and Colorado State and other hangers-on will depart the WAC to stake their own claim in a better conference.
"It is unsettling," Hyman conceded, "because it doesn't feel like we're in control of our own destiny."
Which leaves many predicting what TCU's next play might be.
Something like Division I-A or bust, on three.
Arguably, the only Division I-A university that calls its own plays is Notre Dame; in college football, its Saturday afternoon television spell is cast across the nation.
Think not? When the school, in a conference of one, negotiated its own TV contract with NBC in 1994 and dropped out of the College Football Association (CFA) -- where members shared football revenues equally -- the Fighting Irish not only killed the CFA but also forever changed college football.
Grab your seats to the real game being played in Division I:
In every sport other than football, teams from subdivisions I-A, I-AA and I-AAA compete for championships. The revenue from tournaments is shared throughout Division I. Revenue from the men's NCAA Basketball Tournament, for instance, is what allows many I-AA and I-AAA institutions to sustain their athletic departments. Yet, institutions in I-AA and I-AAA do not share in the revenue generated by I-A football teams. Major college football generated at least $400 million for the 1995-96 football season, according to survey of I-A athletic directors, reports the Chronicle of Higher Education.
Much-mentioned causes such as student-athlete development and school visibility aside, whoever tackles the most dollars wins.
Or survives, at least at the Division I-A level. And for a school like TCU that's been moving the I-A chains for 101 years, is any other existence acceptable?
"There's a huge issue within I-A and a fight within all of the NCAA," said Dutch Baughman '88 (RM), formerly athletics director for Oregon State for seven years and now executive director of the Division I-A Athletic Directors Association. "If you're at a school with a $40 million athletics budget, you must generate the revenue necessary to maintain that level of competition; you want to see the games you play, your recruitment opportunities, your revenue-generating ability, to be beneficial to your school."
Historically, the NCAA governance structure has enabled legislation that accommodates schools with lesser budgets (Division I-AAA could vote on rules that only applied to I-A members, for example). In 1998, the NCAA adopted a "federation" approach, where subdivisions may only vote on issues within their division. In Division I-A, this method inherently favors the more-numerous state schools and large private ones, both of which typically have larger athletics programs.
One proposal discussed last May troubles many private-school athletics directors. If adopted, it would reduce football scholarships from 85 to 75, yet spread those 75 scholarships to as many as 95 players. The idea is designed to help all institutions meet stringent federal gender equity laws. The problem: A partial scholarship at the University of Texas is about $2,000. A partial at TCU? About $9,000. Similar disparities -- and dissention -- are only growing, said Vanderbilt Athletics Director Todd Turner.
"If the NCAA were to administer new revenue-sharing schemes for television and bowl monies, or if new scheduling affected I-A schools adversely, you might very well see a group of I-A schools decide they didn't want to abide by those rules and form their own coalition of, say, about 70-80 schools," Turner said. "It's not a likelihood, but it's not an impossibility either."
Baughman is more certain; a Division I-A shakedown is at hand.
"The big-budget schools have become totally frustrated, and almost intolerant now, of the mine fields they must maneuver in order to get the legislation in place that enables them to raise the money they must generate.
"With the relationships I have with the I-A conferences, I strongly suspect there are commissioners who are determined to make that happen. If the Big 10 makes another expansion move [they've been talking to Notre Dame among others], they have to get that member from somewhere, and that's going to disrupt the business at one or more other conferences. That's when the dominoes are really going to fall."
TV and bowl contracts, most up for renegotiation around the year 2000, will push the next piece over, Baughman said.
"Historically, few TV contracts have been executed to completion," he said. "This spring and fall, most conferences will be seriously talking about what they should do with the remaining time and what they will do beyond that."
The top six conferences in the country (SEC, Big 10, Pac-10, Big 12, ACC and the Big East) could easily collapse into five 12-team conferences, Baughman said. Though the WAC will remain, its membership could change significantly. (While we're hiking crystal footballs, TCU may not even be in the WAC in five more years: What if the already unstable Big 12 melted down, sending most state schools to the Pac-10, Big 10 and SEC? That would leave a conference that could include TCU, SMU, Rice, Tulsa, Baylor, Kansas, Kansas State, Oklahoma State, UTEP and Houston.)
Predictions aside, Baughman believes the University, especially since the SWC breakup, is making the moves that will keep it in I-A.
"I've had conversations with TCU officials. I know how important it is for them to have a competitive, respectable athletics program. If they're given the opportunity to administer the plan they have in place, it will be a whole different story for TCU."
If Division I-A were to pare itself down, a change in membership criteria likely would determine which schools make the cut. TCU already fares well in certain I-A program features that many believe will be necessary for the I-A roster of tomorrow. Budget. Ohio State's $58 million budget is the nation's highest, but by no means representative. TCU's overall athletics budget, nearing $20 million, is much closer to the Division I-A average.
Attendance. TCU seated an average of 23,544 football fans per home game during TCU's dismal 1-10 season last year, placing TCU 82nd among I-A schools. Fans will surely increase this fall, being Franchione's first season. TCU basketball sat 5,921 fans for a No. 93 ranking, but Daniel-Meyer's 7,166 size limits the crowds the team can draw; last season's Lee Nailon-led crew led to at least three official sellouts and an NCAA Tournament appearance.
Competitiveness. In overall athletics quality, TCU sponsors 18 teams and for its 1997-98 won-lost records, is ranked No. 54 in the country, according to the 1998 Sear's Cup rankings. A newcomer among qualifiers, this measurement system has fast become the mark for total I-A program quality. Indeed, TCU's poor 1997 football showing overshadowed an otherwise-excellent athletics program:
-- The fastest-ever 4x100 relay foursome in the nation and the No. 3 track team in the nation.
-- A Top 5 men's golf team. A WAC championship women's golf team, ranked No. 17 at season's end.
-- A men's tennis team that has been among the Top 20 programs for most of the last 25 years, and a women's squad that is consistently upper-tier.
-- The baseball squad advanced to the WAC tournament and finished second in its division.
-- The women's rifle team obtained its second consecutive top 25 ranking.
-- And WAC Coach of the Year honors were achieved by TCU coaches David Rubinson, Billy Tubbs, Bill Montigel and Angie Ravaioli-Larkin.
Academic quality. Baughman was an athletic director for Oregon State in the Pac-10 when the Big 10 invited Penn State in 1990, which led his conference to consider additional members. "The first four or five qualities we looked for in member schools were all academic qualities," he said, "ahead of what you think a Division I-A school might be valued for in athletics. . . broad-based appeal, TV market, bowl success. We were primarily concerned with how a university felt about partial qualifiers, academic admission requirements for student athletes as well as the entire student body, its professional involvement in the community, its past history, things like that.
"TCU is a well-respected academic institution. It's endowment has grown tremendously, its programs are well-known, it has continually improved its facilities. Academically, as well as athletically, TCU is an attractive member to that upper echelon."
TCU is attractive to guys like Dennis Franchione, too. He, like Eric Hyman, was surprised at the Malcontent Eight's "covert" move but adds with quiet, firm words, "I came to TCU because of what it could be, not because it was in the WAC or not in the WAC."
The silver-haired taskmaster points to Amon Carter Stadium as proof that TCU's future can be every bit as bright as its past. "It's a very special stadium," he said. Its grass field is "as good a field as you will play on in the United States," its weathered walls just feel like a place where football games are played.
And won.
And Franchione, like men's Basketball Head Coach Billy Tubbs, has a tendency to do just that.
Tubbs brought 200 losses with him to TCU in 1994, but he also came with 439 wins and a serious attitude; the result was a No. 13 team last season. What he said when he took the job still holds true today.
"We are going to do things nobody has done before," he said. "Our only limitation should be our imaginations."
Before coming to TCU, Franchione in his last season at the University of New Mexico led the Lobos to their first Top 25 ranking in 15 years and an Insight.com bowl appearance. He led Southwest Texas State to two back-to-back winning seasons in his two years there. And at Pittsburgh State, he led the Gorillas to a 53-6 record in five years. Among active I-A coaches, he ranks No. 11 with a .675 winning percentage. And Hyman?
In just two years at the University of Miami at Ohio, he turned around a fumbling athletics program, producing 10 conference championships, a football attendance record and a student-athlete graduation rate of 78 percent, the fifth highest among all NCAA division 1-A schools. And as a former college player himself, Hyman was all-ACC in football at the University of North Carolina and played in the Hula, Sun and Gator bowls.
All three, like other coaches already on TCU's roster, have been there and done that. And now is the time, if you ask them, to buy the TCU T-shirt.
"If anything, the WAC situation has caused a certain camaraderie -- a certain resolve -- between the remaining schools, which perhaps wasn't there before," Hyman said.
He pauses, and then says what most Frogs are probably thinking.
"And there's also some fight that wasn't there before," he said. "If we're successful against our former conference members, I can't tell you that there won't be some joy running around here."
Perhaps Hawaii's athletics director Hugh Yoshida said it best, to the Associated Press on the Malcontent Eight's defection: "There's no love lost.... Now we have to try and beat their butts."

Top