Articles: On their toes | Rock around the clock

Cultivating an identity
Tucked among the columbines and brick walks of the popular English garden paintings, one can find the British heart, says art history Assistant Prof. Anne Helmreich -- that is, if one knows the history.
By Nancy Bartosek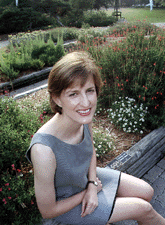 The streets haven't been straightened in that part of Vienna, a still-noisy section where wares have been peddled since medieval times. Nestled in the heart of this ancient Austrian city sits a 12th- century Gothic church that has survived the ravages of age and war.
It was there that Anne Helmreich, then a junior studying history abroad before heading to law school, had her epiphany.
"I was committed to the idea of exploring the past, but seeing the history of a place through its art really piqued my interest," she said. "Here was this little cathedral, like a little jewel box, that was this amazing link to the past. I realized then that art was such a fascinating way to get into this past."
And for Helmreich, that has evolved not only into a full-grown passion for turn-of-the-century English garden paintings, but also a full-scale inquiry into the gardens themselves -- which the art history expert believes were a national phenomenon growing out of a need for a national identity. She makes that argument in the book she's writing and a point she will likely discuss as one of the professors in TCU's new master's program in art history, underway this fall.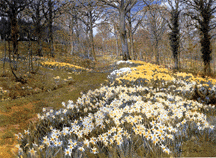 Mother Nature. William Robinson began espousing his "wild garden" style in 1870, which he claimed was the true English heritage. His home, Gravetye Manor, exemplified his belief that visitors to the garden should feel they are strolling through the countryside. The painting above, "Spring Woods," by Beatrice Parsons, shows how flowers, always natural species, would be "stolen between the bushes," or emerge from grassy areas as though they spontaneously appeared. Though trained as a garden laborer, Robinson became a gardening journalist and publisher, amassing a fortune in the process.
Our England is a garden that is full of stately views,
Of borders, beds and shrubberies and lawns and avenues,
With statues on the terraces and peacocks strutting by;
But the Glory of the Garden lies in more than meets the eye.
So said Rudyard Kipling in The Glory of the Garden, his 1910 poem that expressed the deep connection between the gardens and "being English," Helmreich said. A belief based on the notion that England was pastoral, rural, founded on agriculture. But that hadn't been true for 100 years or more.
"Part of the crisis was about what was happening domestically in England, how the landscape was changing," she said. "There's a lot of discussion about how gardens cultivate certain virtues that were disappearing, like tending a garden makes you more home-oriented, more domestic."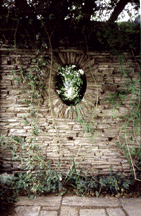 Beauty from strong backs. This intricately fashioned stone wall in Hestercombe, a garden created by Gertrude Jekyll and Edwin Lutyens, shows what grand ideas and cheap labor can produce. The ability of the new professional class to build elaborate gardens depended on inexpensive labor. After 1914 these gardens fell into disrepair when a whole generation of workers was lost during World War I.
Helmreich was studying English garden paintings for her dissertation when she began to wonder about their greater cultural significance. What made the prominent landscapers of the time major news figures? What constituted the heated discourse about gardening styles, with people arguing vehemently about the validity of one style over another?
Widespread controversy about what exemplified the "true" England grew out of the great gardening debates of the time, she realized. The wild, natural style of garden writer and publisher William Robinson. The formal, bedded style promoted by architect Reginald Blomfield. Or a cross-pollination of the two, which made Gertrude Jekyll somewhat of a national gardening icon.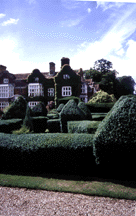 Hedging your best. Near the turn of the century, Robinson's key rival, architect Reginald Blomfield, revived the formal gardens of the Renaissance, claiming they were England's authentic gardening style. He believed the garden should be part of the living area, an extension of the home's architecture. In Blomfield's formal gardens at Godinton, left, the hedges reflect the architecture.
Helmreich also stumbled on another cultural surprise -- the popular garden painters posed problems to critics of the day who were very opinionated about the painters themselves; the male garden painters were described as "clever, manly painters,
using broad brush strokes," which attempted to step over the stereotype that only women painted flowers -- and, Helmreich adds with a stern look, only indoors. "It was considered very inappropriate for women to paint on-site." She laughs.
"So the critics would say things like, 'Well, she does paint outdoors, and that means her images are truthful and honest, but don't worry, she hasn't neglected her children and she keeps to herself, and she doesn't talk to strangers when she's out painting.' "
The elusive facts that garden art history tills up are what drives Helmreich's "Our England is a Garden": National Identity and Gardens in England, 1870-1914, which will be published by early 2000. It is a work that salvages concrete messages concealed in lily ponds and vine-covered rock walls.
"I like the idea of taking these gardens where people think, 'Oh, this would be such a nice place to go and have a cup of tea,' and going back into the period where these were made and find out how people talked about them," she said. "You then realize how absolutely vital these were to the culture, and how people of the time could read all sorts of messages from these gardens.
"I like the idea of recovering those things that we've lost today."
| | |
| --- | --- |
| | Bigotry in bloom. Painters of gardens were as popular as the garden designers. This 1909 work, "The Dairy Farm near Crewkerne, Somerset" by Helen Allingham, shows one of the popular peasant gardens. Despite their talent, painters, especially women, had to deal with existing bigotries. "It was something I never thought I'd come across," Helmreich said. "Critics would say, 'Men know how to draw, women know color. Drawing takes imagination and power, so it takes male creativity, whereas color you just look at and see what's in front of you, so it takes no imagination or creativity and is therefore female.' " |
| | |
| --- | --- |
| Best of both worlds. The great garden debates were pruned when Gertrude Jekyll and Edwin Lutyens began grafting the two together, promoting wild vegetation within geometric stone borders, exemplified in the gardens at Hestercombe, right. | |
Top