Alumni Profiles
The law waaaay east of the Pecos



Composing a symphony
A sharpconductor, John Giordano '60 (MM '63) over the past quarter-century has transformed A minorhometown orchestra into A majorsymphony with an international reputation.
By Nancy Bartosek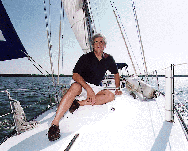 The audition was almost an insult.
A violinist returning to the Fort Worth Symphony Orchestra in 1976 after earning a master's degree, Ann Koonsman '68 thought tradition should have ensured a hearty welcome, yet here she sat playing her heart out while the conductor seemingly stared at her resume and ignored her performance.
Just who did this John Giordano '60 (MM '63), new music director for the then-amateur organization, think he was anyway?
Finally, long after Koonsman finished, the young conductor looked up: "Tell me, can you type?"
"I never forgave him," joked Koonsman, executive director of the FWSO since 1980, laughing at the odd beginning to a long working relationship with the man who, she said, "dared to dream we could have a professional symphony in Fort Worth." By the way, Koonsman left with both jobs.
"I was auditioning for the orchestra," she said, chuckling. "And he was thinking ahead about the slot as coordinator of special projects."
Koonsman chalks up the quirky behavior that day to Giordano's occasional "absentminded professorness."
"You might call it, not spaciness, but. . . artistic license," she said, groping for a way to describe his amazing focus. "John can miss appointments and lose his score and show up at the wrong place. I've always thought he enjoys a little chaos, and if there isn't a little chaos, he'll create it.
"Still, he is one of the most intelligent people I have ever known, and when he focuses he is unparalleled, and that translates to being a bit eccentric at times."
PERSPIRATION sticks Giordano's shirt to him, but he doesn't notice. "Let's pick it up, please, at [measure] 38," he politely commands, raising his arms again to the 70-some members of the FWSO before turning to the 120-member chorus performing with them that July night at the Botanic Garden in 100-degree heat.
It's now well over an hour into this afternoon rehearsal and some of the choir members have given in to the heat and fatigue and stay seated. Not 59-year-old Giordano. His energy seems boundless. In fact, he is so engrossed in the music that when he finally pauses he seems startled to see Sylvia Stoddard '61, operations manager and friend since their TCU years, standing at the back of Orchestra Hall, the symphony's home for nearly 25 years.
He asks her to check on a date, and "if I could get some water, I'd give my soul for that," he calls after her, turning again to the musical score.
"John is very diplomatic and kind," said Van Cliburn, the Fort Worth pianist of international fame and Giordano's friend and musical associate since 1973. "He does things in a gracious manner, and that's terribly important."
That's true, said Buddy Bray, principal keyboardist for the symphony. It's Giordano's humanness and consideration (he was the first one at the hospital when Bray was in a car accident and first at his door when his father died) that draws both performers and supporters to the orchestra. Bray calls it the Walter Cronkite leadership style.
"All was right with the world when Walter read the news," he said. "That's how it is with John, you feel like nothing bad can happen while he's on watch."
Indeed, Giordano's 25-year watch at the FWSO has hit all the right notes. When he took the baton in 1972, the orchestra consisted of part-time musicians with day jobs that performed maybe 15 concerts a year and managed on a paltry $80,000. The orchestra today employs 38 full-time and 34 part-time musicians that offer Giordano's brand of musical excellence 42 weeks a year (that's about 200 performances) to audiences regionally and internationally. The annual operating budget exceeds $7 million.
It's a job he never aspired to. He was, after all, a teacher and saxophone virtuoso rapidly moving up the music scale to international fame, with venues such as Carnegie Hall and the Dorothy Chandler Pavilion in Los Angeles to his credit. Even that was a measure beyond his childhood desire to land a gig with some brand-name band that toured dance halls, a career path that first struck a chord with the talented eighth-grader in Erie, Pa., where he and 14 schoolmates formed Johnny Robert's Dance Kings. Sporting matching uniforms, the band, (pretty good for kids, he recalled) was in demand in the teen dance arena.
But just before his senior year, Giordano's family moved to Richland Hills, a socially traumatic event that sent him scuttling deeper into his music. Two days after graduation the 15-year-old went on the road with the Ted Weems Band. Despite the thrill, Giordano returned and entered TCU where he later would become a pioneer in the university's jazz program and organize the first jazz ensemble. But the next year he put the education in its case and ended up in Los Angeles where the leader of the band died in a tragic fire, stranding the players. Part-time gigs, some with high profile-singers like Frank Sinatra and Sammy Davis Jr., sustained him until TCU again beckoned.
Graduation found him heading to Fort Knox for a six-month stint with the Army, courtesy of ROTC training. While there he ended up "teaching tanks," he said. And rocketry, adds wife Mary Alice Dammann Giordano '60, thanks to a correspondence class he took, and promptly aced, for college credit.
"He made the highest score ever in rocketry, and they asked him to teach a course in it when he went into the reserves," said the lively education major and singer Giordano began dating as a senior at TCU and married six months later. "He has a genius IQ, but not many know that because he's not a pretentious intellectual. He is so smart he doesn't even know how it happens."
A master's degree at TCU came on the upbeat, followed by a teaching position at Tarleton State University, a two-year Fulbright in Brussels and France and a graduate fellowship at the University of North Texas, where his professional career took off. But in 1968 the cadence changed when FWSO conductor Ezra Rachlin made an offer Giordano couldn't refuse. "For some reason he was impressed with me," he recalled. "He said they were starting a youth orchestra, and if I would be his assistant conductor, he'd give me free conducting lessons."
The idea was intriguing, offering limitless opportunities to explore the great music of the world. And promising stability for their three little ones, Ellen, Ann and John Jr.
"I don't know of anyone who opted for an 'international' career and had a successful marriage and family," he said, his deep-set eyes softening. "I don't see how that is possible if daddy is never home and is flitting around world."
He decided to help build the symphony and in 1973 upped the tempo when he replaced the retiring Rachlin.
"John is an emotional Italian who sometimes gets a little too emotional about little things," Mary Alice said. "But when it comes to the big things, he's very patient. He was patient in his vision of the orchestra. He set a pace where it could grow over the years without ever overloading the community's ability to support it."
The symphony's impending move to its new home -- in the Bass Performance Hall in Fort Worth -- is a goal Giordano chased since 1973. But he won't enjoy the acoustics for long. Last spring he announced he will leave the orchestra in two years, allowing for a smooth transition with a new conductor. Does that mean the venerable conductor achieved all he wanted with the orchestra?
"No, I guess not really," he said, sounding sadly apologetic. "But we've come a long way and I'm very proud. I think my dreams and goals will be realized, but not by me. It's poignant, hard for me, but the hall is a good stepping off point."
Leaving the orchestra does not translate to leaving music. His guest conducting schedule for the year 2000 (plans include returning to Spain and other international venues) is nearly booked. This move will also allow him time for composing and teaching, loves that have been somewhat on hold. And he'll continue to serve as jury chair for the Van Cliburn International Piano Competition, a job he's done with style and aplomb, says the inspiration behind the prestigious quadrennial event.
"From the first, I was impressed with how wonderfully disciplined he was and how skillfully he works with all the different jurors," Cliburn said. "He handled some serious personality problems and took things through troubled waters. He's a master of diplomacy."
And versatility, Koonsman said. "I think we will never again have an individual with his flexibility," she said. "He's as comfortable conducting a pops concert, a holiday special, a world premiere or a young persons' concert as he is conducting a Beethoven symphony. He can do it all."
But Giordano never makes that obvious by drawing attention to himself, Bray said. "I don't think John has ever thought of himself in the I'm-going-to-fling-my-cape-off-now maestro mold," he said. "He's never tried to create that mystique."
Maybe that's because the amicable conductor with a "demeanor that transcends the spotlight" is just a Curious George at heart.
"His intellectual curiosity is wonderful," Cliburn said. "He's always studying and reading on deep subjects."
Even when he's relaxing, which is one thing he's really not very good at, says Mary Alice wryly, recalling the time he returned from a conducting engagement and proceeded to build a stone fountain to unwind. "That's how he relaxed," she said. "Hauling rocks. Most people would be relaxing in the hammock."
John simply must be "doing," even when on Intermission, his 38-foot Catalina, an ocean racing sailboat that he never actually races. "Sailing is fascinating to me," he said, animation rising in his voice and hands. "Out there, in the middle of the ocean when you're hearing just the sounds of the boat going through the water, it's an experience very similar to great music. It's natural, personal and wonderfully calming." And never dull, with plenty of technical issues to pique his intellect. Hence his study of celestial navigation.
Actually it would seem odd if Giordano wasn't studying something, said Koonsman, noting that Giordano memorizes every instrument's part in every piece they play. Knowing the score helps ward off some of the vulnerability he often feels.
"I don't think everyone knows that I can be very sensitive, probably overly so," he said, quietly admitting that he cares what people think. "But my philosophy is that in music, everyone has to relate to one another. I think better music is made if it's not dictatorial. And a lot of people think that's a weakness in this business."
He considers it humbling work, this reaching deep into the master works, "some of the greatest artistic contributions to mankind on the most sophisticated level."
Koonsman says his brush of shyness, "that little bit of insecurity," isn't apparent when the tux-clad Giordano gracefully pulls magic from the music in front of 3,000 fine arts patrons.
"I think John is fortunate among men because he found what he loves to do and has loved doing it," she said. "He's passionate about what he does and is happy. And the entire city is reaping the rewards."
Top