Articles:
Stream of thought |
Scared speechless
Stream of thought
The Danube River may be known for its romance, but its ecology also holds a few real-world lessons.

By David Van Meter

TCU may be half a world away from the Danube River, but its tributaries, and its tribulations, flowed through the biology department last fall.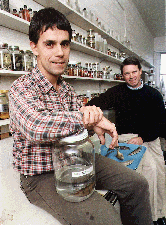 Hungarian ecologist Gabor Guti came to campus in October and shared with faculty and students what he has seen happen to the Central European river that bisects his home. Indeed, he may know more than anyone about the fish that swim its currents.
"I traveled to the Danube during the summer to study the major ecological impact on the river," said Biology Prof. Ray Drenner, the trip made possible by the TCU Fund for Education in a Global Society. "I met Gabor there. . . and made a friend in the process."
---
Friends. Hungarian scientist Gabor Guti (left) and TCU Prof. Ray Drenner met when the latter traveled to study the Danube last summer.
---
The Danube, along whose banks Guti grew up, rises in the Black Forest of Germany and flows east through the Austrian Alps, Slovakia, Hungary, the former Yugoslavia and Romania before retiring into the Black Sea.

Guti -- on this day surrounded in Winton-Scott Hall by the fish samples he donated to the Universityıs permanent collection -- remembers fishing the banks of the Danube at age 6. Perch. Pike. Carp. Catfish. At age 15, he decided to become a biologist. Today, heıs the official fish ecologist at the Hungarian Danube Research Station of the Hungarian Academy of Sciences. His task is to track the fish populations along the Danube.

Over thousands of years, the river has formed a delta stretching between Hungary and Slovakia and beyond. For wildlife, the delta is an oasis. For fishermen over the centuries, a boon. For all Hungarians looking for drinking water, a necessity.

But for shipping and commerce, the shallow delta made it difficult for boats to pass during much of the year. The result in 1992 was the opening of a 30-year building project, a 35-mile shipping canal and hydroelectric dam. It began under a treaty between Hungary and Slovakia but ended in rancor with the Slovakians diverting the Danube completely within the countryıs borders after Hungary reneged on the treaty for environmental reasons.

Today, within that 35-mile stretch, there is a new Danube of concrete that gives the shipping industry the depth it needs. And there is an old Danube, reduced to a tenth of its previous flow.

"There is a human impulse to destroy natural habitats," said the soft-spoken Guti. "Twenty years ago, before the channel, it was better, but we still have many possibilities to restore the original river and the fish life."

Already, Guti is measuring the results of at least two Hungarian efforts. Pumps are artificially filling tributaries and wetlands with water, where most of the riverıs fish go to spawn, and man-made streams are allowing other fish who swim upstream to circumvent the channelıs various locks.

"These are artificial solutions," Guti said, "but, to me, this is the last chance for fish to survive in the Danube. We must preserve them for the next generation. "What we learn here could be applied along other rivers in the world. These mistakes donıt have to be repeated."



Top