Related Articles: These four walls | Gathering your belongings


Home sweet housing

Tom Brown and Pete Wright halls are gone, replaced by a "residential community" that is the new standard in student housing. But a look inside reveals that life, whether in 88-year-old Jarvis or in TCU's newest housing addition, is still one very good time.
By Nancy Bartosek






Carefree commotion has erupted in apartment 301.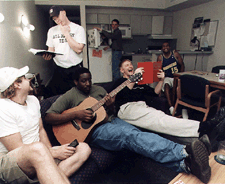 Trading verbal jabs and bad jokes, nearly a dozen young men congregate for their daily pilgrimage to the Rickel.
This faux fraternity, forged in the long corridors of Tom Brown, has grown, like the men, to new levels. Room 301 in the new Tom Brown/Pete Wright Residential Complex matches their upperclassmen lives -- a place where privacy and a social life coexist, complete with all the amenities.

New home. Tom Brown/Pete Wright Residential Community serves as a gathering place for (foreground, from left) Nathan Neely, Zuberi Williams, Mark Pasierb Jr. and (background) Daniel Wells, Ben Alexander and Julian Platt.

About 100 years away, female students at TCU arrived on campus with linens and the required uniforms. They knew there would be mandatory study and recreation hours and demerits for absence at the morning formation. Men were punished for smoking, swearing, missing daily chapel or keeping a messy room.

It worked back then. But times change, needs change. In the 1950s and '60s, when an explosion of students descended upon higher education and insta-dorms were constructed on campuses nationwide, students were told not to forget their shower shoes and robe. A sturdy study lamp was the only required equipment, a radio allowed.

Today, students arrive in their own cars with elaborate computers and entertainment centers. They live high-tech, high-expectation lives in high gear . . . in, for the most part, decades-old housing.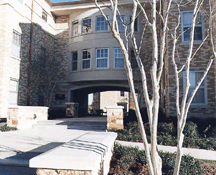 A residence hall defined. The last two buildings in the six-building complex are under construction. Each three-story building has four apartments‹two for men, two for women‹on each floor. The commons building in the center of the complex has meeting and study areas, fireplaces and the complex's office. A distinctive clock tower tops it off.

In 1995, TCU renewed its commitment as a residential campus, then hired a consultant to take a hard look at the stately but dated dormitories. A three-tiered, 10-year plan was established, one that may top $100 million before completion.

TCU's plan is progressive but not unique. Universities nationwide acknowledge that students don't come to schools with lousy housing, said Roger Fisher, director of residential services.

"These students come from nice homes where they had their own rooms, many with private baths, to a 12-foot by 12-foot box with concrete walls, one light, tile floors and a bath down the hall they share with as many as 40 others," he said. "And then they have to share that space with someone else.

"They consider this slumming it."

Most freshman seem to accept those conditions as inevitable, said Babbette Bouw, a sophomore who now lives off-campus.

"The freshman dorm is like one big slumber party, it's where you meet a lot of your friends and where you get more involved," she said.

One year later, Bouw and others like her are ready to move up.

"When you get older you get burned out on all the social things and start concentrating more on classes and work."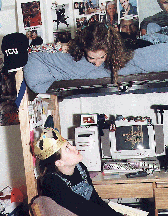 Same old, same old. Dorm life, ultimately, doesn't change even if the facilities do. Toothpaste still works as wall putty. Young men still occassionally "streak" from the dorm to Frog Fountain after midnight. And lifelong friendships are still forged. Above, Bevin Bodley wakes from her nap to share her dreams with roommate Lauren Johnston.



Understanding the value of a three-story house with a lot of bedrooms, the first phase of TCU's residential plan was designed to make that kind of living as comfortable as possible. It began by replacing everything but the walls and floors in Brachman and Wiggins Halls and the three sorority buildings. This summer, the two fraternity buildings will get the same treatment -- new electrical, plumbing and central heat and air, as well as new carpeting, paint, fixtures and furniture.
Restoration of the seven most outmoded halls will begin this year when Foster undergoes a nine-month operation, gutting the building and starting over with new floor plans. More rooms will be suites and if community baths remain, fewer will share them.
But those moves only solve part of the housing problem.
According to a 1998 issue of University Business, private-sector developers are now providing housing options for students who expect apartment-style living with amenities such as a direct link to the institution's computer network, cable TV and electronic key-card access. Fisher said TCU's 1995 study revealed the same truth -- viable on-campus options for upperclassmen were lacking. Thus, fewer juniors and seniors were living on campus, leaving younger students with a dearth of role models.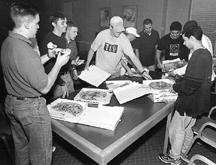 Change of taste. The urge to cook does come up‹"Hey, guys, let's cook something good tonight... macaroni and cheese?"‹but dorm life usually means cafeteria life. Pizza night at Clark, top, brings brings relief from Marriott, the only food service on campus.



The second phase of the housing plan began in 1997 when Pete Wright was razed before being resurrected as a multi-building residential complex of four-bedroom apartments surrounding a commons building.
"This place is amazing," said Daniel Wells, a resident of apartment 301. "Some of my family members went here and they can't believe we're living in these apartment-style dorms. They think I'm spoiled."
Maybe so. Privacy, independence (no curfews), convenience, comfort (except the couch, one said), and a garbage disposal.
Each floor of the three-story buildings has four apartments, two for women, two for men. There's a laundry room and study area on each floor.
Independent and responsible living are the rule here. Yonina Robinson, resident assistant for one of the buildings, said the apartments are so quiet and private that she seldom sees the other residents. One of her duties is to ensure roommates draft an apartment contract.
Article I of Room 301's agreement? If a resident urinates on the toilet seat, they must wipe it off. Article VII? There shall be no naked cooking in this apartment.
Robinson admits she sometimes misses the activity and interaction of Sherley Hall, but apartment-style living suits her now.
"Here I'll have more time to concentrate on my own projects," she said. "And though I have more privacy and independence, I still have the sense that I am part of a bigger community."
That's the goal, Fisher said. "Students need to feel like there's a place for them at the University, that they are part of a community," he said. "It's more than a place to stay. Residential living must mean more than just living."
Top