High water marks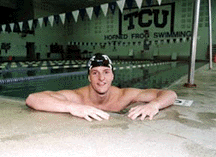 WITNESSING marketing senior Jason Flint cut through the Rickel lap pool is like watching a 6-foot Frog (yes, we know horned frogs don't swim in the wild) doing what simply comes naturally.

But Flint's strokes are the product of 10,000-yard workouts four times a week for most of a lifetime, not to mention a healthy dose of sibling rivalry from a brother who now swims for the University of Arizona.

For Flint, the combination has been unbeatable.

The Toronto native went undefeated in dual career meets four straight years, finishing this season ranked No. 5, likely earning a trip to the NCAA Championships in March and probably cinching a spot on the Canadian Olympic team. Fitting enough for most Frogs, the Academic All-American's final victory came in a meet against No. 2 Texas.

"What Jason has done is like a football team going 10-0 three years in a row," said Head Coach Richard Sybesma, "and this season he's defended his streak against six Top 25 teams."

Flint, who has graced the pages of Sports Illustrated as well as Fort Worth-Dallas television sportscasts, said he knows he won't swim forever, but he figures moving through the water has taught him much about treading the waters of life.

"When you get up at 6 a.m. every morning to swim and then go to class, that schedule dictates the rest of your life," Flint said. "Swimming for me has built a character that I plan to take with me."

Fran talk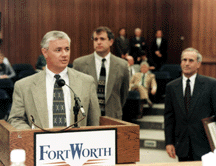 Coach Dennis Franchione, on the third-best recruiting class in the state: We met the position needs we were looking for. Next season, we will lose four defensive linemen, plus it was important to sign a quarterback. We are excited about signing Casey Printers. Plus, we were able to sign a couple of nice-sized wide receivers. This class emphasizes speed in our skill positions and size in our linemen.

On the positives for 1999:
Our defensive line continues to have depth and quality. Our safety positions are manned by players with a year under their belt. Replacing Joseph Phipps at linebacker will be key. Offensively, we return a solid nucleus in the offensive line and at wide receiver. LaDainian Tomlinson should be a strength, and Chris Kaylakie and Royce Huffman, our kicker and punter had solid seasons in 1998.

On the fall schedule...
Our schedule is certainly exciting with six home games, including Arizona and SMU at Homecoming. Having only one home game in September is not what we would like, but we do play the last three games at home.

Serious fans.
Whether watching the men's or women's basketball teams, Frog fans were not dissapointed, though the men's 19-9 record was down from their undefeated conference record a year ago. Both squads earned berths for WAC Tournament play, the women earning their first postsea-son victory ever, against the UTEP Miners.



Kidding around.
Some 70 student athletes from all 18 TCU sports visited Cook's Children Hospital in Fort Worth in December, spreading holiday cheer that included posters, media guides and stuffed animals.




Top