Season in the sun

We waited impatiently for Fran to finish answering questions from the press. Finally, we rushed him, yelling, crying, jumping up and down. Fran exclaimed in mock horror, "What have I done?" More than you know, my friend. More than you know.
By Harold Muckleroy '74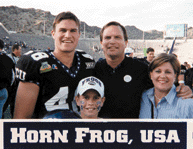 TCU's Sun Bowl season began for me when the phone rang two Novembers ago. Chancellor Bill Tucker invited me to serve on the Search Committee for a new head football coach. I agreed and called my good friend Bill Thornton, vice president of the Fort Worth Chamber of Commerce, who had served as offensive coordinator under Jim Wacker.

Bill and I began discussing who the best candidates were. Without question, Bill said, "Dennis Franchione's the man!"

The first search committee met immediately following Eric Hyman's announcement as Director of Athletics. In fact, immediately after Hyman's news conference, he walked down the hall of the Kelly Alumni Center and convened the first Search Committee meeting. Later in the week I accompanied him and Provost Bill Koehler on a trip to meet with two coaching candidates. On this trip I became confident of Bill Koehler's leadership and TCU's commitment to win in Division I-A athletics.

And, indeed, Franchione became our man. After the press conference naming him TCU's newest head coach, I raced back to the office and sent him a fax informing him that Arlington Heights' Josh Harbuck, a member of the Star-Telegram Top 75 local recruits, was seriously interested in TCU.

The next day, Josh became Fran's first TCU commitment.

THE FRANCHIONES moved in across the street from us, which marked our start as both neighbors and friends. In March, Fran invited me and my wife, Pat Saunders Muckleroy '74, to attend a surprise birthday party for his wife Kim. Attending the party were Kent '69 and Susan Appleby Nix '69, David '68 and Barbara Smith Dike '68 and Dick '51 and Mary Lowe. Barbara had been the Franchione's realtor, Susan headed the welcoming party, and of course, Dick, David, and Kent served as official Horned Frog historians.

In May, eight members of the WAC announced that they were leaving to form the new Mountain West conference. TCU had again been "left at the altar," as it had been during the Southwest Conference breakup. Disappointment and concern began to grow among Horned Frog fans, as well as with Franchione, Hyman and Koehler. What would this mean for the future of TCU athletics? Franchione knew then, more than ever before, that football at TCU had to make a statement and the only way to do that was to "earn some respect!"

TCU raised eyebrows early. On Sept. 5, TCU won the opening game of the season on regional TV against Big 12 opponent Iowa State 31-21. Franchione had his first win as a Horned Frog; emotionally, it was probably as important as any Horned Frog win in the past several years.

The next week, our son Zach suited up for his first TCU football game against Oklahoma before 40,000 fans in Amon Carter Stadium. It was a proud moment for Pat and me to see him on the sidelines. Also on the field were the sons of three former teammates of mine: Royce Huffman (Royce Sr. '73), Steven Draper (Lloyd '73) and George Layne (George Sr. '77). It also marked the first time that TCU wore black jerseys trimmed in purple. Although we lost a heartbreaker against the Sooners, 10-9, it was obvious that TCU would soon win a lot of football games.

The next week, the Horned Frogs did win, in overtime against Southeastern Conference member Vanderbilt. Pat and I, along with Ann and WBAP's Hal "J" Harbuck, hosted a postgame tailgate party for Coach Fran. Also attending were Assistant Head Coach Mike Schultz and his wife Cindy. Coach Schultz had caught Frog Fever and expressed his affection for Fort Worth, noting that TCU was a "special place" that few people knew about.

In October, the Frogs traveled to Dallas to play SMU at the Cotton Bowl. A loss left Coach Fran and Kim with even more disappointment when they heard "boos" coming from the Horned Frog stands in the fourth quarter. Coach Fran couldn't understand how a 4-1 team that had gone 1-10 the season before could be "booed." This hurt Fran and Kim for months.

The Frogs ended the 1998 regular season on the road with critical wins against Tulsa and UNLV for a remarkable 6-5 season. Soon, everywhere you turned Coach Fran was mentioned as a leading candidate for the head football coach at University of Oklahoma.

Pat and I agonized during Thanksgiving over possibly losing our new neighbors and friends. On that Saturday, the call we feared came. Kim asked us to come over when Fran got home from the office.

At the Franchiones', I sat nervously on the couch with Fran trying to make small talk. Pat followed Kim to the kitchen and demanded, "Did you invite us over here to tell us you are going to Oklahoma?!" A few moments later, Pat came dancing into the room: "They're not leaving!"

The following Wednesday, Fran came over late at night and asked, "What are you doing on New Year's Eve?"

I planned on having a party at our house with a few friends, as is our custom. Fran had a better offer.

"Do you want to go to the Sun Bowl?"

"Are you serious?"

He was. Later that night, we called my friend Scott O'Glee '78, a former teammate who now lives in Austin. Scott's wife Teri Baker O'Glee '78 is a member of the Board at TCU. Scott and I had spent many hours on the telephone discussing the future of Horned Frog Football. As you might suspect, most of those discussions had lacked excitement.

"Do you know who this is?" Coach Fran asked Scott.

"Coach Fran?" Scott responded, trying desperately to waken from a deep sleep. "Want to go to the Sun Bowl with us?"

The next morning Scott called my office to make sure he hadn't been dreaming. At Fran's insistence, a trip to El Paso began to take shape, to prove to the Sun Bowl committee that TCU would be a good representative. The trip was led by Chancellor Ferrari, Provost Koehler, Trustee Malcolm Louden '67, Eric Hyman, Coach Fran and Bill Thornton.

The next Saturday, the pieces for El Paso fell into place. Texas A&M beat Kansas State and UCLA lost to Miami, giving Ohio State a Bowl Championship Series bid, opening an at-large berth to the Sun Bowl.

The team left for El Paso early on Dec. 26. Zach called us in Denison that morning, where we were celebrating Christmas with Pat's family. Pat's mother, father and brothers are also TCU graduates.

"I have overslept! I can't find my sport coat! I'm going to be late! What will I do?" Zach anxiously exclaimed.

"Just wear one of your dad's coats," Pat said, trying to calm Zach. After that we nervously waited and wondered, "Did he miss the bus? Will he be in trouble?"

That night Zach called us again. He had just finished a horrible practice. I became concerned. A few nights later, he called again; both teams had attended a motivational luncheon. "I think we can beat USC!" Zach said. His enthusiasm was contagious. At that moment, I said to myself:

TCU 1, USC 0.

On Tuesday morning, the team had to get up at 6 a.m. in order to make a 7:30 Fellowship of Christian Athletes breakfast. Our entire team and coaching staff attended; only four USC players and two USC coaches showed up. Jason Illian (tight end and team captain) spoke representing TCU, and gave a very persuasive, emotional and humorous talk.

TCU 2, USC 0.

On Wednesday Pat and I traveled to El Paso with John Grace '72, Susan and Kent Nix, Debbie and Royce Huffman, and Dana and Jim Scarborough along with a plane full of TCU fans. Kent had quarterbacked the Horned Frogs in the 1965 Sun Bowl and he was going to meet the quarterback for UTEP against whom he had played in the '65 contest.

John and I were going to play golf with longtime friends Bill Thornton and Hal Harbuck and TCU lettermen Henry Ellis '72, Alvin "Tookie" Berry '73, Bobby Foster '71 and Mike McKendrick '76. Pat was going to attend the Rotary luncheon where the starters from both teams would be introduced and the head coach from each school would speak.

That evening, the consensus was clear: The guys had enjoyed a great day on the golf course, Kent had aged much better than the UTEP quarterback, and Coach Fran had outspoken USC Coach Paul Hackett. Fran later told me that when our team was introduced opposite the USC team, position by position he could see that even though we were undersized, it was not as overpowering as he had guessed it would be.

TCU 3, USC 0.

On Thursday morning, we attended a sold-out alumni breakfast. We heard encouraging remarks from the famous sportswriter Dan Jenkins '53, yet the highlight may have been delivered by former Alumni Association President Bill Harrell '68 when he closed the opening prayer: "Help us to remember, dear God, that Horned Frogs do better in the desert than white horses!"

TCU 4, USC 0.

The tailgate party before the game was highlighted by Jay Alexander '86, who lives in El Paso and had 100 pounds of Angelo's barbecue flown in for the game. Finally -- after tailgate parties, bands and parachute jumpers bringing in the game ball -- it was time to see if my mental scorekeeping would prove correct.

After we scored on our first possession to go ahead 7-0, Fran remarked to Offensive Coordinator Dan Dodd, "Well, we scored more than Notre Dame did on them!" By the middle of the second quarter we had scored on our first three possessions and held a 21-0 lead! We had moved to sit with Ann and Hal Harbuck, high-fiving everyone around us.

At halftime, I searched for Bill Koehler, whom I felt had led TCU to become more proactive with its athletics program, and for Bill Thornton, as responsible as anyone for bringing Coach Fran to Fort Worth.

I never found either one of them so I hurried back to watch the second half. After we scored on our opening possession of the third quarter, I knew the dream I had been living the past hour and a half was going to become reality.

TCU, 28 -- USC, 19.

At the end of the game, Pat and I and the Harbucks moved down to the front row of the stadium to soak up every smile from every player as they sang the school song with the band. After the awards ceremony and presentation of the Sun Bowl Trophy we were allowed on the field. I immediately found Zach. We hugged for a long time, father and son, two proud Horned Frogs.

Hal and I waited impatiently for Fran to finish answering questions from the press. Finally, when he was finished, we rushed him, yelling, crying, jumping up and down. Fran exclaimed in mock horror, "What have I done?"

We had concluded a 7-5 season, which matched the greatest college football turnaround in 1998. TCU had defeated one of the most respected football programs in the nation -- defensive coordinator Gary Patterson's defense held USC to an all-time rushing low of minus-23 yards -- marking TCU's first bowl victory in 41 years. What had he done?

Fran and the 1998 Horned Frogs had laid a foundation of respect -- for TCU fans nationwide -- that could only be earned.

Harold Muckleroy co-owns Patterson & Muckleroy, a commercial real estate firm in Fort Worth, and is a founding partner of Muckleroy & Falls, a commercial general contracting firm. He played defensive back for the Frogs in 1971-72, earning Academic All-SWC honors his sophomore year.
Top