Articles: Hunt, with honors | Student speak

Hunt, with honors
Swanee Hunt '72 is now director of the Women and Public Policy Program at Harvard's Kennedy School. She shared the following thoughts during an informal question and answer forum on campus following Honors convocation April 15.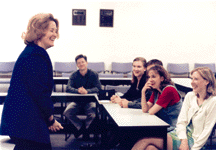 IT WAS 1997, Swanee Hunt recalled, the 50th anniversary of the U.S. liberation of Hitler's concentration camp in Austria. The U.S. Ambassador to Austria at the time, Hunt heard thanks in 17 languages, she said. "And I would have felt wonderful, if I hadn't known that back on my desk in Vienna was a pile of reports about the impending massacres in Bosnia.

"And I knew that I wasn't able to stop it."

She later helped survivors pay tribute to those murdered in the Srebreniza massacre, where 8,000 unarmed Muslim men and boys, in 36 hours, were killed and piled into heaps.

That's happening right now in Kosovo, Hunt said. "You know those pictures of 500,000 people that you see on the news? There were 400,000 people displaced over the winter, into the snow, when we didn't have television cameras. That was the only difference. The television cameras weren't there yet.

"This is not about Yugoslavia; this is not about various people being put together; this is about what it takes to live in a multicultural society," she said. "It's the same argument I grew up with in Dallas, Texas, or that we have here in Fort Worth among people who start talking about those 'other' people.

"Some say we cannot be the world's policemen. Does that mean we do nothing when we can? I'm of the mind that you have to do what you think you have a chance of success at doing.

"Sometimes, not responding with military action is the most violent thing you can do."

Evolution revolution
No matter the origin of the species, comedienne Bertice Berry said this spring, the destination is up to us.
Mankind may not be evolving biologically, but we should be evolving spiritually, culturally and socially, humorist Bertice Berry told a Student Center Ballroom crowd as part of TCU's Black History Month in February.

"If we were evolving biologically," she said, "every mother would have an arm in the back of her neck so she could get at her kids in the car without reaching around." Spicing her serious message of personal evolution with you-had-to-be-there humor, the sociologist and award-winning lecturer shared the world, "...according to me."

"You are a byproduct of everything and everyone you ever come in contact with," she said. "The more you come in contact with, the more you become. The more you limit the kind of interaction you have, the more you limit your own evolution." Berry also said that diversity is about more than the color of one's skin or where one lives.

"Integration means to ask, 'What are you thinking, tell me about it, let's grow,' " she said with preacher-like enthusiasm. "Because if you're talking about critical thinking, which is what you're supposed to learn at a university, you can't do it with one thought."

Especially when that one thought is about how you look, she said as she dropped into street talk to poke fun at certain college women.

"You say, 'I gotta look good, I gotta test to fail,' " she said before seriously adding, "We choose 'different' from the outside, we don't look at how they think or what their soul or purpose is. We live in the most religiously diverse society, but we won't even experience another denomination, let alone another faith. But if greater is the God that is within you than the one who is in the world, what are you afraid of?" Turn off the soap operas, she told the students, turn off the talk shows.

"They are designed to divide, they are designed to present everyone in this room in a negative light," she said, to spontaneous applause. "Your ancestors did not fight for the right for you to be here to sit up and watch Jerry Springer."

Kudos at Carnegie
The 50-member TCU Wind Symphony had what conductor Greg Clemons called a triumphant trip to New York in March where they performed for a full house at Carnegie Hall. The centerpiece of their hour-long performance was a difficult piece, Dance Movements, by British composer Philip Sparke, designed to showcase players' talent. "Not many college bands could play this piece, but the kids really knocked it out," he said. "It has a really bombastic ending that takes the audience's breath away, and this audience just went wild."

Rolling for dollars
The Pi Kappa Phi's sat around in April, but it was for a good cause -- they confined themselves to wheelchairs to collect donations for PUSH, their national initiative that helps people with disabilities. The fraternity enlisted the help of the 10 campus sororities and held a wheelchair rally designed with tasks that simulated disabilities. Combined with street corner solicitations, the group raised nearly $6,000. Above, Alpha Chi Omega's Naylene Vitek (sitting) gets a push by sister Stephanie Stewart during the races.

Letters (okay, books) from Luxembourg
The Mary Couts Burnett Library's Pate-Newcomer Luxembourg collection, with 1,650 volumes, is already the nation's largest. A March visit from the country's ambassador -- Arlette Conzemius, with University Librarian Bob Seal (far left), Chancellor Michael R. Ferrari and Special Collections Librarian Roger Rainwater (far right) -- added several more volumes, including a comprehensive history of the country. "Books covering Luxembourg are hard to find, even if you're looking to buy them," Seal said, "so we're extremely pleased to have them donated." The collection was begun by the late A. M. Pate, his brother Sebert Pate and vice chancellor emeritus James Newcomer.

We took them out to the ballpark
A month-long campus seminar for 25 Argentinian businessmen ended with a power meeting at the Ballpark at Arlington in April, where the Frogs took on the Longhorns. The $100,000 business exercise was funded by the Argentinian government and is the latest venture between TCU and the country. In August, the State of San Luis will send 30 graduate students to TCU.

Rounding up public television
When not kicking up their heels at Billy Bob's for a brief respite, nearly 900 public television-types from 37 countries converged upon Fort Worth for the 1999 version of the 22-year-old International Public Television Screening Conference -- or INPUT -- to view and discuss 99 of the world's best public television programs. The five-day conference in April was co-hosted by TCU, KERA-KDTN (Channel 13) and the City of Fort Worth. "Many of the producers and directors come to INPUT not knowing what to expect," said Hamlin Grange, one of the conference's 18 shopstewards and an award-winning documentary maker with the Canadian Broadcasting Corporation. "But I think they all leave with ways to make the programs they're involved with better. And that is always the goal for television in general."

Toil and trouble, dude
Shakespeare's age-old MacBeth underwent a facelift this spring as TCU Theatre mostly left the speech alone but changed the scenery to modern day. Urban gangs and Gothic darkness ala rocker Marilyn Manson were the inspiration for the production's costuming and scenery, all aimed to bring deeper significance to the performance. For example, the messenger Ross, who updates the audience about events that have happened offstage, wore graffiti-splashed attire. "Graffiti is the communication gangs use, and that is symbolic of that role in the play," said costume manager William Henshaw. He and others also scavanged campus for discarded items such as soda can pop-tops, which were sewn together as a chainmail dress for the coronation scene. Above, Carmen Matthew Lacivita as Macbeth.

Did you know?
This past semester, 91 international students from 31 different countries studied in the College of Fine Arts and Communication. The School of Music led the way with 27 students, followed by art with 14 and ballet and modern dance with 12. The country with the most students is Japan with 18, followed closely by Taiwan with 13.

In good hands
As this year's Harris College of Nursing Outstanding Alumna, Diane Faucher '77 (right, with fellow grad Connie Furman Koehler '74) said she has the same thing on her mind that most nurses do: What can I do to be sure each of my patients gets the best medical care available? That thought is foremost in her mind as she makes her daily rounds through the 50 acres and 50 buildings that are under her charge. Chief executive officer of the Austin State Hospital, she oversees 2,300 admissions a year that fill 308 beds, a budget of $31 million and a work force of 1,000 for one of only eight public mental health institutions in Texas.

Farewell to faculty
The April retirement and service awards ceremony saw 10 faculty put their chalk down for the last time, and a 35-year service award for Chemistry Prof. Manny Reinecke, above, who said he will continue to pick up his beakers. Those retiring include professors Billie Sue Anderson and Betty Benison (kinesiology and physical education), Agatha Gail Gear (art and art history), H. Wayne Ludvigson and Ray Remley (psychology), William W. Ray (history), Cy Rowell (Brite), and Mary Nell Kivikko, Gary Tate and Priscilla Tate (English). International Student Services Director Al Mladenka, a student favorite, also retired.

Border patrol
Protecting American interests means helping Mexico develop and thrive, U.S. Ambassador to Mexico Jeffrey Davidow told a crowd of several hundred at the Kelly Alumni and Visitors Center in March. According to Davidow, who has led diplomatic efforts in Mexico since his appointment last year, three key areas -- commerce and trade, immigration, and public security relating to drugs and crime -- must be cooperatively dealt with by the two countries. "If Mexico does not develop economically, then there will be more unwanted immigration," he said. "We want Mexico to get richer and to be a better customer. It's in our interest for their people to have a decent job, a decent way of life."

Spring Trustee Report
The April meeting of the Board of Trustees brought approval of the University's largest-ever operating budget, $156 million. Tuition was raised 5.8 percent to $365 per credit hour. Student fees were raised $100 for the academic year. The money will go toward:

-- the addition of 21 new faculty positions.
-- $5.2 million for classroom equipment and research laboratory equipment in the field of information technology and science.
-- $500,000 for outreach and educational programs targeted to the business community. Chief among these efforts is an educational center -- offering an executive MBA track, an MLA degree and other courses and seminars -- to be established at Alliance Airport in north Fort Worth.
-- a $1.7 million increase in the student financial aid budget, including scholarships for study abroad and, to the grins of many upperclassmen, previously unavailable merit scholarships for current students.
Student speak
By Robyn Ross



"So, what are you doing after graduation?"
The fear, the doubt, the uncertainty rise again like a terrible phoenix, and our answers about keeping options open once again fail to sound convincing.
I think that half the class of 1999 is working for Motorola or Andersen Consulting, and the other half hasn't a clue. It is this half that fidgets nervously, smiles hastily and shrugs in shy doubt when hit with the question.
The truth is, nobody really cares what anybody else does after graduation. It's like waiting-room psychology: No one is authentically concerned about the plight of the guy sitting next to him; everyone just wants to know he isn't alone in his apprehension. We ask vague friends and that guy from nutrition class what they're doing after May 15, but it's halfway to reassure ourselves that some people are just as uncertain as we are.
Adults who ask about our futures really just want to know we're not going to end up on the street. Love, saving the world, and "sales" are all filed in the same folder of "has plans." It doesn't matter what you say, just that you say something.
So those of us who can't yet list something as concrete as Motorola have learned to supply an answer anyway:
"I've been accepted to graduate school to study industrial education with a minor in principal dynamics."
"For the next couple of years I'll be a goose keeper, and then I'll get married and go into intensive shrubbery."
"I'll be training amoebas in a small research center, with a focus on pseudopod therapy through the creative arts."
Ah, yes: they smile and nod. But the fastest-growing job market is in educating the public that futures and soundbites are not synonymous. That's where I'll be in 10 years. Unless, of course, I grow to love the amoebas. . .
Top