Everything changes but the memory
Sometimes when I witness or read about university life today, or hear ruminations on the university life of tomorrow, I feel light years away from 1952 when I was a freshman at TCU.
By Joan Hewatt Swaim '56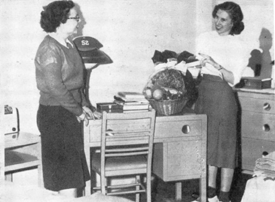 It is hard to believe that just three years shy of 50 have passed; yet when I consider nearly every aspect of the academic scene -- what has happened, is happening, and is going to happen -- it seems impossible that so much has changed.

Reading about the new Tom Brown/Pete Wright Residential Complex in

What, no TV? Dorm room in the '50s featuring utilitarian gray metal furniture and single beds.

the last issue of The TCU Magazine, I think that we must have lived in an oversimplified, primitive world in 1952. The article, which focuses on the apartment-style suites, complete with kitchen, that now stand in the place of old Tom Brown and Pete Wright mens' dormitories, says that today "students arrive in their own cars with elaborate computers and entertainment centers. They live high-tech, high-expectation lives in high gear...in, for the most part, decades-old housing."

I thought we lived high expectation lives in high gear, too, but I admit that our trappings were a bit different. I first arrived at the back door of Foster Hall in my family's car with a few clothes, a cotton Bates bedspread, some sheets and towels, and essentials such as a toothbrush, comb, and hair rollers. Others brought luxury items -- a throw-rug, an entertainment "center" that consisted of a radio and/or "long-play" (33 1/3 or 45 rpm) record player. Some might have even had a manual typewriter, although I can't recall a single person who had one. Television, which was in its infancy, could be watched in black and white, but only from the one set in the dorm's second-floor lounge. A fan was among some of my dorm-mates' possessions. The only building on the campus with central air then was Ed Landreth Hall, which was built in 1949.

And we lived in decades-old housing, too -- Jarvis (built in 1912); Clark (the old and now gone one built in 1912); Goode (built in 1911, razed in 1958). Our newest living quarters were Foster, Tom Brown, and Waits, built in 1942, 1947, and 1948, respectively.

"Nowadays," continues the magazine article, students expect "a place where privacy and a social life coexist, complete with all the amenities...." I suppose "amenities" means private baths, private phones, private TVs, plus private cook-in facilities. Well, we did have kitchen privileges, albeit not in our own private kitchen. We were allowed to piddle around in the dorm kitchen, across the hall from Dean of Women Elizabeth Shelburne's suite of rooms (!!), but most of us did what I suspect most students still do -- grab a sandwich or bag of chips and a coke from the local and handiest eatery, down it on the run, or carry it back to our rooms.

Most of the dormitories' facilities also provided many more "community baths" than private ones. I doubt many of us were psychologically damaged by that. I had a small pinch of pain when I read that Foster is shortly to be gutted and a new floor plan constructed, with "more rooms [as] suites and if community baths remain, fewer will share them." Community baths can certainly provide a venue for a coexisting private and social life!

Terminology has changed, too. The simple telephone is giving way to remote and cell phones, voice mail and message machines. In our time, we had few of the former, and none of the latter. The telephones we had were not in our rooms, or in our purses, or anywhere in our personal space. There were two instruments on each floor of Foster Hall (and all the other dorms -- boys' and girls'), one that served all of the occupants on each end of the floor, and it was actually an extension phone. Its "ring" was centered at a sort of switchboard in the main office of the dorm, where either the dorm mother or student assistant would answer the incoming call and buzz the room of the requested party, who would then go to the hall phone to answer. Obviously we didn't have many "private" conversations, but then most of us had grown up in homes with one central phone (and that with a "party line"), and said what we needed to within earshot of the whole family.

As for "E-mail and snail mail," ours was exclusively of the slower variety, computers still being on the far horizon. The post office was in the basement of the Ad Building at the bottom of the south steps and left. Since our time there, that building has been renovated, reorganized, and renamed Dave Reed Hall. Edens Greens, a cafe, now occupies that space. The post office and what served as a student lounge, just a few feet farther down the hall, were the student gathering places then. In today's vernacular, we "hung out" there.

As a matter of fact, had it not been for that old post office, my life story might have gone down a different path, for it was there that Johnny Swaim and I first met. I had rented a post box, although I hardly needed one -- my home was a half-block away. Johnny's box was close to mine, and one day we happened to be checking our mail at the same time. He said, "I never get any letters; why don't you write me?" I said, "Maybe I will." And I did. And he wrote me back. Then he called me on that one hall phone. And the rest, as they say, is history. Ours were handwritten messages, too. Something that couldn't be accidentally erased or hacked on.

In retrospect, then, ours was a simple world indeed, where we lacked so many things without which today one seems unable to function. We didn't even have credit cards! If you didn't have cash, you didn't go, didn't get.

Dr. David L. Warren, President of the National Association of Independent Colleges and Universities, speaking at Chancellor Michael Ferrari's inauguration, talked about "riding the tiger of change" into the 21st century. He said the university as we know it is even now becoming a "virtual university," not bound by real walls and halls and limited communication, but one that soars past geographical, ethnological, and philosophical barriers on the fast-moving magical carpet of technological change. I'm glad for the students of today with their machines, Internet, virtuality, and charging tigers of change, and sometimes, my muse leads me to wonder what it might have been like to have had a "virtual" meeting in cyberspace with J. R. Swaim, instead of the "real" one in that old post office hangout.

But I am equally glad for my day in the campus sun with its soft-padded pussycats of change. I guess we -- most of us -- harken back and hang onto what we knew and considered good and the way we thought it was supposed to be.

Everything, it seems, changes but the memories.

Joan Hewatt Swaim is author of Walking TCU: A Historical Perspective. She retired in 1995 as coordinator of bibliographic control for the Mary Couts Burnett Library after 18 years of service. She now lives in Granbury, where her 7-year-old grandson Asher plays basketball, which would have made his grandpa Johnny happy.




Top