Clear signal

| | |
| --- | --- |
| TCU and ESPN announced in May a partnership that will bring TV and a whole lot more to TCU Athletics. | |



The Sun Bowl score was 21-0 in favor of TCU when Chuck Gerber's phone rang. The ESPN Regional vice president and general manager picked up the phone; it was his son Craig, a USC student, calling in disbelief.
Gerber couldn't believe the score, either, but at a Dee J. Kelly Center press conference in May, he took the advice he gave his son:
"I told him, ĆWell, if you can't beat Ćem, we might as well join Ćem."
And for reasons much greater than that, TCU and ESPN have entered into a five-year agreement that gives the broadcaster exclusive rights to the marketing, sales and broadcast efforts of TCU's football and basketball programs, as well as the school's other sports. TCU becomes only the fourth school in the nation to have such an arrangement with ESPN -- joining the universities of Kansas, South Florida and Oregon -- but TCU is the only one with a TV component.
"With ESPN's wealth and past history in collegiate marketing," said Athletics Director Eric Hyman, "this opens up all kinds of doors for TCU, from sponsors, to recruiting to increased local and national exposure."
Immediate benefits include all five of TCU's road games being broadcast in the Metroplex, the station to be announced shortly. Any TV package will have to be coordinated with the TV deal the Western Athletic Conference signs this summer, perhaps with FOX Sports.
"Every football recruit wants to know how many times he will play on television," said Football Head Coach Dennis Franchione. "When you consider that more than half of our signing class this year came from within 90 miles of TCU, that is huge."
ESPN Regional Television, which has established a satellite office at TCU, annually televises 450 college basketball games and 70 football games, and holds the rights to the programming syndication and marketing of the Big 10, Big 12 and Conference USA.

Track and field... and much more.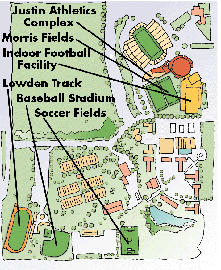 The University launched in May an $8 million "first phase" of a three-part master athletic facilities construction plan expected to total $25 -$30 million when completed.

First up are the John Justin Athletics Center , the Lowdon Track (named for Robert and Maria Matala Lowdon), a new soccer field (funded by the Garvey Texas Foundation) and, for football practices, the Morris Fields (named for Sheridan and Clifton Morris of Fort Worth).

Phase two will begin with a new baseball stadium and major improvements to Daniel-Meyer Coliseum and Amon Carter Stadium, primarily to comply with the ADA (Americans with Disabilities Act) rules. The final phase, still being debated, will most likely include a covered football practice facility and added amenities for the football and basketball facilities.

The house that Justin built. The $7. 5 million Justin Athletics Center, to break ground when all funding has been secured, will house the football program and an athletic learning center, as well as athletics administration offices.

Top picks.
Senior Jason Illian, team captain of the Sun Bowl Frogs and the Chancellor's Award winner at the Spring Sports Banquet in April, fondly remembers his first season under Head Football Coach Dennis Franchione. "We had 27 guys on I.V.s the first day," the finance senior said. "At the time, we thought no scholarship was worth what we were going through. We held on to whatever we could, and most of the time it was each other." But somewhere amid that sweat came a lesson Illian said he won't ever forget. "Coach Fran always taught us that it's not the best athletes who win; it's the athletes who play best together."This years winners are Jason Flint (swimming), Male Scholar Athlete of the Year; Jason Illian; Misty Meadows (basketball), Female Scholar Athlete of the Year; Basil Mitchell (football), Pop Boone Male Athlete of the Year; and Dennis Franchione, Coach of the Year.

Most valuable player.
Word came in April that the new football offices in the John Justin Athletics Center will bear the name of one of the Horned Frogs most avid fans, Carol Lee '63, of San Angelo. "Athletics is so much a part of me that I take it for granted," said Lee, who attended both of TCU's Cotton Bowl games, against Ole Miss and Syracuse. "And I remember in 1959 when I was a freshman going to Austin for the UT game. It was freezing. The score was 9-0, and we were losing. My date asked if I wanted to leave. I wasn't about to leave. TCU ended up winning 13-9."

They got the save.
Three Frogs -- Buster Foster, Landon West '92 and Mike Lachman -- were among the Fort Worth firefighters invited to throw out the opening day pitch for the Texas Rangers at the Ballpark in Arlington. The home team lost, but West and company were the real winners. In September, the foursome rescued a child from a car that rolled into Lake Arlington. "It's hard for us to take the credit when anyone at this station, or any other firefighter, would have done the same thing," West said. "The main thing is that boy has another day on earth regardless of who did it."





Top