Alumni Profiles

Justin time | Putting it into perspective



Putting it into perspective
By Gary Libman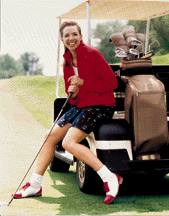 It's her fourth pro golf tournament of the year -- the Valley of the Stars Tournament in Glendale, Calif. -- and Kris Tschetter's '87 ball is in the rough under a grove of trees. It's then that TCU's most successful pro golfer puts it into her one-of-a-kind perspective.
"It's only four tournaments," said the 5-foot-7 Tschetter, endorsing the Liz Claiborne clothes line with a soft black sweater and beige slacks, her long brown hair neatly rolled up.
"You have a good week and everyone says, 'Great tournament, Kris.' But once [the next] Thursday starts, that's all forgotten. It's time to go out and prove yourself again."
Playing on the ladies' tour for 11 years through 1998, Tschetter would seem to have proved something: She climbed to 38th place on the career money list by winning $1,735,000. Of that sum, she earned almost $1 million between 1995 and 1997. With the money has come a first-place finish in the Northgate Computer Classic in Minneapolis in 1992 and second-place finishes in the U.S. Women's Open in 1996 and the Nabisco Dinah Shore in 1997.
So, by those standards, her 1998 winnings of $104,837 were disappointing. This year, however, has proved much kinder. Keyed by a tie for second, worth $54,345 at The Office Depot tournament in West Palm Beach, Fla., she won more than $81,000 in her first five events, almost 80 percent of what she earned last year.
Between difficult shots on this sunny yet windy day, Tschetter sat on her bag and talked with a spectator.
"If I have time, I like to strike up conversations," she said. "You never know what you might learn," she said. "And today I was in the trees so much I was practically walking with the gallery."
Tschetter came to TCU because her brother attended the school and because she wanted to play golf. She practiced at Shady Oaks Country Club in Fort Worth -- where golf legend Ben Hogan frequently walked or hit balls.
"Everyone told us, 'Mr. Hogan keeps to himself. Don't speak to him unless he speaks to you,' " she recalled. "So I'd be out practicing and I'd see him and act like I didn't see him.
"And after a while, I thought, 'This is not me. I'm not going to act any differently than I do to the other men here.' So one day I said hello.
"We struck up a friendship; he'd stop and watch me hit a few balls and offer a few tips. And then I'd watch him. I did not think of him as the great Ben Hogan. He was a tinkerer. It was always, try this, try that. If it doesn't work, throw it away.
"I think mostly he taught me to be a good person."
And Tschetter, though in the rough on some days, is sure to land on the green when it comes to that.
Top