Articles: In the beginning | Drawing conclusions

In the beginning
In the beginning, God created the heavens and the earth. No, there was a big bang, and life slowly formed into the world we know. Biology Prof. Rudy Brun figures there must be some middle ground.

By Nancy Bartosek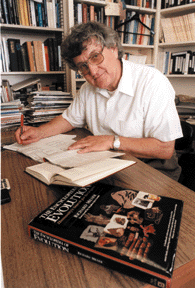 Ever since Darwin's theories flew off the press in 1859, evolutionists and creationists have glowered at one another from across the room.

And since 1982, Biology Prof. Rudolph Brun has stood between them. As a genetic scientist tempered by strong Christian and philosophical views, Brun has long seen more ties than gaps and long sought to answer one basic question:
How can one integrate universal evolution into an updated Christian doctrine of creation?

The latest answer comes in his recently self-published book in compact disk form, Christianity, Science, and Art. In it, he argues that the two have more in common that probably either would like to admit.

In science, there is universal evolution; nature is capable of creating itself.

In Christianity, God is love.

"If God is love, then creation has to be free to create itself," Brun begins in his rich Swiss accent. "That's the bridge . . . . Creation has to create itself, because if it does not have that chance, how can it be free? If you have some supernatural intervention at this time and that time, and, ŒOh, I need to fix this or that,' what kind of creator is this? Where can a loving relationship emerge where there is no freedom?"

Brun's Winton-Scott lab was once filled with mutant salamanders -- creatures that failed to develop eyes -- a genetic aberration that fascinated the young biologist. For 12 years, Brun toyed with their embryos until he discovered missing information in their genetic structure. Fill in that gap and eyes grew.

While Brun was wandering about in the world of creation, he was pricked by similarities he saw in the rest of the world.

Take the world of business. Or even music. Look closely, and many of the rules are the same.

"How does a small business become a big business?" he asked. "Or how do we get from relatively simple musical scores to highly complex ones?"

Biologists have proven that a simple genetic program -- Brun compares that to a single line in a Gregorian chant -- can exactly double itself. Once you have two identical genetic programs, there is a good chance that one will start to vary, bringing in mutations.

"Now you have a program that is used (the first one), and the program that is not being used (the second one), and then steps where the two become integrated. Now you have a genetic network that is increasingly complex.

"We know from these ancient ancestors of vertebrates that this has happened."

All creation, be it art, language or computers, follows the same format -- unification of diverse elements into new wholes. Brun argues that seeing the similarities in art and science is just a matter of digging deep enough. He will continue to share his discoveries with students through Religion and Science, a junior-level course he developed. He also hopes that this latest publication will alleviate the quandary he once felt.

"I want people not to wonder whether it is really possible to be an old-fashioned Christian and also come to grips with what science has discovered. I want to move thinking into a position where we can go to church without leaving our brains outside."

More about Christianity, Science, and Art, which contains musical commentary by Music Prof. Gerald Gabel, can be found at http://geowww.geo.tcu.edu/brunbook/index.aspl.
Top