Playing for keeps and for his cousin, Reggie Hunt is one big reason why Frog football remains. . .
In the Hunt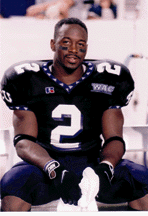 Reggie Hunt is hungry.

The heart and soul of TCU's defense, he taps his washboard stomach for good measure, a worn black workout glove covering his clenched fist.

No doubt, the taste of TCU football is in the air; on this July day, Hunt sits just a few paces from the house Davey O'Brien '39, Jim Swink '57 and Bob Lilly '61 built -- Amon Carter Stadium -- whose future suddenly looks as bright as its gloried past. The campus expectation following the Frogs' stunning 28-19 upset over USC in the Norwest Sun Bowl is palatable. And the thought is more than an appetizer on the tip of Hunt's tongue.

"We've got another bowl game to go to," the senior safety begins, quietly, articulately. "We've got to play Fresno State for the conference championship." And there's that little season opener against Arizona. On a Sunday. In front of a national television audience. For an hour each day, Hunt has been picking apart Wildcat films, studying his own footage, too. "I want to see the mistakes I made, and what I can do to get better."

Yet, as much as Hunt's dark eyes ravenously look toward fall's Saturday specials -- bone-crushing tackles smothered in purple jerseys -- something far more meaningful caused him to come to the college football dinner table in the first place.

Turn the game clock back eight years. Hunt was 13, growing up in Denison with his younger brother Aaron (now a defensive end at Texas Tech) in a single-parent household. "My mom and my brother are my best friends," he said. "We struggled money-wise, but as far as love, we had plenty." His mother called him Einstein for the grades he brought home. But his sprinter legs soon surpassed his racing mind; he began running 100- and 200-meter races in junior high when the phone rang one night, too late for anything but bad news.

Chicago Bears rookie Fred Washington -- Hunt's cousin, role model and surrogate father -- had been killed in an automobile accident. For Hunt, that brought back memories of a cousin 10 years his senior, quiet, resident coach for a ragtag team of teenagers who played street football at Hunt's grandmother's home during the holidays.

"He was my inspiration," Hunt said, who switched from track to football after Washington's death. "I felt like I was next, and I was the only one who could take his place."

Hunt became a dynamo for Denison High School on both sides of the ball. His junior year, he rushed for 904 yards and 17 TDs and collected 90 tackles at safety. His senior year, he rushed for more than 2,000 yards, earning all-American honors at tailback and all-state at his defensive post.

Hunt was courted by Notre Dame, Michigan, Florida State, Nebraska. He chose TCU, just like his cousin did.

Hunt's arm says it all, in black letters, a tatoo across the width of his bicep: F.E.W. And then below it: 1967-1990.

Hunt rises nearly every morning for self-imposed six o'clock workouts. During the day, he works as an electrician's assistant on campus. In the evenings, he and many of the other players on the team gather for players-only scrimmages. It figures that during WAC Media Day in late July that Hunt would be named the top preseason defensive player.

"Reggie brings an intensity to the defense," said free safety Curtis Fuller. "He's got a physical demeanor and the attitude to play defense. He's a great athlete, and you can tell he loves the game."

For Hunt, it's just a matter of following in those unfinished footsteps.

That journey in mind, Reggie Hunt isn't just hungry for the season to begin.

He's starving.

The power of promotion
The only thing that may outdo TCU's 28-19 Norwest Sun Bowl victory over USC last December are the fun and games planned for this season.

"Coach Fran and last year's team are the most significant things to happen to TCU football in years," said Brian Estridge, director of sports marketing and broadcasting. "Second only to that is TCU's Sports Marketing partnership with ESPN Regional. We're offering greater viewing opportunities for fans, and more fun when they come to home games."

Indeed, consider this season's game plan:

Frog Alley. Two hours before every home game, this season's six Alleys will sport individual themes, including Texas Legends (featuring Nolan Ryan and Bob Lilly '61 and others) on Sept. 5, Bass Pro Shops (with interactive "great outdoor" games) on Oct. 9, a classic antique care show on Oct. 16, NASCAR-Texas Motor Speedway Day on Nov. 13 and Disney Mascots on Nov. 26.

TCU Village. An upscale atmosphere of tailgate tents, buffets, alcoholic and non-alcoholic beverage service, floating musicians and college games via satellite await any group making reservations for 20 to 1,000 people. Call 257-6928 for more information. Tickets to the game are included in Village packages.

Project Purple. Corporations or individuals wishing to brighten young lives can purchase discounted single-game tickets, which TCU will distribute to disadvantaged youths across Tarrant County. Benefactors, who may also help defray busing costs, will be identified through special seating sections, public address and message board announcements and on-field presentations.

And a deal on tickets. A family of four can attend each of TCU's six home games through season ticket packages that cost as little as $4 per person, per game. Individual gameday reserved seats are $21 for adults ($25 for Arizona), $13 for end zone and $8 for children 13 and under. Fans may call 817-257-FROG to place an order.






Top