Face the future
Chancellor Ferrari appoints Bob Schieffer '59 -- anchor and moderator of CBS News' Face the Nation -- as chair of the Commission on the Future of TCU.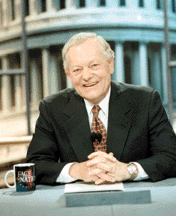 Bob Schieffer '59 wanted to be a baseball player.

His mother wanted him to be a doctor.

The two compromised when Schieffer arrived on campus in the fall of 1955. He took comparative anatomy and tried out for the TCU baseball team.

Forty-four years later, from his Face the Nation office in Washington, D.C., broadcast journalism's most experienced Washington reporter laughs.

"I must say in all honesty that it was my experience in comparative anatomy that led me to journalism," said the 62-year-old Schieffer. "After a semester of that, I knew that medicine was not the direction, for the sake of the patient, that I should be going." And as for baseball, Schieffer made the team as its catcher.

"I actually started the first few games," he said, "but then I got hurt and my baseball career came to an end. Of course, there are very few people who will remember my baseball career."

As much as Schieffer likes to look back on his TCU days, in the coming months he will be looking far ahead for alma mater. The newsman who has covered the nation's capital for 29 years suddenly has a new beat for the next year -- as chair of the Commission on the Future of TCU.

The goal? To determine the University's course for the coming century.

"Too often, universities spend their time building buildings and raising more money to do only that," Schieffer said. "This is a commission that looks beyond that. What is it TCU ought to be and what do we want it to be?

"The University has just finished a major campaign. Now, we need to pause for a minute and think about what the University is and where is it going. I hope and envision this commission to be something where we'll question every assumption and take nothing for granted."

The commission -- composed of as many as 400 members -- will officially kick off its activities in November, said associate vice chancellor Larry Lauer, the commission's director, and will issue its final report in late 2000.

"Are we large enough? How should we price our tuition? What should be our areas of academic distinction?" Lauer asked. "This is the time to identify our strengths, understand our weaknesses . . . and grasp our opportunities."

In the field of communications alone, one of TCU's largest undergraduate programs, Schieffer can already imagine some possibilities.

"I often tell people that when my children were small, they'd say, 'Dad, did you want to be a televison reporter when you grew up?' And I would tell them that we didn't have televison when I was a boy. We didn't have television in Fort Worth until I was in the eighth grade. There are going to be jobs out there in 10 years that we don't even know about and things to do we can't imagine.

"We're at a point in history where we could have another golden age. If you look back in history, when great advances in human thought were made, it was when remarkable people happened to be in one place at one time. With today's communication tools, you don't have to be in the same place with people to exchange thoughts. How do we take advantage of that at TCU?"

And when that question and others are asked at universities, Schieffer concluded, all of society benefits.

"The university ought to be a place where you explore in an objective way. The only way to get at the truth is to search for it in a way that you're willing to accept the answers you find. That's why universities are so important. They are the one institution in society that has the liberty to just explore everything." Then Schieffer smiles.

"The golfer Lee Trevino once said, 'Someone has to win these golf tournaments, why shouldn't it be me?' Well, there are going to be some great universities tomorrow; why shouldn't one of them be TCU?"

Growing pains
Though always breaking ground somewhere, TCU stirred the dust this summer like never before.
Final grades are barely posted before the annual campus summer construction ritual begins, a never-ending list of roofing, paving and landscaping.

But this year's hit list of construction projects tops 150, the highest ever, said Will Stallworth, assistant vice chancellor for plant management.

"This is partly because we are seeing a maturation of our master plan," Stallworth said. "In addition, having a new chancellor and a new athletics director has brought some changes, as well as increased funding by trustees for projects."

The list includes:

-- The second phase of the Tom Brown-Pete Wright Residential Complex, originally planned for a late fall completion, was ready to open in September.
-- The Lowdon Track will be ready for fall, as will the new football practice field, crafted from the old track. Ground work has begun for the 35,000-square-foot Justin Athletics Center. Renovation of restrooms and the installation of an elevator in Daniel-Meyer Coliseum continue.
-- Offices, and even buildings, were shuffled in preparation for the planned Tucker Technology Center, which will sit directly east of the Sid Richardson Building. Human resources moved to a former bank on Berry Street, TCU Press took over the old human resources house, and the sociology and Institute for Behavioral Research trailers have been relocated to the former TCU Press site after the building was razed. The TCU Counseling Center has already moved to the Health Center, and its house will soon be razed.
-- Renovations of Martin-Moore and Tomlinson Halls were ready when fraternity members returned for class.

In addition, the north steps of Winton-Scott were redesigned and the library mall now has a sitting wall and new landscaping; TCU's commitment to the Berry Street Initiative continues with a newly designed and landscaped parking lot at the northeast corner of Berry and University Streets; 50-some new parking spaces were created on the southeast side of the campus; and a new commercial-style copy center called Frog Prints will be housed in the basement of the Student Center.

Mascot makeover?
Super Frog's been working out.

In fact, when he makes his debut at the home opener against Arizona, fans will hardly recognize him, said Dale Young '66, cheerleader sponsor.

"He was hurt by the comments that he was looking too much like a Barney character," Young said. "He said people wanted him tougher, more powerful, like our football team. We agreed."

Sources also disclosed that TCU's top Frog had begun to wrinkle -- and smell -- having gone 20 years without a real bath.

A top-secret group of personal trainers and image consultants have worked since June with the silent one, fortifying his diet with extra red ants and surgically implanting ice packs and a head fan to keep the more vigorous Frog cool during games.

"The word is that Super Frog looks more like the Frog you see on the team helmets now," Young said. "I guess that since our teams are getting better, Super Frog decided to get in shape too."

All that jazz.
More than 40 would-be Dizzy Gillespie's turned out for the first-ever Lone Star Jazz Camp in July, including 73-year-old Ray Roberts of Las Vegas, Nev. The players practiced daily, but the highlight for each was playing with the Jim Widner Big Band at week's end. "Jazz is a difficult art form," said Prof. Curt Wilson, the camp's director. "For budding musicians, it requires a lot of practice and a lot of time, not to mention a formidable purchase of a musical instrument. This camp shows me that the future of jazz will continue to be bright."
Storming the Bastille.
Among the latest TCU London Centre students this summer were Julie Covert, Allisen Broadie, Julie Paullin and Krista Unger, who took time away from gray London for gay Paris, including such sights as the Arc de Triomph, Champs Elysées and Sacré Coeur.
A long way in Alaska.
Try running for an extended period of time in the Texas heat and you probably won't make it very far. Perhaps that's why seven current and former TCU students went to Anchorage, Alaska, for the Mayor's Midnight Sun Marathon June 19. The marathoners ran for the Luekemia Society of America and raised $4,000 each in the process. News-editorial journalism senior Aimée Courtice said "running for the Luekemia Society puts being a student in perspective. When you run for somebody else, it helps you realize there are larger things in life than college worries." From left to right in back are sophomore Jay Hurst, Matt Blakely '98, senior Carlo Capua and sophomore Tim Bates. In front are Aimeé Courtice, Jennifer Schooley '95 and sophomore Lauren Wylie.
Head nurse.
New Harris College of Nursing Dean Rhonda Keen-Payne said in July that she hopes to help nursing students envision careers that go far beyond E.R. and Chicago Hope. "A hospital is no longer the center of care, and the average stay in an emergency room is quite brief," she said. "The spectrum of care includes our homes, the hospital, clinics, schools, perhaps places we've not yet identified." Joining Keen-Payne in deanship roles are Dr. David Whillock, interim dean of the College of Fine Arts and Communications, and Dr. Bill Moncrief, interim dean of the M. J. Neeley School of Business. All three appointments mark a change of guard not seen at TCU in more than a decade.
By Spring of 2000,
TCU hopes to obtain Internet 2, the high-bandwidth information superhighway, exclusively for institutions. Already, TCU is the only school in North Texas offering a highly interactive intensive English program for non-English speakers around the world, administered through the new Union Pacific Learning Lab in the library. Internet 2 will accelerate the program's speed.






Top