Then there were eight
But first there were nine. Nine co-eds living and learning together, cultivating friendships that would last for the next 60 years.
By Vineta Worthington Barnett '41





The light on my answering machine blinked in February with the waiting message: "Vineta, this is Ruth. I've tried to reach you all weekend. Guess you've been off celebrating that 80th birthday. I have bad news. Jewel died Friday. We attended her funeral (all pre-planned by her) Sunday afternoon."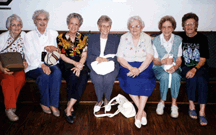 I was shocked. Jewel was one of the nine of us "girls" who had roomed together in a mini-dorm at TCU in 1939. Now 60 years later, she had been the spryest and most active of all of us.
She had had breathing problems for some time, but she had never written us about it -- though we all had corresponded with a "round robin" letter since our graduation. The letters took six months or more to get around. Along with letters, we had kept up with one another through several reunion get-togethers at our alma mater, lake resorts, and quaint old towns -- all in Texas.
Thinking of Jewel brought back memories. She, Ruth and Evelyn had the big room upstairs. The house at the corner of Cantey and University was old, and we had open gas heaters. Once a curtain blew into the flames and caught the room on fire. How we all rushed around. "B.L." (Billie Lou) flew up the stairs with a cheese glass of water.
She was followed by "Weesie" (Eloise) looking for the fire extinguisher where we always sat to talk on the upstairs phone. She had put on her fur coat in case everything in the house burned. Consequently, when she tried to extinguish the fire, the chemical spattered on her coat and soiled it.
I, the journalism student, grabbed copy paper and began writing a story to turn in to the TCU Daily Skiff. We got the fire out before the firemen arrived, but of course we girls were delighted to have the firemen come in the dormitory room. That was about the most excitement we had all year.
Meg and Elisabeth lived in the room next to me. We envied Meg because she was paid to tutor some of the football players. Elisabeth worked on the school switchboard and knew who was calling whom -- and told us.
My roommate, Louise, was a very pretty and popular girl. She was usually the last one in bed each night. We had a lot of freedom. We "signed out" each night, and the last one in locked the front door.
Weesie from downstairs had a sister living near the university. About once a month she let us have her car. None of us had a car; we probably weren't allowed to have one. We all piled in when Weesie got her sister's car and rode all around the campus, ending up at some place to eat, of course.
After graduation, through our letters and reunions, we met husbands and children, and rejoiced and cried about the good and bad happenings in the lives of the nine Gibson Girls -- our dormitory was called the Gibson House.
In the 60 years since, four of us lost husbands, one lost a child. All of us lost parents. But this was the first of our group of nine to die.
The eight of us were together in May, probably for the last time. Few of us drive anymore. We all have aches and pains. One has cancer, but we're still together to giggle and play just as we did so many years ago when we sat on the parlor floor in the dorm and played cards -- but there will be a spot that just can't be filled.
Vineta Worthington Barnett '41 lives in Shreveport, La.
Top