Articles:
No big deal

From rock to Bach
A survey of music course? Nah, former fine arts and communication Dean Robert Garwell is taking students on a trip through time that even they can tap their foot to.
By Nancy Bartosek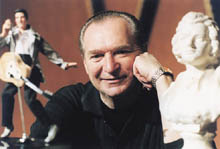 Indifference permeates the 150 students watching Music Prof. Robert Garwell clip a portable microphone to his Henley shirt.
It's the first day of the class he calls "From Rock to Bach."
He gazes out at the group and seats himself comfortably at a Steinway grand piano. His fingers hit the keys for a musical notice -- this class is going to be fun -- and begin a rousing version of Ray Charles' What I Say.
Within minutes, even the most reticent students applaud and participate in a classic call-and-respond.
Hey!, Garwell yells.
Hey!, the students reply.
Ho! . . . Ho! Hey, . . . Hey! Hey, ho, baby what I say!
Then Garwell spins off his piano bench. "We're going to take a journey and an adventure," he tells them. "The basic premise is that you can learn about music, about its elements, its structure, how it works, from all types of music. "We're going to begin with the more familiar and move backward to the more complex and less familiar."
Less familiar only to the students.You name the genre, Garwell's probably performed it. Maybe even composed something in it.
His foray into music began with an accordion competition in a small town outside Cleveland, Ohio, when he was 7. He won and took home his first accordion. He would pick up the trumpet while still in grade school, but it was piano that earned him pocket money playing in clubs before he could even drive.
It was piano that earned him a scholarship, that provided an income through college. His first piano lesson, however, wasn't until his freshman year at Ohio University. He majored in composition, eventually earning a doctorate in musical arts from the University of Oklahoma.
He's played it all -- jazz, blues, rock, musical theater -- and probably seen it all, too. He laughs.
"We won't talk about the bar in West Virginia we played in where a guy jumped up on a table, shot off a gun and announced, 'I want you to listen to these fellows; they came all the way from Ohio to play!' "
Last year Garwell stepped down as dean for health reasons after leading the School of Fine Arts and Communication for a decade. It was then he drew out an old idea he'd never had time to develop -- a class for non-music majors that would give students a deeper appreciation of the music of the ages.
In his two survey courses, Garwell moves easily from his PowerPoint presentation to the CD, VCR and DVD or laser disc, allowing music and musicians to punctuate the day's lesson. That's when the music lover in him, and in his class, comes out -- fingers snapping and head bobbing as he counts out beats.
"I really try to give the students the sense of the historical, not just the song; this was this guy's place in history, and his music had a place in history," Garwell said. "Yes, we know there is a guy, Bob Dylan, but there is a whole aspect of what he did for the future of that kind of music. He was responsible for certain things. Count Basie was responsible for certain things."
It must be working. Occasionally during his hour-and-a-half course, he notices students standing in the back, having wandered in from the hall after hearing the great tunes coming from Moudy 141N.
One student approached him after class to report a perceived problem.
"He came up to me and said, 'I don't want to say anything Prof. Garwell, but do you know there are some people in this class who aren't enrolled?' "
Garwell calls his new role at TCU "rejuvenating," drawing energy from the students and seizing the chance to bring history to life through music. But in teaching music through the ages, at least one problem can and does arise.
"I do forget sometimes that these are 18- and 19-year-olds," he said, breaking once more into his signature grin. "Occasionally, they just stop me short with questions like, 'That was Peter, Paul and who?'
"I just smile and say, 'Mary. The other name is Mary.' "


Top