Runner's high
Freshman Jake Repp lost his foot -- but loves the life he gained as a result.

By David Van Meter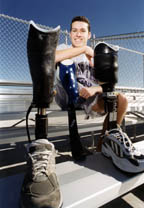 JAKE REPP always puts his best foot forward.
The 19-year-old freshman is also one leg ahead of the competition.
And he'd give his right foot to help anyone out -- oh wait, he doesn't have one.
Don't be offended, this TCU freshman isn't. In fact, those are his one-legged one-liners, ice breakers to ease the anxiety of people who don't know what to do around those with one less limb.
"I can still feel my toes and move them even though they aren't there," Repp explained. "Basically, it feels like your foot's asleep 24 hours a day.
"But it's really not that much different; while you get up and brush your teeth, I get up, put my leg on and then brush my teeth."
And after breakfast, he also might run 100 meters in 11.5 seconds. Repp is the nation's fourth fastest parathlete for a person with a below-the-knee amputation.
In August 1998, Repp also competed in the International Paralympic Committee World Games in Birmingham, England, reaching the 100- and 200-meter semifinals and the 400-meter relay finals.
Indeed, Repp has run a long way in three years, which is when his race really began. A sophomore at Jesuit College prep school in Dallas, Repp was a standout point guard playing in the school's summer basketball league. He jumped for a rebound and came down wrong on his ankle.
The resulting sprain never healed. A visit to his doctor turned into a trip to see an oncologist.
"They told me they had found three tumors, but not to worry," Repp recalled. "They could have been benign or just calcium deposits."
A biopsy and further x-rays revealed 28 tumors from his toe to his ankle, an incurable cancer called angio sarcoma.
"It was either lose the leg and keep my life, or keep the leg and lose my life," Repp said. "I knew what I had to do.
"I talked to God through the whole thing. In fact, He's pretty much the reason -- and my family -- that I got through that whole ordeal."
Repp admits he didn't look at his new stump for two weeks after the surgery. It was another six months before his first prosthetic arrived.
"I thought I was going to be a peg-legged pirate." he said. "People were going to look at me differently in the grocery story, I was going to have to wear pants all the time. I had to make a choice: 'Jake you can sit here and watch your friends go do things and feel sorry for yourself -- or you can forget about being an amputee and get back up. If it's not possible to play basketball and run, you should make it possible.' "
Of course, a little help from paralympian Thomas Bourgeois didn't hurt, who happened to live a short distance from Repp's grandparents in San Antonio. Through a mutual friend, the two-time Olympian met Repp and his family -- parents David and Amy Repp and 14-year-old sister Jenna.
After an introductory lunch, Bourgeois invited Repp and his father to play a game of basketball. The threesome challenged three students from Trinity University, Repp remembered.
"I watched him move around the court and school these college guys; we won three out of four games," Repp said. "He proved to me right there that it was possible."
Bourgeois puts Repp's running potential another way.
"Running on an artificial leg at full speed is like driving backwards going 55 miles per hour using only your review mirror to guide yourself," he said. "Jake is one of the fastest amputees in the world, and he's probably 10 years away from his physical peak. He's definitely a born sprinter."
Repp hopes to compete in the Olympics one day, as early as 2000, but more likely in 2004. Currently, he trains alongside the TCU track and field squad on the newly opened Lowdon Track.
"(Coaches Monte Stratton and Dan Waters) are making an exception for me so that I can train with the team," he said. "I hope other schools see this and allow other amputees to do the same thing."
Like Bourgeois, Repp has also taken time to show new amputees at Dallas' Scottish Rite Hospital that anything is possible for them, too.
"They look at me like I'm Michael Jordan," said Repp, grinning. "I put on my sprint leg and bounce around. "This may sound strange, but losing my foot was a blessing; I'm a better person today, after the accident. I don't take anything for granted anymore."
And neither do the TCU students who have become friends with Repp during his first semester at TCU.
"After I met Jake and have seen how he handled this, anything I think is too hard I just think of him," freshman Ben Thompson said. "He overcame cancer, he runs record times, and I can't write a paper? I don't think so."


Top