Alumni Profiles
The new Ryan Express


Storefront preacher
Eddie Edmon '68 believes God took him into the ministry by gunpoint in 1994. Now, Edmon is taking the gospel to his neighborhood by storm.
By Jacquie Maupin '91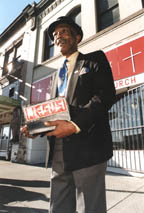 Most pastors don't experience their come-to-Jesus moment looking down a gun barrel.
But the Rev. Eddie Edmon '68 of Tacoma's Jesus Holy Rock Missionary Baptist Church did.
The weapon was actually held by one of Edmon's friends, but the way the 53-year-old preacher sees it, God pulled out the firearm in 1994 and told the salesman to quit ignoring a calling he had dodged for nearly 30 years.
Edmon knew he was getting the almighty jack-up for a lifestyle that had strayed from his religious upbringing to one of poverty and drugs.
"God got my attention then," Edmon said. "He said, 'Are you ready to preach or not?' "
YEARS BEFORE his run-in with the revolver, Edmon felt there was something God wanted him to do. He grew up in Fort Worth, in a household centered around daily family prayers.
In 1964, he entered TCU as a pre-ministerial student -- one of the first nine black students to enroll. It was a "dream come true" for his family. In the '60s, there was much pressure on black youths to excel in sports or academics and to achieve "firsts," Edmon said.
"I didn't know if I could live up to what was expected of me," he said.
Edmon, who had been voted student council president and outstanding male student at Fort Worth's I.M. Terrell High School, soon faced challenges to his beliefs and to his schedule of juggling school and work as a salesman at the Berry Street Montgomery Ward.
Early on, he failed the university's required religion class. And as a student of color, Edmon felt he had no one to talk to about his failure.
"A ministerial student, to me, shouldn't be flunking God. It messed with me my whole life," Edmon said.
He turned to philosophy and sociology in hopes of becoming a social worker. And though he was well-received by white students, Edmon often felt out of place, not only as the lone black student in class, but also in life experience. Discussions in a geography course covered nations some students had visited during vacation.
"I felt really left out being in the presence of students who had experienced things that seemed phenomenal to me," Edmon said.
He attended TCU for four years, never earning a degree. He was then drafted for Vietnam. After receiving a medical discharge from the Army, Edmon spent the next several years with "one foot in the church and one foot in the world." He owned a Corvette.
He rode in a motorcycle club. He sold most everything, from potato chips to men's clothing to copier machines. He fathered two daughters and played alto saxophone in an eight-piece band. And he ignored a woman preacher's vision that he had been given the gift of evangelism.
"It's fun on the way to hell," he said. "I was having a good time on my way."
Things grew worse after Edmon moved to Tacoma in 1992. After a year, he was evicted from his apartment and was using crack. It was then that Edmon experienced his baptism by gunfire.
He joined St. John Baptist Church on Easter 1994 and became an ordained minister two years later. He also became the church's evangelism director. He used St. John's van to pick up people at Tacoma's Rescue Mission and bring them to services. He brought so many people to St. John's that the pastor of New Life Missionary Baptist Church asked Edmon if he wanted to take over his storefront location in Hilltop when New Life moved to another location.
Edmon agreed. Jesus Holy Rock Church held its first service in July 1998.
In Tacoma's notorious Hilltop district, many businesses on Martin Luther King Jr. Way, including Edmon's church, have windows scarred by black iron bars.
During one service, someone entered the vestibule and stole a bike Edmon had intended to repair and give to a child.
To his small congregation, Edmon is pastor, janitor and choir, his saxophone providing the only live music during services. His disability check pays the church's rent, and he works three other odd jobs to pay the utilities and for his apartment upstairs. He's lucky if the monthly collection totals $40.
But he finds satisfaction working with the homeless and the luckless. And by living in the hard-scrabble neighborhood, he can remind people to change their ways.
"There are people who need somebody to reach out and say, 'Hey, brother, I'll help you,' " he said. "They still need to hear God loves them."
Before a recent Sunday service, Edmon greets his members. Slight and wiry, he walks easily for a man who's had two hip surgeries. He wears a jacket, autumn yellow shirt and royal blue tie with gold embossing. His lapel pin reads, Because I care. As usual, a small black fedora covers his smooth head.
Though he is tidy, Edmon's church has no dress code. He knows the homeless may shy away from congregations where members wear expensive clothes.
"I don't care what you wear," Edmon says during the service."I just want you to change your heart."
Jesus Holy Rock's high ceilings are cavernous, and the white walls are made of plywood and drywall. High on the left wall are murals of Africans and African-Americans. Orange cushions on the eight pews clash with the red carpet.
Edmon's preaching is more conversational than studied. He stands only feet away from the front row, inviting members to share testimonials. He peppers his comments with "praise the Lord." Of the 16 people at the service, three had been found by Edmon at shelters earlier in the week.
He transports people from the shelters in his aging gray Cadillac. His license plate reads, "2-Peace." One churchgoer is the woman who took Edmon in when he was evicted and on crack. In front of her sits a man who met Edmon while getting a meal at the Mission. He sells "millennium crosses," plastic crucifixes that light up, to churches.
An hour into the service, a short woman with grizzled gray hair and a deeply creased face comes in. Edmon welcomes her as she marches to the front pew, and she looks like she's been drinking. After the service, she hurries out, mumbling.
Though his members are few, Edmon figures 150 people have passed through Jesus Holy Rock in the last year. "One Sunday, it was just me and five Muslim brothers on the front row," Edmon said.
Edmon admits he waited for people to flock to his church the first year. Now he's determined to use his skills as a salesman and an evangelist to do what he does best -- go out and bring people in.
"It's not like I'm in competition with any other church," he said. "There's plenty of sinners out there."


Jacquie Maupin '91 writes for the Tacoma City Paper in Tacoma, Wash. This revised article originally appeared in that publication.
Top