Music Men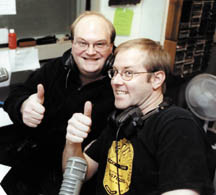 WHAT DO YOU GET when two 30-somethings show up on a Saturday morning and start talking about music?
At TCU, the answer is The Tom and Steve Show, which airs 9 to noon every Saturday on KTCU-FM (88.7), the campus radio station.
The show's stars? Tom Urquhart '99 (on the right) and Steve Levering, a couple of self-professed computer geeks. The two banter on air about bands -- ever heard of Muse, Plaid, Suede, Mu-ziq or Chomsky? -- and local musicians who don't get much radio play.
"We just play what we like," said Urquhart, 34, who spends most days as a sales representative for a Fort Worth printing company. "We try to showcase local bands, sometimes bring them into the studio. But we also just play a lot of stuff you'll probably never hear on any other station."
The radio gig started when Urquhart volunteered to deejay at KTCU in 1998 as a student, fulfilling a dream he's had since his rich "radio voice" arrived at puberty.
Levering, a computer service specialist on campus, joined the team a few months later when Urquhart wandered into his office and caught him listening to Orb, an off-mainstream band. Soon, Levering's massive CD collection and music expertise was on air, too.
The two have more than 2,000 CDs between them. "I really like it when someone calls in to ask about some group we've just played," Levering, 32, said.
"It's great to know you've turned them on to something they wouldn't have known otherwise."
To find out more about the Tom and Steve Show, visit www.tomandsteve.com.

New deans
TCU reduced its vacant dean positions from four to two this winter: Dr. Scott A. Sullivan, dean of the College of Fine and Professional Arts at Kent State University, will assume the top post of the College of Fine Arts, while the M. J. Neeley School of Business will be led by Robert Lusch, an accounting and marketing professor at the University of Oklahoma and former dean of its College of Business Administration.
Both deans will begin their duties at TCU this summer.

Past critical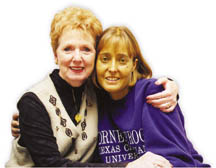 Alarm spread in February when word came that senior Robbyn Kindle, at far right with Nutrition and Dietetics Prof. Evelyn Roberts, had only months or weeks to live without a liver and small bowel transplant. Worse, she would be passed over even if the organs became available because she didn't have the $150,000 down payment.
Campus and community compassion rose to the occasion. In only three days, more than $92,000 was raised or pledged by the TCU community and Kindle's family. In addition, Dallas entrepreneur Mark Bunting, SkyTV CEO, agreed to write a check to cover the remaining balance.

Winter Trustee Report
The Board of Trustees met in January and approved a six percent increase in tuition, bringing the rate per credit hour from $365 to $390, Chancellor Michael R. Ferrari reported in February.
In addition, the University fee increased from $1,300 to $1,385, and housing charges increased slightly for students living in new or newly renovated facilities. Still, the higher charges place TCU below most of its peers for total charges, Ferrari said in a written report to faculty and staff.
"Based on tuition increases for next year at TCU and the increases at other private institutions, we will remain an excellent value in private higher education."
The Trustees also endorsed a plan to increase undergraduate enrollment by 30 students (new freshmen and/or transfer students) and 20 graduate students (15 master's and five doctoral). With respect to endowment support, the Board approved a 5.75 percent "spending rate" on endowment income calculated on a nine-quarter (27 months) trailing average, compared with a 5.8 percent rate this year. That figure will be reduced to 5.5 percent over the next five years to ensure the continued growth of the endowment and its annual contribution to the budget.
The University budget comes from six major sources: student charges, endowment income, unrestricted gifts, grants and contracts, auxiliary income and miscellaneous income. Student charges make up about 51 percent of total revenues, and endowment income totals about 27 percent of total revenues.

Every Frog fan needs a little k.fc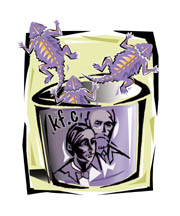 Where in the World Wide Web can serious TCU sports fans go for the latest Frog news, recruiting information, sports talk, opinion, rumor and innuendo?
A good place to start, and perhaps stop, is killerfrogs.com, the latest unofficial TCU athletics website to offer TCU sports news, schedules, recruiting information, sports photos, audio files, online broadcasts of TCU games and coaches' shows and links to other college sports websites.
Yet, the most popular feature of Kf.c is undoubtedly the discussion boards, which include "Frog Fan Forum," a Conference USA board and an interactive TCU chat room, as well as a link to an external WAC Forum.
The site debuted in November, posting 70,000 hits during its first eight weeks, and is owned by six TCU alumni and fans -- Wes Phelan '73, David Roach '71, Lonnie Ivie '70 '74, Randy Warren '71, former student Mike Barron and Dennis Alexander, TCU's director of corporate & foundation relations. Matt Walters, son of Steve '71, serves as site webmaster, and David May is its chief sportswriter. Terry Brockhausen '76 '81, adjunct professor of computer science, designed the initial site and continues to be a major contributing sportswriter.

Class at Christie's
Diane Schneider Pease '71 had no ordinary homework assignment this past year: recreate four rooms of a Scottish baronet's 18th-century country house, destroyed more than 100 years ago.
Then again, Pease has no ordinary classroom. She left her TCU design, merchandising and textiles studies for a year to become one of only 10 budding designers accepted into the Decorative Arts Programme offered by the University of Glasgow (Scotland) and Christie's, the world renowned London auction house.
"Each piece has a history, just as each building has a history," said Pease, at far right with the course's director Sally Rush. "And it makes you wonder about the people, what they were really like. This program teaches us that each item has not only design and architectural importance, but historical and sociological significance."

Poetic license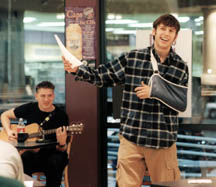 Snapping, stomping, hissing and grunting aren't usually signs of encouragement, but then the group of about 60 who gathered at the TCU Bookstore coffee shop last winter weren't there for anything usual, but rather the first TCU Pong Jam, a melding of performance poetry and song, a Beatnik throw-back minus the berets.
"The event was actually imported from working-class Chicago bars," said Cathy Gabor, coordinator of the English department event, adding that the Jam will be held every semester. "We wanted to find something that would get students excited about being English majors. But many of the ones who came and performed were from other majors. I was surprised to find we have quite a few closet poets in the business school."
Right, senior John McConnell drew laughs for his poem, Broken, at the first TCU Pong Jam. Senior Jason Smuland accompanied the performers on guitar.

Throwing out a few ideas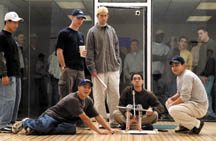 Tinker toys. A pink plastic cap. A spoon. A few rubber bands. Hardly the tools of the trade for engineering majors -- but pretty useful when the assignment is to build a catapult for under 10 bucks that can precisely hurl a tiny soccer ball bean bag.
Left, (standing) Wils Cheng, Scott Hamilton, John Ernst, (kneeling) Erik Gonzalez, Giampiero Frischi and David Figueroa -- watch theirs soar toward the target.
"This gives the freshmen a design task at a level where they can succeed," instructor Becky Biddle said. "They do all the equations and planning in teams before-hand, and it ends up giving them an enjoyable hands-on experience."

TCU Tomes
Two latitudes run through Blood Latitudes,the latest novel by William Harrison '55. The first is Africa, the fifth time Harrison has focused on the dark continent.
Though the author lives in Fayetteville, Ark., he and his family have spent long periods in Kenya and South Africa. In his latest work, Harrison paints a primal picture of the land, shaped like a lopsided skull .... If you pricked your finger tending your roses in an African garden, possible infection and catastrophe await you. If your rented Jeep broke down on some back road of the savannah, you became the slowest creature afoot on the landscape.
The second latitude is less geographic, yet just as wild. The subconscious is the thing inside you that you can't really know .... if you turn your eyes toward it and give it your attention, then it disappears. But whatever it is, it's your fate. It is the thing inside you toward which you are going.
Combined, the two lines weave an expertly written tale of personal journey. Will Hobbs is a retired journalist living in England. His son Buck follows in his footsteps, though writing may be the only thing the two agree on.
Against Will's wishes, Buck leaves for the Africa his father covered, though this time during a vicious civil war. He leaves behind his beautiful wife, Key, and their son, Willie.
Early on, it is clear that Key and Will have a shared passion that neither intended, yet neither knows what to do with. To complicate matters, Buck soon turns up missing. Without giving away too much from this expertly written tale, Will's search for his son takes readers into the politics and primal nature of Africa but also into the heart of a man split by what he should do and what his heart wants to do.

Growing rivalry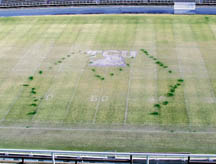 It seems like SMU left behind more than a goose egg last November when the Frogs spanked them, 21-0. The SMU band during halftime dropped strategic mounds of rye grass seed, leaving behind the band's trademark "Diamond M" formation on TCU's now-dormant football field.
TCU's grass experts say the annual rye will likely reappear next year, but will eventually fade out, "much like SMU's football program" one observer said.

A TCU blizzard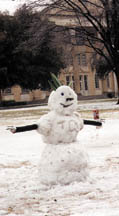 With unseasonably warm temperatures dominating most of February, old man winter made a one-day visit to campus, sprinkling just enough snow for Clark Hall residents to make a TCU-emblazoned snowman.