Alumni Profiles
Storefront preacher


The new Ryan Express
Reid Ryan '94 -- president and part-owner of the Round Rock Express minor league ballclub -- follows his father's fastball with a curve of a different kind.
By Nancy Bartosek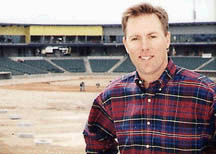 Reid Ryan is in a hurry, the sort that makes you quicken your stride to match his.
On this cold January morning just north of Austin, he has fewer than 90 days until the first pitch crosses home plate in his new ballpark, but he seems confident as he points to the amenities -- swimming pool and hot tub, conference center, private suites, video board in the outfield.
To an outsider, the ball park is skeletal. Ryan already smells the corn dogs. It's his very own field of dreams.
"I wanted a big-league stadium with big-league facilities but on the minor league level," he said. "It's really been fun to watch it go from paper to something that is actually done."
It's been a $30-plus million, three-year journey for the 27-year-old Ryan, who quickly credits a management team of rookies and greats who helped make his vision a reality.
But don't think Ryan is just riding the shirttails of daddy Nolan's #34 jersey. Reid's been up to bat from the beginning. With financial backing and moral support from Nolan and former Houston Astros owner Don Sanders, Reid negotiated the purchase of the former Jackson (Miss.) Generals, convinced the Round Rock community to welcome the team with open mitts, then designed and oversaw the building of a $25 million ballpark that the city will own at completion. Ambitiously confident some might say about Ryan.
But on this chilly afternoon, it seems more like his down-home common sense might better get the credit.
You can do anything you put your mind to.
| | |
| --- | --- |
| A family affair. When Reid was small, his mother put him in ballet, telling the family it was gymnastics. Father Nolan picked him up one day, discovered the truth and promptly withdrew his son. Such father-son memories are dear to Reid who is anxious to build similar ones with son Jackson Ray, due in March. With Ryan are his wife Nicole Perdue Ryan '97, sister Wendy Ryan '99 and best friend and business associate J.J. Gottsch '94. | |
"By the time I was out of high school, I'd lived all over the place and been all over the world," he said matter-of-factly. "Dad used to put my brother and me on an airplane in Houston. Just the two of us, I was a 12-year-old kid. We'd fly to San Francisco, catch a cab, check into a hotel and order room service, then dad would fly in from somewhere and join us. That was no big deal."
Not surprisingly, Ryan did aspire to fit into dad's cleats, heading to UT-Austin on scholarship to play ball. But the former high school star pitcher soon discovered he was no longer top man and spent most of the year on the bench.
"No one's going to give you an opportunity or chance in life, you've got to make your own chance," Ryan said. "I could have sat around and said, ÔHey, I'm on the Longhorns,' but I wanted to play. So I went to TCU and it was the best thing I ever did. I went and made my own chance. And we came back and beat UT three games and were conference champions my senior year."
Nothing is going to just come to you, you've got to go do it.
Ryan was 7 when he was hit by a car. He lost his spleen and a kidney in the near-fatal accident. Months in the hospital and a body cast, in pre-Nintendo and video player days, left the boy time to think.
The result? Resolve.
"I remember the day I got out of that hospital, I said was going to live every day like it was my last one," he said. "I still try to do that every day. My mom's always telling me I need to slow down and smell the roses, but I'm only here once, I'm going to cram it all in while I can."
After college, Ryan was drafted by the Rangers for their minor league. Three years later, they released him.
Go one way, and if it doesn't keep going the way you want, go another direction.
"This sounds so cheesy, but a lot of times I look back to baseball because it imitates life so much," he said. "If you fail seven out of 10 times, you're the best ever. If you hit 300, that means you hit three out of 10, which means you've failed seven times."
You can't let the failure of your last pitch ruin the success of your next one.
He turned to radio and TV, where he did on-airs for college ball and then created his own fishing and hunting show for Fox, then one for ESPN2. One day in 1997 he turned to wife Nicole Purdue Ryan '97 and said, "You know, I think I want to do this minor league thing."
Minor league ball is major league fun with a carnival-like atmosphere, Ryan said. Walking through the stadium-in-progress, he notes the little things he included to ensure families would be comfortable: The front rows are almost touching distance from the baseline; the concession stands are turned so the patrons in line can still watch the game; fans can circle the entire field and even watch the pitchers warm up in the bull pen from above; and parents relaxing on blankets in the "cheap seats," a grassy area behind outfield, can watch the kids romp at a play area behind them.
You can get more talking done with your friends at a ball game than you can on the phone.
"I just wanted to do something that was fun," Ryan said. "To experience what I have and then be able to make it a business is like the icing on the cake."
Fun work is the attitude around the ball team's makeshift construction-zone offices. Veterans like General Manager Jay Miller (12 years with the Rangers), and assistant general managers Dave Fendrick (18 years with the Rangers) and R.D. Sneed (he's built four stadiums in the last five years), provide age and experience. Ryan provides the "young and hungry" talent, as does best friend and former TCU pitcher J.J. Gottsch '94, director of media and public relations, and sister Wendy Ryan '99, director of community relations, among others.
"J.J. and I were going out every night and playing homerun derby, throwing to each other," Ryan said, grinning. "If you're not enjoying doing it, why do it? That's sort of our motto here."
Indeed, part of the business of baseball is to create fun.
"We wanted a ball park with something everyone could enjoy," he said. "You're either going to like the food, or the baseball, or the music, or visiting with your neighbors and friends.
"If people say they don't like coming out here, it's because they don't like having fun."
Top