Related Articles:
A Heisman life: Remembering Davey Obrien '39 | Heisman history | On Davey's knee



In the running

As Heisman talk abounds, TCU halfback LaDainian Tomlinson looks eagerly to next season -- if only to be the man Jesus wants him to be.
By David Van Meter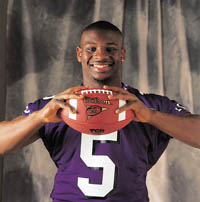 THE GAME had turned ugly. Middle of the 1999 season. UTEP Miners in town. The score tied up 17-all. And the Frogs in their last 10 offensive plays had turned the ball over three times.
At halftime, Coach Dennis Franchione and his staff were scratching their offensive heads. "Finally, we decided to give it to Number 5 for a while, and just try to keep their offense off the field," Franchione recalled.
"The next thing I know, one of the coaches is telling me he only needed 15 yards to break the record." And for the record -- the most yards rushing in 125 years of Division I-A football -- "Number 5" churned for 406 yards and six touchdowns on 46 carries.
Amazingly, he posted a 300-yard game against San Jose State earlier in the season; he was the first back in TCU history to reach 1,000 yards in only six games. He finished the season as the nation's leading rusher, eclipsing Heisman winner Ron Dayne of Wisconsin.
"Not very often do you coach someone who has everything," Franchione said. "He has size, he can break tackles, he's quick, he can elude defenders -- and the thing I don't think a lot of people realize, is his speed. They don't think he's as fast as he is."
To take Franchione's thought further, a lot of people don't think or know much of anything about Number 5. Sports Illustrated reported it right last season: He's the greatest unknown running back in America.
THE PUNGENT smell of simmering chitlins hangs in the air.
It's a scent that TCU halfback LaDainian "L.T." Tomlinson has never grown to like, he admits on this winter day, but the final dish can't be beat.
For the unschooled, chitlins are pig or cow intestines stripped and cleaned, then slow-cooked for hours.

| | |
| --- | --- |
| Home-cooked zeal. Tomlinson, with mother Loreane Chappell and younger brother LaVar, tend to a pot of chitlins, one of Tomlinson's favorite dishes. | |

The radio-TV-film senior adds with a grin, "And you've got to put plenty of hot sauce on them." The chitlins are far from alone here in the home of Tomlinson's mother, Loreane Chappell. Collard greens and black-eyed peas bubble away on her white gas range, cornbread in the oven.
Tomlinson himself, who lives off-campus near Hulen Mall, cooks a "pretty good" three-bean hamburger casserole, said his roommate, TCU cornerback and history senior Greg Walls.
"He really likes to cook," Walls said. "He's always messing around in the kitchen."
A small gold numeral "5" hangs from a gold chain around Tomlinson's thick neck. He wore the number through three seasons at Waco's University High School. There he played basketball, baseball and, of course, football. Hotly recruited by Baylor and Kansas State, Tomlinson chose TCU when he learned that his number was available.
You also can't help but notice the tattoo. Tomlinson has five, actually. There's "LT" on his right arm, with God's hands folded in prayer just under it. On his chest is a Waco University Bulldog. A full-scale family tree falls across his back, but it is the last one on his shoulder that has grabbed media attention for the past year.
It's a picture of his mother, with the words my inspiration under it. "She has taught me about life," Tomlinson said. "She taught me how to be a man and that nothing is ever handed to you. You earn whatever it is you achieve."
Tomlinson plans to add highlights to the tattoo in time for this fall's football season, to make her look even better, he said. His mother's eyes widen at the comment, even though the shock of the first tattoo has long since passed.
"When he first told me he got a tattoo, I didn't like it at all," she said. "But then when he told me it was a picture of me, I couldn't say too much." Tomlinson, who runs the 40 in 4.3 seconds, seems a lot bigger in person than on game day. He weighs 220 pounds, bench presses 430 and squats more than 600. Truly, his legs look like organic jackhammers, growing exponentially larger as they go up.
Of course, he may seem smaller on the playing field because he's surrounded by his five-man, 1,500-pound front line -- his Big Uglies, he calls them.
"Those are my special guys," Tomlinson said, preaching again the gospel he delivered to the Fort Worth Star-Telegram nearly every record-breaking week last season. "They do lots of hard work, but they hardly get any credit. People see me on TV on the highlights, people watch me run, watch me talk. But they never show the linemen and how hard they work. They're the ones who spring me free."

| | |
| --- | --- |
| | The big uglies. With nearly 1,500 poinds among them, offensive linemen Jeff Millican, David Bobo, Michael Keathlye, Jeff Garner and Victor Payne open holes "a diesle could drive through," Tomlinson told reporters after his 406-yard effort against UTEP. |

After Tomlinson's record-breaking day against UTEP, he promised a steak dinner for the Big Uglies after the season was over. But after Tomlinson paid his tuition, fees and books for the spring semester -- Tomlinson holds down a 2.92 GPA -- the ribeyes had to be reduced to Furr's all-you-can-eat buffet.
An entire corner of Chappell's family room enshrines Tomlinson's athletic achievements, as well as those of his younger brother, LaVar, a defensive tackle at W.W. Samuell High School in Dallas.
Numerous pictures from Little League through high school. An Iron Man work ethic award from TCU here. WAC player of the week there, and there, and there. Clippings from the newspaper abound. Near the awards and not worth overlooking -- at least not in this household -- is a small mantle with a Bible and a statue of Jesus, his arms nailed to the cross.
Tomlinson's mother is not only a part-time real estate agent, she's also a part-time minister for an Oak Cliff church. Her husband, Herman Chappell, is a retired church pew carpenter.
I asked Jesus, "How much do you love me?"
"This much," he answered.
Then he stretched out his arms and died.
And that's a Sunday School lesson Tomlinson knows all too well.
About 25 miles south of Waco is the town of Marlin. A tiny drive from there is Tomlinson Hill. It's an unclaimed part of the state, at least by the government sort, so the locals call it by the family that has lived there the longest.
That's where Tomlinson's best memories begin.
"My uncle would always make me go feed the pigs, leftover stew or whatever," he said. "It was a time I enjoyed, I think, because it made me enjoy the closeness of a family."
Unfortunately, it was also a time that wouldn't last. Oliver Tomlinson already had four sons -- Ray, Ronald, Terry and Charles -- when he met and married Loreane Lowe in 1973. A year later, she gave birth to Londria.
Six years later came LaDainian, then LaVar the following year.
Oliver worked as a mobile home contractor, but work grew scarce around Tomlin-son Hill. He moved his family to Marlin, and things seemed to improve, but not from Loreane's perspective.
"I wanted more for my kids," Chappell said, recalling her first marriage. "Oliver was quite content there, but I was restless, I think, for my children. I wanted them to be involved in activities that just weren't available there."
Chappell divorced Oliver and moved to Waco with Londria, LaDainian and LaVar. That same year, their older brother Charles was killed in a fight.
After the death, Oliver faded away as a father, leaving his fifth son to wonder why for a decade.
In first grade, Tomlinson enrolled in a youth football league and played quarterback. Tomlinson took his first-ever snap from center and ran, untouched, for a touchdown.
"I don't think I ever even threw a pass that year," Tomlinson said, laughing. "They found out I could run, and so that was all we ever did."
Chappell remembers that run.
"It was just such a natural thing for him," she said. "He stepped high when he needed to, dodged when he needed to. It was like watching someone who had been doing it his whole life."
Tomlinson only improved. Playing scrub ball with Londria's friends, many of them boys in the seventh grade, he would then dominate when he competed against his peers.
"When I played kids my own age, they could never catch me," Tomlinson said matter-of-factly. "They thought I was good; they didn't realize that after playing with my sister's friends, I was used to running for my life."
Chappell remarried in 1988, but the kind of life she dreamed for her family wasn't a reality yet.
"I was working hard, but I was playing hard, too," she admits with some remorse still. "One day, I looked at my children and knew I didn't want them growing up with guns in their hand, and in a house littered with beer cans. I wanted a clean life, barbecues on Saturday afternoon. I wanted a place that would be a refuge for the kids in our lives.
"I woke up one morning and began listening to the Lord and waited for him to come and guide me."
And the Lord did. The Chappell's modest corner-lot home, with the only trampoline in the neighborhood, became a neighborhood hangout. Tomlinson in particular would take in friends that lived in less-than-ideal situations elsewhere, Chappell said.
Her son shrugs off the story with a little embarrassment, giving more credit to his mother than to himself.
"My mother always had a good heart; I guess that's where I got mine from," he said. "She always kept us in church, and in my freshman year of high school I realized that Jesus Christ is for real. Without him, I can't do anything."
Tomlinson's faith was tested right away. Before his freshman year, his mother had been diagnosed with an acute form of carpal tunnel syndrome. The pain left Chappell unable to work in the clerical position she had held for years. In the face of financial ruin, Chappell received an offer of work back in Marlin.
The move to such a tiny town, Chappell knew, would leave her son all but invisible to college recruiters. With Tomlinson pleading and Chappell praying, Chappell left behind clothes, an ATM card and both of her sports-playing sons to live with family friends.
Good game plan.
In Tomlinson's senior year at University High, he rushed for 2,554 yards and scored -- this is not a typo -- 39 touchdowns.
Last season, Tomlinson finished fourth for the coveted Doak Walker award. And as a virtual unknown, he finished 14th in the Heisman voting, even receiving one first-place vote.
But if you ask Tomlinson what his greatest moment was last year, he'll point to his worst game, against North Texas.
"I always look to see where my mother is before each game," Tomlinson said. "It just happened that he was sitting near her."
It was the first time his father had seen him play in college. Tomlinson ran the ball 21 times on a ginger ankle. He finished the game with only 75 yards. Tomlinson wept openly after the game, only to look up and see his father standing there.
Finally, the two talked.
"I was so upset at him because at the times I really needed him, he wasn't there. His dad was there for him, but he wasn't there for me," Tomlinson said. "But now I understand how Charles' death affected him, and why he did what he did."
ON THIS DAY, as Heisman hype whispers Tomlinson's name, he looks forward to improving the relationship with his father.
And as prognosticators measure his chances to win college football's most coveted prize, Tomlinson wonders more about the brother he admired and lost before he got a chance to know him.
"He was a short, stocky dude, a lot like me," Tomlinson said. "I'm inspired by him. He makes me want to push on, hoping that he can see me somewhere."
But will he see Tomlinson bring the Heisman back to TCU? Tomlinson's roommate Walls thinks so.
"L.T. has an ability to not let things bother him and get him down," he said. "When he has his mind on something, he almost always gets it done." Coach Franchione is also optimistic. "I'm sure that LaDainian will be a marked man this season, but if he can have a senior year like his junior year, then he'll meet all the criteria needed to win."
Tomlinson also believes he can win the prize, but his ultimate goal is bit farther down the field of life.
"When I do things, I'm doing it for my family," he said. "My plan is to give them things they never had before. "I want to have a family and to teach them the way to live their lives, pretty much the way I was raised, with a lot of love and the Lord. I want them to stay off the streets, and to have goals and dreams."
Tomlinson, now arguably the greatest running back in TCU history, looks back to Tomlinson Hill, where his memories began.
Horses. Chickens. A barnyard dog. He wants all those things. Tomlinson pauses for a grin.
"And maybe even a few pigs that need to be slopped."
Top