Related Articles:
In the running | A Heisman life: Remembering Davey Obrien '39 | On Davey's knee



Heisman history


By David Van Meter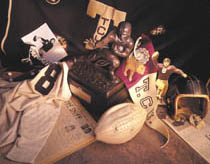 Did you know that the side-stepping, forearm-charging figure atop the Heisman Trophy is Ed Smith?
The Heisman's history dates back to 1935. That year, the Downtown Athletic Club of New York City, occupying an entire 35-story building, wanted to create an award to truly honor the nation's outstanding college football player for each year.
But what trophy to give?
Famous sculptor Frank Eliscu was enlisted. He selected Smith, a leading player on the 1934 New York University football team, as his model. A rough clay figure was sent to Fordham University Head Coach Jim Crowley (one of the legendary Four Horsemen of Notre Dame), whose players refined for Eliscu the trophy's now-familiar sidestep and thrusting arm.
The DAC trophy was awarded for the first time in 1935. The next year, the club's director, John Heisman, died of pneumonia. Before leading the DAC, he had played football at Brown and Penn and enjoyed a 36-year coaching career that took him to Auburn, Oberlin, Clemson, Georgia Tech, Akron, Penn, Washington and Jefferson, and Rice. His innovations of that day placed him among the same immortal ranks of Alonzo Stagg and Knute Rockne. The trophy was renamed the Heisman Memorial Trophy.
TCU has enjoyed only one winner, Davey O'Brien in 1938, but four other TCU players have been nominated: Sam Baugh '37 at quarterback and punter, Jim Swink '57 at halfback; Kenneth Davis '86 at halfback; and last season, LaDainian Tomlinson at halfback. He finished 14th in the Heisman voting, receiving one first-place vote, two second-place votes and six third-place votes.
Tomlinson returns this season as one of the top contenders for the award.
The Heisman has been awarded 64 times. Only six winners have come from teams outside the Top 25. Forty-six have come from teams in the Top 10. In the last 30 years, a running back has won it 18 times (60 percent). Six Heisman winners played college ball in Texas, with two coming from the University of Texas, and one coming from TCU, SMU, Houston and Texas A&M. T
he Heisman voters are composed of 870 media voters, divided into six sections, and 51 past Heisman winners. Ballots are mailed in mid-November. Each elector must vote for three players.
First choice receives three points; second, two; third, one. New York's Downtown Athletic Club, the Heisman's brainchild, has never played a role in selecting the winner.
Top