Additional Articles:
Business plan | Business ventures



Business partners
From riches to rags to riches, the road to building a billion-dollar telecommunications company was never easy for Steve and Sarah Smith. But it has been interesting.
By Nancy Bartosek

It was a chilly February morning when Steve Smith boarded a helicopter at his ranch near Uvalde, Texas, and headed west on a whim last spring.
The Austin businessman heard about an unusual sale in the Big Bend area of Texas. The resort town of Lajitas was up for sale.
The bidding lasted barely an hour. Steve Smith went home $4.25 million poorer, but now he owned a 2,123-acre town, complete with hotel, nine-hole golf course, trading post, a half-dozen other small businesses and 21,000 acres of surrounding ranchland.
Steve's wife Sarah was in Fort Worth when the phone rang. Sarah was trying to talk to the caller when her sister began tugging her toward the television set.
She glanced up long enough to see TV reporters asking Steve why he'd bought the town.
Sarah was stunned; Steve hadn't said a word about it. Later, Sarah said she realized if it wasn't that, it would be something else. She has accepted that life with Steve will always be ". . . like trying to hang on to the tail of a kite."
STEVE SMITH was a dreamer on the side of an Austin road in 1988 selling strings of dried peppers.
He knew chile ristras were popular decorative items in his hometown of El Paso, but they hadn't quite caught on in Austin. Maybe, he thought, that was only because no one had brought them to town.
Selling ristras from the back of his pickup was hardly Steve's dream job. It was, at best, a way to fill in the cracks that had torn at his family since their arrival in Austin several years earlier.
Their previous life in El Paso had been mostly idyllic. As vice president for international marketing for his family's paint manufacturing business, Steve provided Sarah and their two children, Rayner and Rachel, with a comfortable life that included social and financial standing, a large house, even a white picket fence.
But a business dispute eventually sent Steve and Sarah searching for a new future. Unfortunately, their move to Austin collided with the '80s economic dip and before long, the Smiths were living at the mercy of generous friends. Sarah eventually returned to teaching while Steve sold ristras.
It was a low Sarah would later recall with soft eyes as she described bathing the kids at the public pool and cooking foil dinners out back because the electricity had been turned off.
His confidence crushed, Steve languished for a while on the sofa with the remote control; a "bewildering" time, he called it a decade later.
"You never think that would happen to you, but we literally lost everything," Sarah said. "We lived in a friend's apartment. We had no car, no telephone and sometimes, no food." For two and a half years they struggled.
Steve tinkered in telecommunications, but despite being a consumate salesman, nothing took hold. His financial hole was so deep a regular job would never get the family out of debt. Steve needed something big.
Then he met Kenny Troutt, a fellow dreamer who was taking advantage of the recent deregulation of Ma Bell and starting a long-distance company. Steve had long been fascinated by the thought of merging network marketing and long-distance service.
It took a few months, but he eventually convinced Troutt that was the way to take his fledgling company. So with only a yellow legal pad, a No. 2 pencil and a big idea, Steve wrote out the marketing plan that would make the two millionaires in only a few short years. He wrote it up between customers on the side of an Austin road.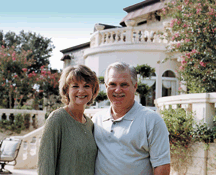 Entrepreneurs are an odd sort, Sarah said. Their dreams are often so big they find they don't fit in. Their passions run deep, and while differing in many ways, entrepreneurs have one similar goal -- to create their own destiny.
Steve and Sarah are both deeply passionate, but Steve's big dreams were vastly different from Sarah's. Hers centered around family; Steve openly admits that back then, he just wanted to be rich.
In January 1989 at age 46, Steve started making that happen. Every Monday he drove to Dallas, where he worked nonstop to build Excel Communications. On Friday he returned to Sarah and the kids.
Excel spread like fire ants under Steve's marketing prowess. Before long, he bought the family a house -- in Austin. They agreed it was best for the kids.
For nine years Steve commuted to Dallas, exciting years for Steve as his personal empire grew to near gargantuan proportions, lonely years for Sarah and the kids.
Living with an entrepreneur isn't easy, Sarah said. The average is four wives for every entrepreneur. Staying married takes a commitment of epic dimensions and a whole lot of love -- the one constant in the Smiths' union.
The two first met when Sarah was a 19-year-old beauty in the queen's court at the El Paso Sun Bowl. Steve was escort for another girl. They struck up a friendship and double-dated occasionally over the next few years.
Sarah was 23 and home on break from teaching in Kansas City, Mo., when she ran into Steve, who had recently divorced. A whirlwind romance ensued and within months, they married. Her reserve balanced his gregariousness.
"He's always been able to make me laugh," said Sarah, eyes sparkling.
"I bring stability," Steve deadpanned, then tossed his head back with a laugh. "Don't print that or I'll be dead."
He clarifies. "We both came at marriage with different backgrounds and issues and a bunch of baggage, but I think it's our desire to be successful at marriage and family that's brought it to where it is. "The biggest lesson both of us had to learn is that that person is just going to be that other person, and you've got to love them no matter what. That has to be the ultimate conflict in marriage -- trying to make the other person be who you want them to be."
As their fortune grew, Steve's investments eventually included seven different homes scattered across the country. Each time, Sarah added her touch and poured her soul into the newest one, hoping that would be the place Steve would settle into and make his own.
"I worked very hard to make them each a home," Sarah said. "I used to think, 'This is the one Steve will want to come to,' but I finally learned that's just not Steve. Now I'm glad I worked to make them each feel like home so when I go to them, I feel comfortable."
She now knows her need for home and family and a quiet space was as strong as Steve's need to inject himself into the frenetic world of a successful entrepreneur.
But, at the time, his absence stung.
"You go through so much to get to this point, but in the midst of the pain and misery, you don't realize what you've really gone through emotionally until you crater," Sarah said.
She dealt with it the only way she knew how -- she studied up on what makes entrepreneurs tick, then wrote a book about how to live with one. The two-year project is not finished -- Sarah said she hasn't stopped growing through it all yet. Formal education has never been a priority for Steve.
After four years of plodding through a handful of classes, Steve left the University of Texas to return to the family business. But for Sarah, who taught elementary kids after graduating from Stephens College in Missouri in 1973, education is a passion.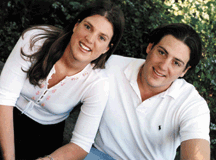 Priceless kids. The Smith's two Frogs, daughter Rachel, a sophomore, and son Rayner, a business senior, are best friends and remain close to their parents. Sarah calls them "her jewels."
It was she who steered son Rayner to TCU following a raucous year at the University of Colorado in Boulder, she who joined the TCU Parent's Council and then the Chancellor's Advisory Committee, she who suggested Steve might make a good guest speaker in the business school.
One warm spring day -- just one week after Steve spoke on campus -- Chancellor Michael Ferrari, Provost William Koehler and David Minor '80, the director of the Center for Entrepreneurial Studies, sat at the Smith's breakfast table talking about the future of the new Entrepreneurial Studies program.
When Steve announced his plan to donate $10.5 million to build a home for the program, Sarah's tears flowed. He had not told her of this plan; it was a gift to her as much as to the future of TCU.
"We've created what I almost feel like is a big debt because we've been so unbelievably successful," Steve said. "It certainly didn't come from my efforts, though that had something to do with it, but there had to be a whole lot more to it than that. A whole lot of people helped my success, our faith had a lot to do with it, and now we're going to give back to the important areas in our life."
Faith, family and entrepreneurship -- first they funded a national TV ministry for their pastor, then they donated a wedding chapel for the church. Now both pairs of eyes are on TCU, each with their own view toward its purpose. Sarah, who serves on the Center's Advisory Board, said she wants the building to be a campus-wide gathering place for students of like minds.
"I want this place to capture the spirit of those kinds of individuals," she said, "but most of all I want this to teach them how hard it will be for them to pursue their passions and still hold on to their families."
Steve's vision is a bit more pragmatic. "I think our whole educational system is based on teaching people how to add two and two, but not how to take that end result and use it in life," he said.
"The educational process teaches you how to go out and get a job for somebody else. "The entrepreneurial program can be an absolute landmark beginning to a movement to lead this society back to more independence."
Both say their involvement is the result of finding like-minds at TCU. "There is real sincerity at TCU about furthering some of the same things that I believe in," Steve said. "It's not just lip service; there's a passion among the faculty and the administration for this entrepreneurial push."
Sarah said people ask them, Why TCU? When you come down to it, she said, it's all about being part of something bigger than yourself.
GETTING INTO the Smiths' world is not easy. The massive electronic gates to the exclusive Vineyard Bay neighborhood where they live open only to the invited. Then there's that finicky wrought iron fence wrapped around their three-acre property on Lake Travis, followed by an imposing, ancient European front door with an unwieldy handle.
But once you cross the threshold into their 8,500 square-foot home, the Smiths are just a couple of regular folks from El Paso who just happen to have spent the past few years under a lucky star.
At least that's what they will tell you. Sitting among the bougainvilleas and hummingbirds at their estate, it is hard to imagine they ever experienced hardship. Sarah's serene and warm manner speaks of strength and confidence. Steve's eyes glow with satisfaction when he looks at his bride of 26 years. But, they emphatically agree -- it wasn't always that way.
"We're two people like everyone else," Steve points out. "Special things just have happened to us. We're very fortunate." Sarah explains they both know it was God who carried them through their business to a place where they can give back.
"He brings things together for a reason," Sarah said. "It's not about money, it's about people. It's not like we planned way back, 'Oh, I think we'll build an entrepreneur hall someday.' " Her laughter fills the room. "It's all a link in the chain. It's not a matter of intelligence or being brilliant. It's just that when your heart is open, then your vision will be open."
Steve admits the past few years have been "a real ride." Now he's focused on a mishmash of various brick and mortar types of businesses -- banking, oil and gas exploration, real estate. And of course bolstering Lajitas. But his real joy now comes from helping TCU and others achieve dreams.
As Sarah relates the story about Steve buying Lajitas, the self-effacing entrepreneur laughs and points to a small sign bearing the words of Winston Churchill.
It was a thought he brought home to Sarah early in their marriage -- and now hangs on their kitchen wall -- for better or for worse:
Kites rise highest against the wind.

Be sure to read Business plan and Business ventures