Additional Articles:
Business plan | Business partners



Business ventures
By Nancy Bartosek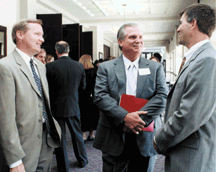 Three musketeers. RCES Director David Minor '80 and businessmen Steve Smith and Jim Ryffel '81 (MBA '84, RM '98)
Though hard to spell, entrepreneurship is surprisingly simple: start a business to make money.
Its genesis from the French entreprendre, means, literally, "one who undertakes."
But somewhere near the last quarter-century mark, that word began to invade the business and academic world. It didn't matter if one was selling car parts or diet pills or computer software, if he or she stepped out, took the risk, that person was an entrepreneur.
There's a born-versus-bred theory about entrepreneurs. Some, like David Minor '80, director of the TCU Ryffel Center for Entrepreneurial Studies (RCES), believe many budding entrepreneurs lose their spark during the educational process.
"I think a desire to create something is what makes an entrepreneur," said Minor, an entrepreneur who built a college lawn-mowing venture that started with his grandmother's lawn into a multimillion-dollar business. "That, and the willingness to take a little bit of risk, though a calculated risk, to control your own destiny." A lot of students want to eventually own their own business, Minor said, pointing out that the new Ryffel Center is largely the result of student demand.
"We think exposing them to basic practices and other entrepreneurs is going to help," he said. "A lot don't pursue entrepreneurial endeavors because they never had a role model, they never had anybody tell them, 'Hey, you can do this.' "
The Ryffel Center, an entity within the Neeley School, is one of only a few programs in the country that will offer a bachelor's degree in entrepreneurial management. Extracurricular activities, a mentoring program and internships will add value to the basic curriculum.
Externally, the center will offer youth initiatives such as a camp and scholarships as well as extended education for those wanting to start a business or needing help with an existing one.
The proposed 40,000-square-foot Sarah and Steve Smith Entrepreneurs Hall will be a celebration of a way of thinking and designed as a gathering place for students from across campus. It will house the Ryffel Center as well as the student-run Venture Capital Program and other experiential learning programs being developed.
In addition, it will have a conference center for a planned collegiate entrepreneurs organization and classrooms. But ultimately, the program's success lies in the product they deliver, Minor said.
"The bottom line is we have to deliver something really good," Minor said. "Our goals are significant. We want to impact the entrepreneurial community at the high school, undergraduate and postgraduate levels.
"These are big goals, but there is no doubt in my mind that we will accomplish them, and that this program will have a lasting impact on both the TCU and the Fort Worth communities."
The Ryffel Center is far from alone in that endeavor. Across the curriculum, the Neeley School has come a long way from commercial arithmetic and secretarial sciences. Technology is the operative word for new programs.
-- E-Business. They come for the future. Undergraduates who earn the new electronic business degree will be on the front line of the technology explosion, equipped with the technical and business skills they will need to guide corporations through the Internet, extranets, intranets, computer languages and databases, and their applications. TCU is the first university accredited by AACSB, the International Association for Management Education, to offer such a degree.
-- Fast-track MBA. The Accelerated MBA Program is a 12-month, full-time option for MBA students with professional work experience and a strong academic background in business.╩ The program offers a fast-paced, individually tailored curriculum to build upon the student's own unique business background.
-- Executive MBA. The new Executive MBA (EMBA) is a rigorous program for highly motivated executives. Students must have at least eight years of experience to enroll. Classes are held Saturdays and many course assignments are done online on a school-issued laptop. Two new courses begin every other month; part of one summer is spent abroad.
-- TCUglobalcenter at Alliance. The high-tech classroom facility quietly opened last fall at Alliance Airport in North Fort Worth. In addition to a range of technology-based continuing education classes, the TCUglobalcenter houses classes for the EMBA, the Charles Tandy American Enterprise Center and the online master of liberal arts program.

Be sure to read Business plan and Business partners