Articles:
Developing students
Flipping the light fantastic
The Moudy Building became its own work of art when lighting design students and faculty used the atrium as a canvas for a spectacular living-color painting
By Nancy Bartosek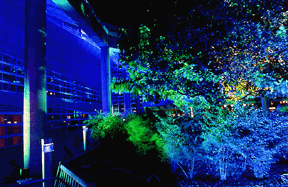 At 8:55 p.m. on a dark but unseasonably balmy April evening, senior Emily Choate shifted nervously among friends in front of the Moudy Building.
Dressed to impress, Choate knew all that was left to do was watch the show. At promptly 9 p.m, she stopped mid-sentence to dash off, proclaiming "Oh, it's starting."
Indeed, it was. An Easter-egg colored tree had drawn a crowd, which together turned toward the luminescent building. Now lit like the belly of the alien ship in Close Encounters of the Third Kind, the brilliantly-hued atrium drew people en masse to the interior, their necks craned upward.
Never had the Moudy Building been adorned like this -- its odd angles and canopy of intersecting glass planes awash in rich color, light and texture.
This is guerilla lighting at its best -- and undergraduate lighting education unmatched in the world, said lighting Prof. Fred Oberkircher. This radiant display capped the studies of 10 students earning a minor in lighting.
Two internationally known lighting designers -- Paul Gregory of New York and Jonathan Speirs of Scotland -- gave their time to design and then help the students set up the donated equipment, which included more than 200 donated fixtures, a mile of cable and a 300-amp generator truck, all at a combined value of $300,000.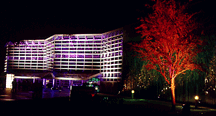 Even with additional help by several professional lighting technicians, the one-hour show took a week to set up.
"It's been such an adventure," Choate said, her face aglow with reflected color. "It pulled together lots of learning and knowledge that we had from class and put it to practical application. "I sure never expected to be able to work with people like Paul and Jonathan. It's been such an amazing experience."
Now in its fifth year, the TCU Center for Lighting Education hosts a unique program that brings together elements of retail, architectural and theatre lighting into a full undergraduate minor.
A self-proclaimed "born-again lighting guy,"Oberkircher said the program grew out of the department of Design, Merchandising and Textiles 10 years ago during a University self-study. Faculty realized the program needed a distinct centerpiece program to set it apart. Oberkircher suggested that if they did anything in lighting, it would be a top-tier program.
Following a concerted re-education for himself, Oberkircher, a registered architect, pulled together a couple of courses in lighting that were already being taught and the minor was born in 1997.
The TCU Center for Lighting Education now glows with a national reputation and a $100,000 lab where students learn the wares and watts of lighting. It draws professionals from around the country, who receive training in the facility from major manufacturers. It also supports research for various entities on and off campus, and most important, provides a home for students learning how to light a stage, a retail establishment, a home or a building.
Choate, a fashion promotion senior, said her lighting minor was a major factor in landing a new job at a design house in Dallas. In the field, the TCU center is well-known and respected, but even companies unfamiliar with the program always raise their eyebrows in interest at her minor.
On the night of the display, Gregory, president of Focus Lighting in New York, beamed as visitors wandered through the moving colors and shapes.
"By the end of the week, some of them were doing work as good as what we see from some professional offices," he said. "Seeing that change was the best part of the week."
Oberkircher said the support they get from industry attests to the need for this type of education.
"What we are is the right thing at the right place at the right time; it's a good place to be."

Top