Purple reign
This year's Miss Texas is a Frog ... and is using her voice to tell the truth about AIDS
By Nancy Bartosek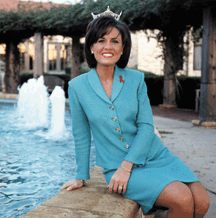 In far Northeast Tarrant County, just minutes from DFW International Airport, a modest two-bedroom apartment, furnished down to the towels, becomes the permanent home-for-a-year for one special young woman each July.
They call her Miss Texas.
Speech pathology senior Tara Watson moved in her personal items last summer -- and has spent little time there since.
When her reign ends this summer, Watson will have made more than 400 appearances, traveling on average 25 days a month; once, she drove her cherry red Blazer (part of her winnings) 750 miles for one appearance.
And while wearing the Lone Star tiara was a goal of Watson's since she was 6 years old, she has known for nearly that long that it's far from glamour and glitz; it's about having a voice.
And Watson's songbird voice -- which helped her win the pageant -- is spreading the word that AIDS isn't a gay disease. It's a human disease that is preventable.
Her message, Staying Alive, has been heard by more than 300,000 students in more than 200 Texas schools this year. Sadly, four of the schools she visited didn't want her to talk about AIDS Watson said, "because they said they didn't have that in their community.
"It was very frustrating. But I have learned how to get that door open anyway, to convince them that this is a topic their children need to know about.
"And once I'm up there, I say what needs to be said. What are they going to do then? Pull Miss Texas off the stage?"
Yes, this Miss Texas is feisty, but she has reason to be when it comes to this killer. While she was still in high school, a close friend confided that he had AIDS. She helped him tell his family. As he drew near to death, he turned again to his special friend who possessed a deep faith.
"Two weeks before he died, he asked me if he could let go," Watson said, emotion still filling her eyes years later. "I had told him not to give up, that we would fight this together, and he wanted my permission to die."
Watson's message is one of prevention. While she keeps the message age-appropriate, she is blunt in her language.
"It's time to de-gay the AIDS issue," she said. "And the best part about being Miss Texas is that people listen. I can still help fight AIDS as Tara Watson, but I have so much more impact as Miss Texas."
When she was in Washington, D.C., for George W. Bush's inauguration, she caught the "fever" of the city and realized that she wants to continue her work there after finishing her degree in the fall. She has applied for a position with the U.S. Surgeon General where she would serve as an AIDS program spokesperson.
She never imagined herself in Washington. But as a child, she did envision walking that long stage, roses draped in her arms. She'd been there when her dance teacher, who was like a big sister to her, wore the crown.
The gregarious and "hammy" Watson knew then that she wanted to follow in those dance steps. On her fourth try -- after a broken foot earlier in the year caused her dancing to falter -- she sang rather than quick-stepped her way to the winner's platform, then went on to place in the top 10 in the Miss America contest.
The Miss Texas apartment will soon be divested of the things that have made it Watson's home. Her extensive collection of crosses and angels will leave the walls and countertops barren.
The scads of photos of friends and family will be put in boxes along with the many gifts from admirers that clutter the small apartment. But what she gave and what she learned during her year as Miss Texas will never be taken away.
"To be able to give even one child hope," she said, "is the most wonderful thing. Some mornings I get up so tired, sometimes even sick, and I think, I can't do it. But then I get there, and I receive so much more than I can possibly give, and that truly blesses me.
"I'm not better than anyone . . . but as Miss Texas I have this huge voice. And if I can use that voice to impact somebody, I'm going to do that."
Top