The Neeley School -- with corporate partners RadioShack, Microsoft and Compaq -- opens a lab where its E-Business students can become "virtual architects" for the e-commerce ahead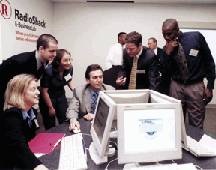 Computer shack. RadioShack CEO Len Roberts tests out one of the computer-in-the-round workstations, part of the new RadioShack E-Business Laboratory, with business students Brooke Sawyers, Matthew White, Karen Schaefer, Michael Hockridge and Yushau Sodiq.
Radio Shack CEO and Chair Len Roberts said with a grin in February that only he could take liberties with his Fortune 500 company's brand, but in dedicating the University's newest and most advanced computer lab, he told the students in attendance who would use the digital think space: "You've got questions, this RadioShack E-Business Laboratory has answers."
Minutes later, Roberts -- joined by Microsoft and Compaq partners who donated hardware and software -- cut via computer a virtual purple ribbon to officially open the design and development lab. Outfitted with sleek flat-panel monitors situated in pods of four, the lab will serve 135 students currently pursuing the E-Business degree, established at TCU two years ago, the first undergraduate degree of its kind at an AACSB-accredited university.
To complete the 27-hour technical layer of their degree, students will study, build and produce corporate web pages and databases, and use Microsoft and Oracle tools to develop the information and tracking systems many companies use to stay connected to their customers and clients.
"There is a real need for employees who possess these types of skills as technology continues to permeate the way we do business," Roberts said. "TCU's program will ensure that the wonders of the digital world are captured and put to work to improve business processes for corporations nationwide and throughout the world."
Each lab will consist of up to 40 students working in teams. Professors use the lab's two laser-sensitive "smart boards" to write and project lessons, to pull up websites, even to project any student's computer desktop, all with a simple hand motion. Lab classes dissect Web sites using the boards, looking for soundness of design and overall fit to a company's goals.
TCU's first batch of E-Business students graduate next summer. When finished, they will be able to develop complex information systems using extranets, intranets and the Internet, harnessing numerous computer languages, databases and applications.
"Students with these types of skills will have wide latitude in their careers," said M. J. Neeley School of Business Dean Robert Lusch. "They will be invaluable to businesses who aggressively seek ways to integrate technological solutions into their systems so they can effectively be connected internally and externally to consumers and other businesses."

Phi Beta Kappa founder
It was 30 years ago that TCU's Delta of Texas chapter of Phi Beta Kappa was established. In April, a reception honoring one of the chapter's primary founders, emeritus Vice Chancellor James Newcomer, drew a group of still-active members as well as many new and younger initiates.

Winning score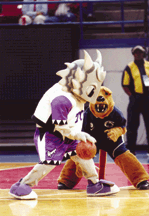 IF YOU think the Frogs have been doing better on the fields and courts of competition, you're right. All sports combined, this past academic year marked the most successful outing for TCU Athletics ever.

"This year has been extremely special for all of us," Athletics Director Eric Hyman said. "TCU has made a wonderful investment in the department via personnel, facilities and scholarships.

The coaches have exhibited their ingenuity and creativity, which has assisted our student-athletes in reaching their potential. The results have gained national awareness, prominence and respect. A foundation has been laid for continued success, in which the TCU extended family can be proud."

FOOTBALL No. 18 final ranking; third straight bowl appearance; three All-Americans: LaDainian Tomlinson, Aaron Schobel and David Bobo; six players drafted by NFL

BASEBALL 27-20 in WAC at press time, second in WAC; Chris Bradshaw named the national player of the week after tossing a no-hitter at Hawaii-Hilo

BASKETBALL women finished 25-8; WAC champs, first time in school history; earned first NCAA tournament bid, beat Penn State in first round; Jeff Mittie named WAC Coach of the Year. Men finished with 20-11 record; TCU one of only four schools, joining Oklahoma, Florida and Toledo, to post 10 football victories and 20 wins in both men's and women's basketball

GOLF men ranked 4th in the nation, women 16th; sophomore Adam Rubinson No. 14 player in country, freshman Courtney Wood No. 62

SOCCER women finish second in WAC; men 7-11 overall, including victories against two Top 25 teams

TENNIS men ranked second in the nation, senior Esteban Carrill ranked fourth; women ranked 25th in the nation

TRACK AND FIELD indoor: men won WAC Championship and finished second in the NCAA meet; Kim Collins won the 60- and 200-meter sprints at the NCAA Championships (has fastest collegiate 100-meter outdoor time this season). Outdoor: 4x100 team placed first at the Texas Relays and owns the fastest collegiate time in the country this spring. Monte Stratton named WAC Coach of the Year. Cross country: women won WAC championship; Gladys Keitany is first TCU female athlete to win the individual conference championship, Eliud Njubi captured the individual men's title; Dan Waters named WAC Coach of the Year

SWIMMING men placed 4th in the NCAA Independent Championships; women logged an 8-4 dual record and placed 5th in the WAC Championships

VOLLEYBALL won a school record 16 matches including six conference matches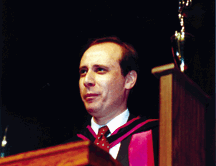 Top Prof. A smile crept across Religion Assistant Prof. Darren Middleton as he approached the podium in April to accept the Honors Faculty Recognition Award. In his rich British accent he noted, "Well, this doesn't make up for the revolution, but it is lovely." The awardee is selected by the students, making Middleton this year's critics choice.When accepting his award -- instituted in 1957 -- the well-loved teacher dedicated it to the memory of junior Kim Jones, a former student slain during the Wedgewood Baptist Church shooting in 1999.

Two top speakers. Details remained at press time, but early word is that Morris Dees, co-founder of the Southern Poverty Law Center, will be the fourth speaker in the Gates of Chai lecture series, tentatively scheduled for Sept. 10. The SPL Center, through its "Intelligence Project," tracks more than 500 racist and neo-Nazi groups. On Oct. 3, ABC News chief congressional analyst Cokie Roberts will be the featured speaker for the Fogelson Honors Forum. Roberts is also the author of We Are Our Mother's Daughters, an account of her life as the daughter of Congressman Hale Boggs, whose wife Lindy took over his House seat after his death.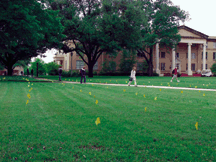 Holocaust remembered. In what has become an annual event of Uniting Campus Ministries, hundreds of flags covered the west campus lawn off University Drive in April, with different colors representing Jews and other groups persecuted during World War II. About 75 flags representing homosexuals were stolen from the display, but were replaced by organizers.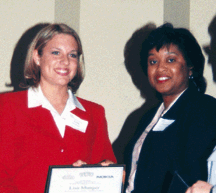 It's about women. Political science senior Lisa Munger, left, was the happy winner of the first Nokia Research Award for undergraduate research. Presenting Munger her award is Vannessa Nickson, director of community relations at Nokia.
Women, Womin, Womyn
THE slip of paper at each place during the TCU Women's Resource Center's Seventh Annual Women's Symposium dinner said only Define Womanhood.
The answers were as varied as the faces in the room:
Vision, strength, gentleness, laughter, beauty, ambition, passion and dedication . . . Coming of age as an individual, family member and part of the community. Learning to be a whole self, both as an individual and as part of a larger group . . . The "fraternity" of humans who are daughters, mothers and sisters, wives, aunts, grandmothers and granddaughters. For we truly define ourselves in terms of relationships to others . . . I'm a man and reluctant to "define" womanhood. Men have been doing that for too long.
It was a true two-day celebration of womanhood": Speaker Toni Craven from Brite Divinity School lectured on prominent women in Scripture; Candace O'Keefe, executive director of the Woman's Museum in Dallas shared the birth of the dramatic and powerful museum; Holly Near, a world-acclaimed singer and activist, brought her message of world peace and human dignity; and new this year, three research grants sponsored by Nokia were awarded to an undergraduate student, graduate student and faculty member to support study on women-centered issues.
But ultimately, the symposium's goal was to help women recognize their worth. To discover, as one attendee succinctly put it: It is not flowers or perfumes, bows or ribbons, making lunches, raising children. Womanhood is living as a human participant in a world that is only beginning to recognize the importance of what we can contribute, whom we can be and how we can act.

In Brief:
Increasing diversity. The good news is that student applications to TCU are up, from 4,841 last year to 5,654 this year. The great news? Minority applications also increased dramatically, rising from 18 percent to 25 percent of the total applicants this year. Students from minority and ethnic backgrounds now comprise 18 percent of TCU's admissions, up from only 13 percent a year ago. Admission Dean Ray Brown said that high school counselors are pushing students this direction. "The truth is, the counselors are telling their students TCU is a hot place to go."
Top trustee. In April, TCU Board Chair John V. Roach '61 became one of only two university trustees in the country to be honored with the Trusteeship Award, given annually by the Association of Governing Boards of Universities and Colleges. The prestigious award goes to only two trustees each year from public and private institutions. Said James D. Gates, member of the National Advisory Council for the Radio Shack National Teacher Awards Program: "He has provided unselfish leadership for the improvement of teaching and learning of mathematics, science and technology by our nation's students and teachers."
Fast-track nursing. The Harris School of Nursing will launch an online master's degree this fall that will allow RNs with a bachelor of science degree to complete their master's in two years, and RNs with an associate of arts degree to complete the program in three.  Harris faculty will offer the program with technical support from eCollege, which recently provided TCU with a $120,000 grant to launch the degree. The program prepares RNs as clinical nurse specialists in adult health nursing, developing nurses who can practice in a myriad of settings.
Another Goldwater. Engineering sophomore Ben Ludington earned a 2001-2002 Barry M. Goldwater Scholarship Award. The 20-year-old Houston native was just one of 302 undergraduates nationwide selected for the top academic award out of more than 1,000 nominees.
Pre-law plus. Always in solid standing, TCU students heading to law school after graduation can now put Pre-law Affiliate for the Law Student Division of the State Bar of Texas on their resumes. A new association sponsored by the State Bar of Texas, the Pre-Law Affiliate program lends credibility to students' undergraduate preparations. Said Political Science Prof. Donald Jackson, TCU's longtime pre-law adviser: "So far this year the students leading the program here have brought in an FBI agent and a student who was just admitted to law school who is helping them with the application process."
Mastering education. The School of Education is expanding its master's in educational foundations degree this fall to include specializations in non-traditional settings such as zoos and museums. The 36-hour track will create a pool of educators who can do everything from conduct educational workshops for fellow educators to assist with interactive designs.