Related stories: Tadashi Imai |Anton Mordasov |Yuri Blinov

Three's charm
The Van Cliburn International Piano Competition has become the premier career-launching venue for the world's top young pianists. To have one student among the 30 competitors is a high honor. This year, TCU Prof. Tamas Ungar has three.
By Nancy Bartosek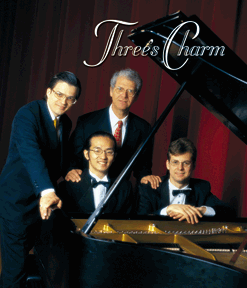 It's a performance in itself, this master teacher job.
It requires vast knowledge of repertoire, composers and performers; daily practice to perfect intricate fingering or difficult passages; the stamina for world travel and long days; and the uncanny ability to recognize untamed talent in young pianists.
Add the patience of a saint and the tenacity of a pit bull and you have the underpinnings of a good teacher.
But TCU Piano Prof. Tamas Ungar knows that is not enough. One must also teach subtleties difficult to define.
To prepare a prodigy for competition, one must know that hands leaping too dramatically off the keyboard might cost precious points. And that a distant stare at the audience might mean a silver, not a gold. The great teacher knows that focusing too much on the music for the first two rounds could leave a performer unprepared for the third.
But even that is not enough. To be a truly master teacher, one must give even more to the student -- one must freely give his heart.

ONE APRIL day, six weeks before the Cliburn began, Ungar strode purposefully into the lounge at Ed Landreth Hall, a bright smile stretched across his face. Though he was late for a photo shoot, the striking Hungarian was unruffled.
"I'm so sorry," Ungar said kindly, explaining he had gone to fetch a student who had overslept. "But we were in a lesson until 2:30."
That's 2:30 in the morning.
Private lessons with the three of his 10 students who competed in May began about 10 p.m. There was no time earlier in the day.
In addition to lessons with his other private students, Ungar is the director of the annual TCU/Cliburn Piano Institute which runs concurrent with the Cliburn Competition and is a full-time job of its own. Interruptions are constant.
So on most weeknights, Ungar is an audience of one in the spacious auditorium. He listens. He advises. He listens again. Then the two -- the master and the apprentice -- work judiciously through each of the compositions, tweaking technique and talking about style.
For months, for years, he sits and listens -- to body language, to personality quirks, to the angst and joy underlying their performance -- understanding that the piano is not what makes the music.
One is too controlled, another must reign in his exuberance. One is simply too humble. Teaching these immensely talented pianists has much to do with things that have little to do with the Steinway they sit before.

WHEN ASKED, distant memories rise in Tamas Ungar.
With his lyrical Hungarian accent adding a rich timbre to his words, he'll tell you about the day that, at age 10, he, his younger brother and their father ventured out of their house in Budapest for the first time since the 1956 revolution began. For five days they had hid inside their home while the first wave of the war raged about them.
When the fighting stopped, Ungar recalls, they were exhilarated. Free. Free from communist reign. The joy was short-lived.
"My father tried to shield it from me as we walked," he said, "but I have distinct memories of bodies ravaged by revenge, some hanging near Parliament and the Secret Police building."
The next year the family escaped to Austria where the young boy, now a refugee, learned quickly how to navigate the soup and bread lines. His main responsibility though, was the line for free tickets to the Opera. "Oh, yes, standing-room only at the Vienna Opera was a wonderful thing,"
Ungar proclaimed, eyes sparkling at the memory. In 1957, the family of four landed in Australia, the farthest place "away from this madness," as his mother had requested. During the long ship ride to that distant continent, Ungar learned "the piano was money."
The American sailors enjoyed his accompaniment on the ship's rickety piano when they sang. He plunked out chords, they pitched out nickels, which bought the enterprising boy a cup of soda from a machine.
"It was the first time I tasted Coke," he recalled with a chuckle. "I didn't like it much but my friends did so they always got me to play more."
Three months after arriving in Australia, Ungar was again studying piano, this time with a Russian teacher. By age 20 he'd earned a score of awards and become the youngest professor ever named to the prestigious Sydney Conservatory of Music.
The young teacher had bigger goals and eventually landed at Indiana University where he began work on a doctorate. But when students burned the library in protest of the Vietnam War, Ungar left for London.
On the first day of a visit to Hungary for doctoral work, he re-met a young woman he went to kindergarten with. He and Jutka married nine months later.
The years in London were important to Ungar's development. "Part of having a profession in music is being able to make a living doing it," he said. "You have to learn to be a survivor, and that's what I did in London.
"It was an incredible experience to prove I was capable of being a musician."
A later stint teaching in San Diego eventually led to a meeting with famed TCU pianist Lili Kraus, who amazingly had heard Ungar perform in Australia as a teen. She convinced him Fort Worth was the future of piano.
"She sat me down one Sunday morning after I arrived here in 1979 -- still in her dressing gown -- and spoke to me in sort of rough Hungarian since she'd lost most of the niceties of the language," he said, "and asked me what I really wanted to do.
"I said I want to make Fort Worth the center of piano."
You are naive. You can't do it alone, she told Ungar.
"Oh, if she could only be here today to see this."

THE VAN CLIBURN Piano Competition, the only privately funded competition in the world, has been a driving force in the piano arena since its debut in 1962. It was the first to incorporate a chamber music component, the first to commission a work from a living composer.
Its unique practice of having the competitors play complete works in a performance setting, as well as other innovations, is now replicated in competitions around the world. From the inception, TCU has been an integral part of the Cliburn.
Until this year, Ed Landreth Auditorium and the TCU campus have been its home. The list of TCU graduates and faculty intimately involved in its success is long and impressive. Jose Feghali, the 1985 Cliburn Gold Medalist is an Artist in Residence at TCU and John Giordano '60 (MM '63), the Cliburn jury chairman and conductor since 1973, is now a TCU Distinguished Fellow in Music.
Outgrowths of the Cliburn are the TCU/Cliburn Institute, founded and run by Ungar and held annually to teach and encourage young artists, and the new Cliburn Lecture Series organized by Giordano.
Giordano, who retired from the Fort Worth Symphony as music director and conductor last year, has finally found time to respond to public demand and arrange this series of six free lectures, bringing audi- ences into what goes on behind the curtain. The topics range from the competition's history to what the jury (judges) look for.
"We have to remember that this institution [TCU] was right there at the first," he said during the first lecture in the Moudy building. "Without TCU, there really would not have been a Van Cliburn competition."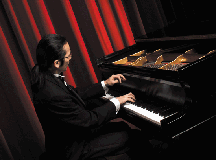 Those intimately involved prefer to call the competition a festival, for, as Cliburn Foundation President Richard Rodzinski said, "We are indeed celebrating the achievement of these young pianists, their years of devotion and practice."
The festival, in turn, rewards the winners by catapulting them into two years of pre-booked performances. And, in addition to prize money, the foundation acts as manager for the top six competitors, making all concert arrangements, from negotiating fees down to rides to and from the airport.
The Cliburn represents every pianist's ideal competition. "There is an opportunity to get into this profession once every four years," Ungar said, "and it's here."

UNGAR COUNTS his blessings these days. He knows having a waiting list of students anxious for his tutelage is an extraordinary situation.
He loves Fort Worth because the community has embraced the TCU piano program and showers it with support. And he knows that TCU and the Cliburn have a symbiotic relationship. "The Cliburn is a godsend," he said. "Without the support of the foundation, the community and the TCU administration, the School of Music wouldn't have such an excellent piano program."
To have three of his students in one competition is singularly rare -- and places Ungar among the world's most illustrious teachers. His success also puts TCU on par with the truly great piano institutions, such as the Julliard and the Moscow Conservatory.
Because he knows a good showing in the Cliburn will make or break a career, Ungar takes preparations very seriously. But only up to a point. The closer they get to where the ivory meets the road, the less time Ungar will spend with these three students.
"When they compete, they must rely on their own intuitions," he said. "They need to be preparing mentally those last weeks. I will have done all I can by then."
Ungar was asked in early May where he would be during the competition. He responded, startled, "Well, I have tickets. I'll be in the audience."
Just like always.