Carrying a torch
The torch for the 2002 Winter Games comes through campus -- in honor of a former TCU swimmer.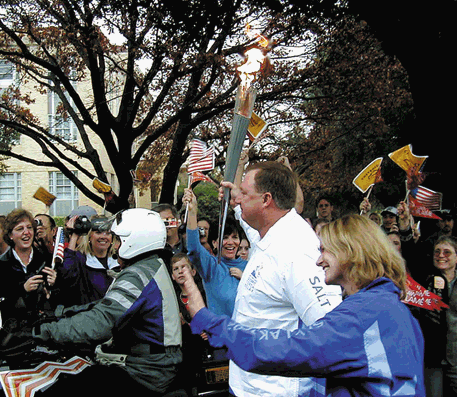 TCU head swimming coach Richard Sybesma didn't run particularly far or fast, but he was decidedly out of breath after carrying the Olympic torch through campus in December.
He had planned to make the two-tenths of a mile he jogged on University Drive last as long as possible, so the moment could be savored.
Not for himself. But for Matt Walters '92, his former swimming student who was a website designer for the 2002 Winter Games before dying of a heart attack last March.
With Walters' mother Cathy cheering along with hundreds of other flag-waving supporters, Sybesma ran arm in arm with Matt's wife Darlene as they enjoyed the moment in the sun as one of 11,500 torchbearers.
"This is emotional for me, for Darlene, Matt's family, for the swim team, for TCU," Sybesma said after passing the torch to the next runner.
The relay was a means of "carrying on"an interest and passion of Matt's, said Darlene, who was a physical therapist until July when she began work as torchbearer coordinator for the relay. She traveled with the team since the flame left Atlanta on Dec. 3 and was instrumental in making sure the route passed through TCU.
Network connections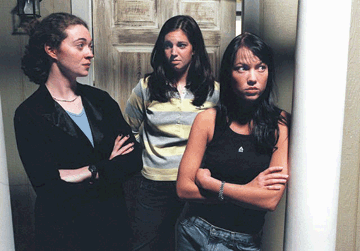 Imagine your class project being aired on national cable TV before 5 million peers. The cast and crews of the biennial radio-TV-film department soap operas can. Two of the yearlong projects will be shown on Burly Bear Network, owned by "Saturday Night Live" creator Lorne Michaels.
The network, geared toward 18- to 24-year-olds and carried nationwide on 600 college cable television stations, bought the rights this fall to the wholly student written, acted and produced "Studio 13" (created in 2000) and "Almost Legal" (being filmed this spring). Michaels' long-time assistant and TCU alum Lyle Johnson '94 remembered the TCU productions and suggested them as a series.
TCU students have produced three soap operas and one sitcom since 1995 under the direction of Richard Allen, Emmy Award-winning daytime writer-turned-professor. The shows became campus cult favorites, and led to job opportunities for the producers, writers, cast and crew.
Shown here left to right are "Almost Legal" actresses Kirsten Upchurch, Kristin Moon and Lauren Waller. "Almost legal" is about high school girls attending an all-girls boarding school. "Studio 13" was a convoluted tale of the behind-the-scenes stories of people who were producing a soap opera.
Leadership a world away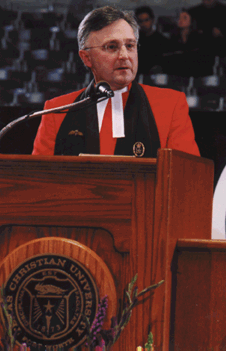 The Isle of Skye might seem an unlikely spot to send students to learn leadership skills, but a new partnership with the Scotland-based leadership program Columba 1400 will make that possible.
Expeditions to Scotland are already in the works, including a 17-member group in March and two summer educational seminars. One summer group, led by professors Nowell Donovan and Ray Drenner, will learn about environmental stewardship. Another group, led by English professor Stephen Powell and Student Development Services Director Barbara Herman, will study the legend and literature of King Arthur.
The program was founded by the Rev. Norman Drummond, below, former BBC National Governor and Chairman of the Broadcasting Council for Scotland, who presented the December graduation address. While here, Drummond worked with Chancellor Michael Ferrari and the Fort Worth school district's "Stay in School" initiative.
Access to antiquities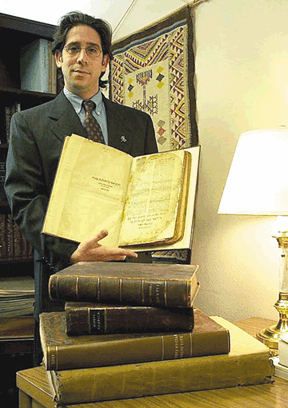 When W. David Nelson joined the faculty of TCU's Brite Divinity School last year to develop a Jewish studies program, he knew the fledgling program would need significant resources to build upon.
Brite's library is among the best collection of religious texts in the region, but its current holdings were not enough for a program in Jewish studies -- which spans more than 4,000 years -- to grow.
"The expectation was there but I didn't know it would even be possible," said Nelson, the Rosenthal Assistant Professor of Jewish Studies.
But months later he received a tip that such a collection was up for sale in a familiar place -- the home of his former mentor, the late Rabbi Israel Otto Lehman of Hebrew Union College in Cincinnati.
TCU acquired Lehman's collection of about 10,000 items, which includes rare holdings such as first and second printed editions of tractates of the Babylonian Talmud produced around 1520 by one of the first printers of Jewish texts.
The collection also contains a 17th century complete polyglot Bible including Old and New Testaments and Apocryhpha, as well as a 17th century Latin concordance of rabbinic literature and 19th century manuscripts of Jewish texts produced by the Jewish community in Yemen.
"The collection is valuable not only for its rare holdings, but also for its breadth," Nelson said. "This library can facilitate the study of Judaism and other religions in all their historical manifestations. The value to Brite is manifold."
Islam in the spotlight
World events spurred activity on campus this year as the community searched for answers and ways to contribute. A free public lecture series on Islam at a local Barnes & Noble bookstore was offered through Extended Education and enrollment increased in world religion and political science classes. Sociology classes, with the help of various campus groups, rallied to raise $800 that went to the Afghan Women's Mission and Help the Afghan Children, Inc.
Scholarships for toddlers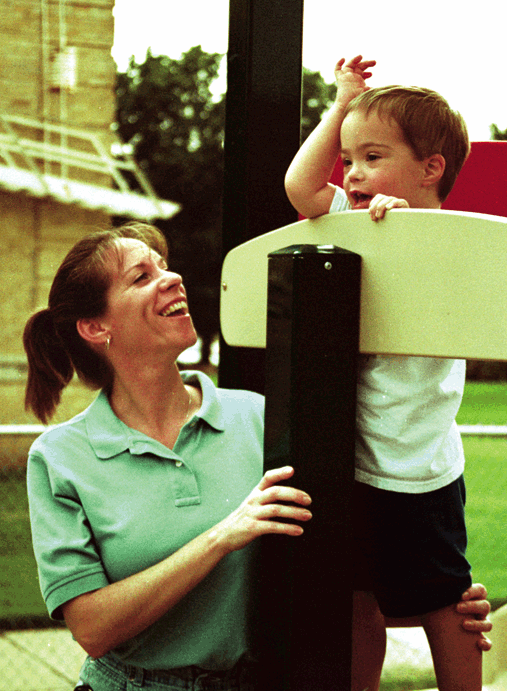 Director Kathy Cooter describes the Rise School as a little piece of the heart of the university on the outskirts of campus. So it was fitting that members of the Intrafraternity and Panhellenic Councils gave the school a special valentine in February -- $25,000 for the program's first-ever endowed scholarship fund.
"Our relationship with the Greek community is an incredibly rich one," Cooter said. "This endowment is another indication they are part of us here. The relationships that are built between TCU students and our little ones prove it's meaningful for everyone involved."
Cooter said she will allocate about $1,200 a year to one of Rise's neediest families. Although the scholarship will not cover the $8,400 a year tuition cost, she said it will cover a student's occupational, physical and speech therapy costs while attending the educational facility for preschoolers with Downs Syndrome.
National attention for Hope Connection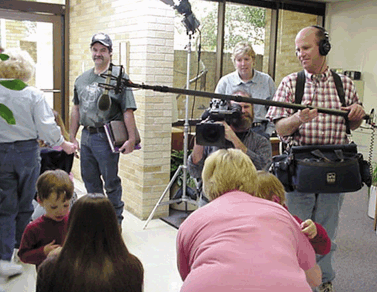 Cameras were rolling on campus this year as "Dateline NBC" followed two Tarrant County families through the sweet and the sad of international adoptions. Both families are involved with the TCU psychology department's Hope Connection, a ground-breaking, research-based summer camp for children who suffered early maltreatment and neglect. The "Dateline" crew spent three days on campus chronicling how Hope Connection, housed in the Starpoint School, is providing constructive help for these families as it studies the needs of such children.
New director for School of Music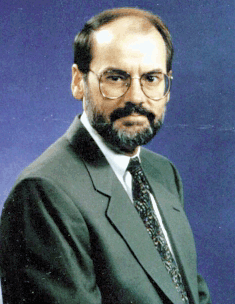 It was a moment of uncontained excitement for Scott Sullivan, dean of the School of Music, when he announced that Oklahoma University professor Dr. Richard Gipson had been appointed the school's new director.
"Dr. Gipson brings a superb record of administrative experience to TCU and we are excited about the future of our School of Music under his leadership," Sullivan said.
Gipson served as director of the OU School of Music from 1992-97. He also was interim provost and vice president for academic affairs and a special assistant to the president while at OU. Before joining the OU faculty in 1976, he taught at the University of Texas-Austin, Central Missouri State University, Penn State and Susquehanna University in Selinsgrove, Pa.
An accomplished composer, conductor and musician, Gipson has been the principal timpanist for the Norman Chamber Orchestra since 1983. He was the principal timpanist for the Oklahoma City Philharmonic from 1989-99 and for the Oklahoma Symphony from 1976-87. His ensembles have won numerous regional and national awards.
Powerful performances
The TCU Wind Symphony was chosen to perform at two prestigious conferences this spring: The College Band Directors National Conference in Houston and the Texas Music Educators Convention in San Antonio, where they received a standing ovation by the crowd of 4,000. The group, led by Director of Bands Bobby R. Francis, recorded a compact disc this spring as well, which will be available in the summer.
The people and the panels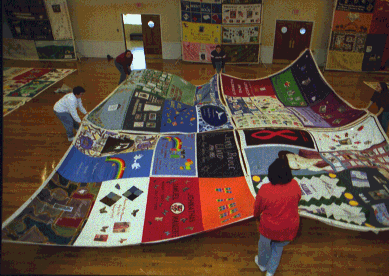 Like snowflakes and fingerprints, each 3-foot-by-6-foot rectangle of the AIDS Memorial Quilt is unlike any other.
Pamela Jane Arth's has her name on a peach butterfly surrounded by symbols from her life: a cross, an apple, a TCU seal, her high school varsity letter.
In all, there are more than 44,000 panels. Laid end to end, they would stretch for 50 miles. The entire quilt encompasses almost 800,000 square feet or 26 football fields and contains more than 80,000 names.
In December Fort Worth/Tarrant NAMES Project, AIDS Outreach and AIDS Interfaith Network displayed 200 panels of the quilt in TCU's Student Center ballroom to commemorate World AIDS Day, Dec. 1. Throughout the two-day exhibit, names on the quilt were read hourly to honor the victims.
Members of the TCU community eagerly participated. Theater and music department students performed for visitors in front of the Student Center. Families of the victims attended two church services -- an interdenominational service at University Christian Church and a Catholic mass by the quilt display -- during the weekend. Volunteers worked interactive educational areas, grief counseling rooms and booths for those who wanted to turn in panels they have made to be included in the quilt.
Three in a row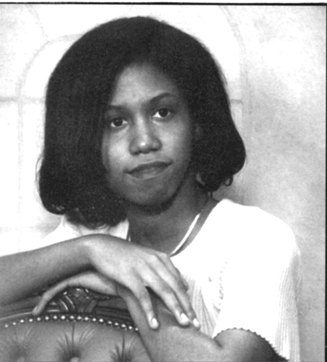 For the third consecutive year, one of TCU's artist diploma piano students is among the finalists in the piano competition of the Music Teachers National Association.
Rochelle Sennet earned a spot as a finalist for the March 18 competition by winning the 2002 South Central Division of the Collegiate Piano Competition of the Music Teachers National Association in January.
Tadashi Imai (2000) and Yuri Blinov (2001) earned the distinction the previous two years. Blinov was last year's grand prize champion. Sennet, who studied piano at the San Francisco Piano Conservatory and received a master's degree in piano performance at the University of Michigan, will play works from composers John Corigliano and Maurice Ravel.
Party like it's 1949
When you're the TCU mascot, you get to turn 21 every year for more than half a century. No kidding. SuperFrog has been turning 21 since 1949. That's 53 years -- and counting -- that the old gray Frog has been of drinking age.
This year's party organizers decided it takes more than a cake to celebrate such an occasion. So on February 21, university staff, faculty and students spent six hours living it up in honor of the mascot originally named "Addy the Frog."
With free pizza, soft drinks, cup cakes, birthday cake and musical performances by the bands Drum, Chomsky, Voight and Trout Fishing in America, revelers took in the sights between classes. The celebration also included bumper cars, wall climbing and a fan-blown parachute to lift people into the air.
SuperFrog's birthday is a tradition, but an afternoon party didn't start until 10 or 12 years ago when students wanted a school spirit celebration during the day to replace late night parties that wouldn't end until early morning.
In brief
Still a great deal
To cover the $213.5 million budget allocated for next year, Trustees in January approved an increase of 8.7 percent for the flat tuition and general fees rate, bumping it from $15,000 to $16,300. Undergraduates who entered before last fall will see their credit hour cost rise to $455 from $420. Room costs will also go up by 6 percent. To also help defray costs, endowment support will increase by about 2 percent.
The good news is that TCU remains one of the best bargains among private universities in Texas, ranking ninth in cost among the 10 colleges used for comparison.
The budget includes new money for new faculty, increases in financial aid and scholarships and $20 million for renovations and refurbishing of teaching laboratories and major lecture halls, as well as equipment and facility needs in the academic units.
And, momentum continues on many major building projects: The new recreation center and the Tucker Technology Center will be ready for use in the fall, the baseball stadium will host its first game next spring, and construction has begun on the Smith Entrepreneurs Hall.
Top teachers
Graduates from the School of Education racked up a combined 96 percent pass-rate for the 1999-2000 school year by passing one or more ExCET (Examination for the Certification of Educators in Texas) exams required for initial teacher certification. This feat places TCU in the top quartile of Texas teacher preparation programs.
Getting centered
Research centers are great ways to focus in on areas of expertise, and three new centers are helping to highlight campus areas of excellence.
The Neeley School's new Luther King Capital Management Center for Financial Studies will focus on enhancing faculty research, providing educational and career opportunities to students and attracting leaders in the industry to the school. It is named for the longstanding commitment the company has had with TCU's finance department.
The Supply and Value Chain Center at Neeley is aimed at helping businesses achieve optimal results by better integrating their internal and external functions. It will also work closely with the faculty at Neeley to train students in this important area.
The School of Education's new Center for Urban Education will form a coalition of teachers, principals, and TCU faculty and students mobilized to turn neglected inner city schools into thriving learning environments. It will provide resources for teachers and principals in the community, such as staff development workshops and speaking engagements featuring leading-edge urban education professionals and researchers.
TCU Tomes
While God is Marching On: The Religious World of Civil War Soldiers
By Steven E. Woodworth
University Press of Kansas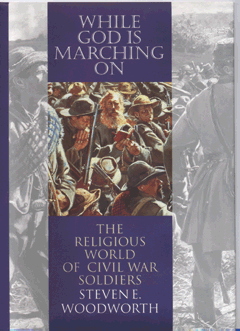 What stirred inside the hearts and minds of mid-18th century men to fight against their friends and brothers? It was a profound belief in principles, particularly religious faith, that motivated Civil War soldiers to march shoulder to shoulder into murderous fire, climb over mutilated bodies of messmates and hurl themselves into entrenched lines.
It is this deep religious faith that Steven E. Woodworth, associate professor of history, documents in this well-researched history, using the words of the soldiers themselves, taken from their letters.
Cowboy Mafia
By J.R. Graham '90
The Grove Publishing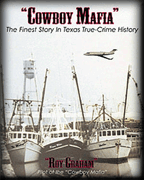 This true-life story is a look into the multi-million dollar marijuana smuggling operation of the same name that captured national headlines. With rich insiders' details, the author's father Roy Graham leads readers into a cowboy soap opera full of power brokers and shady business deals. In the book, Roy Graham tells how he believes Texas millionaire Rex Cauble, who served five years in federal prison in connection to the case, was framed.
Proceeds from the book go to the Cowboy Mafia Foundation to fund cancer research. It can be ordered at online bookstores or by calling 1-800-346-4221.