"Society girl" makes good
Pioneering a place for women wasn't the point when Pauline Barnes '30 sought The Skiff editorship in 1929. She just thought the job would be fun.
By Jaime Walker '02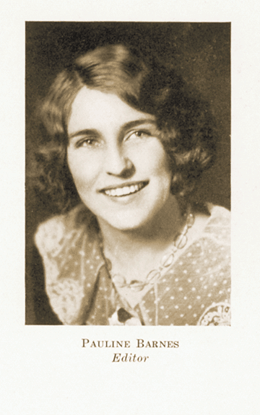 The overwhelming results of the 1929 student body election proved TCU's coeds thought it was a brilliant idea.
But the men on the University Publications Committee had doubts -- a "society girl" should not be responsible for TCU's newspaper.
They couldn't ignore the vote or her qualifications though. Pauline Barnes '30, former editor of the society page of The Skiff, had a passion for reporting. She had her finger on the pulse of the campus and she wanted the job.
So on Aug. 29, 1929, nearly 10 years to the day after women in the U.S. earned the right to vote, "Polly," became the first woman to take the helm at The Skiff.
"Looking back I guess it was a rather big accomplishment, especially for the time," Polly Barnes, later Polly Prescott, recalls more than 70 years later.
At 93, it's harder to remember all the details of her tenure like she used to, but hers is a memory wide and rich in its scope. Macular degeneration is slowly robbing this tiny spitfire of her sight, but Polly conjures images of TCU so vivid that today's green landscapes are reduced to prairie, and what is now Tandy Hall is transformed into a football stadium full of cheering coeds.
"It was a fabulous time to be a student," she remembers, a bright smile flashing across her face. "It was very exciting. I think that's one of the things I liked most about working at the paper. We got to see it all."
Polly's first memories of TCU are vague flashes from long before she began her university career.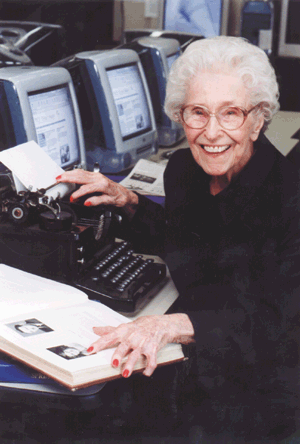 "When I was about 6 years old, one of my neighbors was studying to be a teacher at TCU. That summer she held a sort of practice kindergarten for those of us who would be in school soon. My mother thought it was a great idea. I remember riding an open-air trolley down the street in front of the university. Maybe I liked it then and it stuck, but I don't know."
An intelligent young English major who graduated a year ahead of her high school graduating class, Polly began her time at TCU in 1925 amid a flurry of university activity. Campus classrooms were bursting at the seams. Faculty needed more room for instruction and students demanded more personal space. Female students wanted fewer dormitory restrictions, while their male counterparts touted the benefits of further recreational programming. Athletes and alumni anxiously anticipated a new gymnasium.
Polly joined a number of campus organization but felt most at home in the two cramped rooms of Dave Reed Hall known as the Skiff office. Although Polly enjoyed frequent campus lectures by prominent journalists like TCU graduate and writer Douglas Tomlinson '09, she was a journalist without a journalism department.
In 1927, university officials decreed that TCU would become one of four schools in Texas to offer journalism courses. They hired well-known reporter, editor and University of Missouri professor J. Willard Ridings to steer the newly created journalism department. When he arrived on campus, Ridings declared in The Skiff, that he would not only "put the university on the map," but he would become the adviser for the campus paper.
"He was extraordinary and I knew I would learn a lot, so I spent two years as an English major and then switched as fast as I could," Polly said.
Her well-manicured fingernails, polished bright red to match her favorite red coat, lightly drum the tablecloth, as if the mere memory revives the excitement she felt when she switched majors.
"I remember we used to take field trips downtown to the city paper," she said. "He wanted us to see a working newsroom for ourselves."
Polly enjoyed the newsroom atmosphere, so when it came time for vacation she applied as a "stringer"at the Star-Telegram.
"I would write articles for the Fort Worth society section," she said. "They called us stringers because they would take our story, measure the type with a string and then pay us by the column inch."
She can't quite remember what motivated her to apply for The Skiff's editor-in-chief position in 1929, but she does remember the way it felt when she was selected.
"First, I had to be elected by the student body, then I had to be approved. I was sure they elected me because I was pretty or something, but I guess it was because I had written the most for the paper the semester before."
While Polly still describes her job as "the most fun job on campus," she said the most important events of her life took place after graduation.
"I think I always enjoyed meeting people, and working for the paper was a great way to meet people from all over the campus," she said. "When I left I had visions I would work for The Washington Post or The New York Times covering great society affairs or something, but that wasn't what I was meant for."
In July 1933, shortly after she married the love of her life, Luther Prescott, the couple moved to a tiny apartment in Washington, D.C. She applied and was interviewed for a job at the Post, but once she heard the offer, her career plans changed forever.
"The editor told me I would have to come in at 1 a.m.," she said. "I hated the idea of my husband having to drop me off there in the middle of the night and pick me up around dawn. I knew I wanted a family so I said no and decided I could write articles without writing for a newspaper."
Polly soon found a job with one of President Franklin Roosevelt's "alphabet agencies." She was hired as a researcher and junior economic analyst for the State Department in the foreign trade treaty division, writing articles related to each U.S. state's product manufacturing and exports. She profiled each state's agriculture industry and became versed in reciprocal trade agreements.
"Once one of the articles I had written about the state of New York was used by a Washington correpondent for The New York Times," she said with a giggle. "That was as close as I ever got to writing for the The New York Times."
The Prescotts returned to Fort Worth in 1946 to raise their son Dan and daughter Paula. Polly has lived here ever since, first in a quaint house on Alton, and now in an apartment, where she "can be independent and not old."
She also involved herself in a variety of charitable causes. She founded Colonial Columns, the newsletter for Colonial County Club, in the '60s. In 1967 she wrote for and helped found the Women's Club Courier. Never too old to perfect her craft, she enrolled in a TCU feature writing course in 1978.
"Family has always been my first priority," she said. "The best copy I ever did was my two wonderful children."
She said that some of the most meaningful lessons she has learned in life began unfolding in her days at TCU. She lives one in particular every day.
"Life is simply a series of triumphs and struggles and joys. The best part about being a writer and a mother is sharing those things. My independence is so important to me, but really what matters is the interdependence we all have with one another."