Pouring out success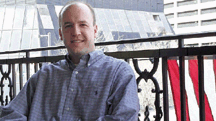 Eric Tschetter '92 knows that about 75 percent of all new restaurants fail, but that didn't stop him from opening his own place. Tschetter figured if he created a place he would want to hang out, relax, talk with friendly people and eat great food, people would come.
They have. In droves. His downtown Fort Worth sports bar, The Pour House, has more than doubled in size and tripled the number of employees since it opening in 1995.
"We know our regular customers," said Tschetter, 31. "They even come in and share their vacation photos." His high-energy style earned recognition by fellow restaurateurs, who chose him to lead the Greater Fort Worth Restaurant Association as president, a term which ends in June.
As president, Tschetter leads monthly discussions on issues such as smoking sections, Texas Alcohol and Beverage Commission certification and using the Internet to train employees.
"The restaurant association is good for Fort Worth because it allows people in the industry to share what works and what doesn't in a fun atmosphere, which ultimately improves the dining experience for everyone," he said.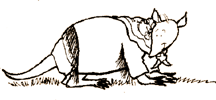 All about town
He's 18 inches long, burrows in the dirt and has an insatiable appetite for getting his snout into everything Fort Worth. But for 12 years, Diggy Armadillo has been the perfect local to teach the region's history to the young people of Cowtown.
Star of an educational adventure series created by Ann Barham Pugh '45 and Joan Freed Anderson '85, Diggy's spunky curiosity takes him and his friends to the Stock Show & Rodeo, the Fort Worth Zoo and the historic Stockyards to learn tidbits of city folklore and history. As he rambles about, he also learns songs and geography.
Pugh, an accomplished children's author, wanted to develop a character to investigate local history. She teamed with Anderson, another children's author, and along came Diggy in 1990 .
"We felt an armadillo was the perfect animal because they're always getting into things -- just like Diggy does with history," Pugh said. The series is now mandatory reading for third-graders in the Fort Worth school district and is being published in Spanish for the first time, as well as moving to a tabloid newspaper format. Teachers receive a Diggy curriculum guide, written by Pugh, plus audio cassettes of the song "Texas, Texas, What shape are you?" and poems, all narrated by the late theater great Melvin Dacus '44.
Other Horned Frog alums who ensure Diggy gets wide exposure include: Kelly Kimmel DeGarmo '85, who coordinates the Star-Telegram's Newspaper in Education program; Joyce Johnson '79, who contributes to the curriculum guide; Judy Satterwhite '70, who manages special projects with Fort Worth ISD.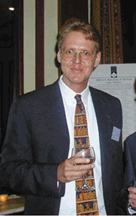 A verb-acious appetite for teaching
When the NBC affiliate in Albany, Ga., needed someone to explain how 'booty' and 'hottie' became words, they turned to Ulf the Verbavore, also known as Darton College associate professor of English Ulf Kirchdorfer '92 (PhD). Kirchdorfer, with TV camera in tow, scoured campus asking if students "wanted a noogie" or knew "a gearhead." The noteworthy lesson, the good-natured professor said, is that the English language is always evolving.
"It may be because of advertising and technology that these words are popping up almost overnight," said Kirchdorfer, whose knowledge and classroom style have earned him national recognition by The Carnegie Foundation for the Advancement of Teaching and the Council for Advancement and Support of Education. From more than 400 candidates, one from each state was selected 2001 U.S. Professors of the Year. Kirchdorfer was Georgia's winner.

That succulent steak? It's just business
Lynne Collier '92 (MBA) eats out a lot -- steaks, chicken quesadillas, pancakes on a stick. If Outback Steakhouse, Taco Cabana and Sonic can invent it, she will taste it. She also talks a lot -- to the wait staff, to drive-through window attendants, to third-shift weekend managers. Anything to glean how good a restaurant is.
Collier is no food critic or health inspector. She's one of the country's foremost restaurant analysts for Stephens Inc., a brokerage firm in Little Rock, Ark. And her bulldog tenacity -- she regularly visits 25 restaurants a week and calls scores of others for their wait times -- was profiled by The Wall Street Journal in September 2001 in a piece about stock analysts getting back to the practice of old-fashioned detective work to see how a business is really faring.
Her colleagues joke that a 5-foot, 95-pound woman can't be trusted to rate the dining industry, but Collier's evaluations more often than not lead to rising stock prices and sound investment decisions.

Maximizing potential
What makes a "good" school? It shouldn't be based on student performance on standardized tests, says author, scholar and consultant Festus E. Obiakor '81 (MEd). Instead, a good school should have strong teachers that take a holistic approach to education, and consider each student's needs academically, socially, emotionally and culturally.
Obiakor, professor of exceptional education at the University of Wisconsin-Milwaukee, asserts in his book It Even Happens in "Good" Schools: Responding to Cultural Diversity in Today's Classrooms that "good" schools aren't only found in "good" neighborhoods.
Educators who teach with real pedagogical emphasis can reach students in any demographic.
"A 'good' school is a learning community that maximizes the potential of all its students, whether they are white, black, Hispanic, Asian or Native American," Obiakor said. "And a school can't be a 'good' school when some of its students are misidentified, misassessed, miscategorized, misplaced and misinstructed because of cultural differences."
Obiakor's work, which offers a series of case studies and discussions, is being praised and used by school district administrators in Missouri, Georgia, Wisconsin and California.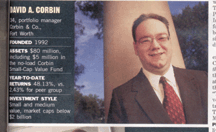 Mutually satisfying
Some of the best mutual funds aren't found amid the ranks of the big boys. They're not listed in your daily newspaper, and they're not offered in most company retirement plans. They're small, family-run partnerships that invest their wealth alongside their clients. And they often make their mark with stocks that Wall Street shuns.
One such fund is the $5 million Corbin Small-Cap Value Fund, launched in 1992 by Fort Worth-based David A. Corbin '89 as a sideline to his money-management business. Corbin's fund, up 48 percent in 2001, buys tiny, fast-growing companies, such as Forgent and Titan Corp.
"We don't have to have to own the third-best car company or Microsoft," he told Business Week in its Dec. 17, 2001, issue. The fund was ranked No. 5 among all equity funds at the end of 2001.

Top